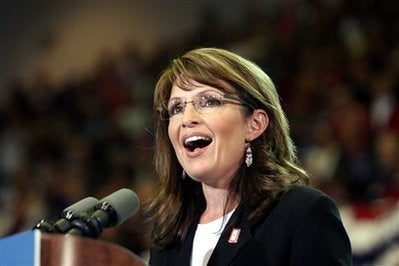 Today, we are blogging from Durham, North Carolina, where we are trying to do our humble bit to help elect Barack Obama. On Friday, Sarah Palin gave us yet another reason to feel good about what we're doing here.
We are far from the first people to comment on this subject -- even within the Huffington Post -- so we'll keep it brief. But Palin's mockery of "fruit fly research" during her October 24th speech on special-needs children was so misconceived, so offensive, so aggressively stupid, and so dangerous that we felt we had to comment.
"Where does a lot of that earmark money end up, anyway? [...] You've heard about, um, these -- some of these pet projects they really don't make a whole lot of sense, and sometimes these dollars they go to projects having little or nothing to do with the public good. Things like fruit fly research in Paris, France. I kid you not!"
It's hard to know where to begin deconstructing this statement. This was a speech on autism, and Palin's critics have pounced on the fact that a recent study of Drosophila fruit flies showed that a protein called neurexin is essential for proper neurological function -- a discovery with clear implications for autism research.
Awkward! But this critique merely scrapes icing off the cake.
Fruit flies are more than just the occasional vehicles for research relevant to human disabilities. They are literally the foundation of modern genetics, the original model organism that has enabled us to discover so much of what we know about heredity, genome structure, congenital disorders, and (yes) evolution. So for Palin to state that "fruit fly research" has "little or nothing to do with the public good" is not just wrong -- it's mind-boggling.
What else does this blunder say about Palin and her candidacy? Many people have used it as just another opportunity to call her a dummy, since anyone who has stayed awake through even a portion of a high-school-level biology class knows what fruit flies are good for. But leave that aside for a second. Watch the clip. Listen to the tone of her voice as she sneers the words "fruit fly research." Check out the disdain and incredulity on her face. How would science, basic or applied, fare under President Palin?
We have other questions. Who wrote this speech? Was he or she as ignorant as Palin about the central role that fruit flies have played in the last century of biomedical research? Or was this a calculated slight to science and scientists -- a coded way of saying, "We don't care what you know or what you think"? We find it odd that, of all the examples of dubious expenditures of public funds, the speechwriters alighted on this one.
Whatever the explanation, it scares us. Everyone who has suffered, either personally or indirectly, from an inherited illness, and anyone whose life has been lengthened or enriched by modern medicine, should channel Palin's flip comment when they stand in the voting booth on November 4th.
Support HuffPost
The Stakes Have Never Been Higher
Related
Popular in the Community