While controversy embroils the country over the relationship between the U.S., Mexico and the jobs that people from those countries provide to their intertwined economies, in San Diego a mutually beneficial binational relationship continues to grow.
The most recent evidence of how San Diego and Tijuana, its sister city across the border, are joined at the hip came on June 9, 2017, with the announcement of the CaliBaja Education Consortium at the Cross Border Innovation Summit at the University of California San Diego (UCSD).
The consortium consists of UCSD and 13 institutions in Baja California that will allow researchers and students to work together across the U.S. Mexico border.
CaliBaja – A Special Region on the U.S./Mexico Border
The word CaliBaja has special meaning to these two border cities and their respective states. San Diego and Tijuana, two dynamic, modern cities, are culturally and economically intertwined, and the two cities have a long cross-cultural history of looking toward each other. That relationship is now being enhanced by initiatives like the CaliBaja Education Consortium and growing business interconnections through advanced manufacturing and technology development.
UCSD plays a special role in this relationship. "We see the border as an interface, a site of exchange, not exclusion. We are creating partnerships to exchange knowledge, resources and education," UCSD Chancellor Pradeep K. Khosla said. "This partnership increases opportunities for students, advances our collective research and deepens our collaborative relationships."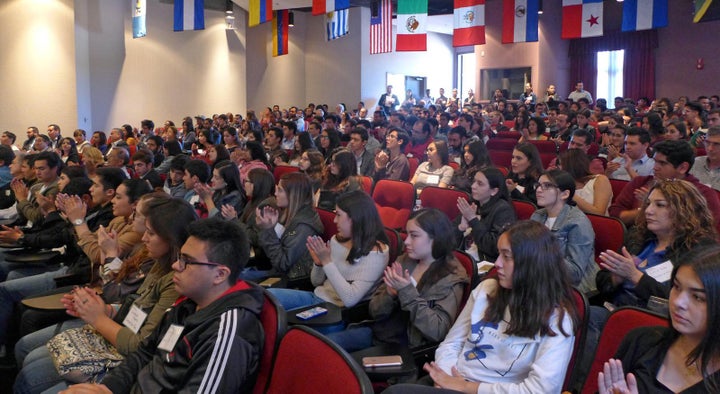 The education consortium builds on the CaliBaja Center for Resilient Materials and Systems and an earlier educational initiative called Enlace. Enlace brings together youth from San Diego County and Baja California to spend seven weeks doing research on UCSD's campus. The students work in pairs, with one student from Baja California and the other from San Diego. All three initiatives are headed by Olivia Graeve, a professor of materials science.
A Human Bridge Between San Diego and Tijuana
Professor Graeve grew up in Tijuana and acts as a human bridge between the two cities. "What brings us together is this: that we can change this little piece of real estate we occupy here," Graeve said. "This is a great experiment that is going to define the educational opportunities for students in our region, which is our home. There is no wall between us. We are one, we are community. We have common goals. And we should never lose sight of that."
Graeve has uncommon human-scale understanding of leadership for someone trained in engineering. She quotes Eleanor Roosevelt in her speeches, and her words lean toward passionate inspiration rather than the technical. "We are building honest friendships," she told the standing room only crowd on June 9. "You the students, you are part of something bigger, don't you give up on that, because we sure as heck are not going to give up on you. We just need you to be brave. To come together with open arms, open hearts, and open minds, to solve the problems of the world. Si se puede! It can be done!"
Graeve told the students that from their ranks and others like them will come the future mayors of San Diego and Tijuana, and that they will have been friends since they were students. "That's powerful," she said. "Because the friendships one makes at a young age are the most honest friendships you will have. Their foundation is based simply on liking each other. When one gets older life gets complicated. But at 17 years old, you are innocent and honest, and pure of heart."
The consortium will allow students, from high school to the graduate level, to do research and take classes both at UC San Diego and at various Baja California institutions. The campuses will also work together to develop curriculum.
Graeve told the many students in the audience that she is "in awe of the periodic table of the elements" and she tells her students to tape it to the wall in front of their bed as she does.
"Every morning I wake up and look at it and consider 'Wow,' that is what the universe is made of. That's beautiful," she said. "I like the periodic table. I like the laws of thermodynamics, and I like the beautiful planet we live in. And I am grateful. Grateful for life. Grateful for my family, and grateful that I have been given the opportunity to contribute to something much bigger than me."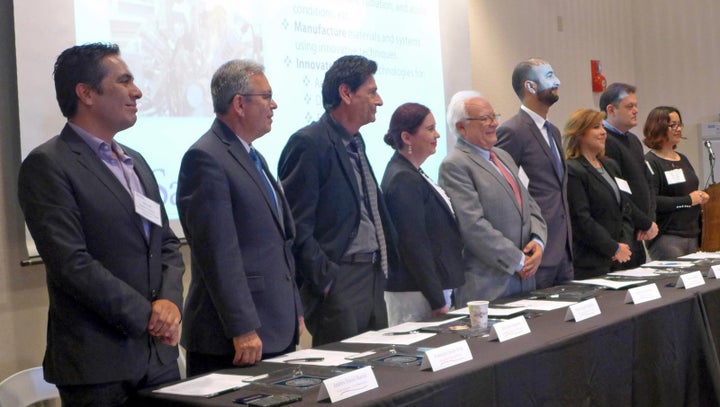 UCSD already had partnerships with the Universidad Nacional Autónoma de México (UNAM), the Universidad Autónoma de Baja California (UABC) and the Centro de Enseñanza Técnica y Superior (CETyS), which will also join the consortium.
"Today is about formalizing a partnership that is already thriving—and setting the stage for expanding that collaboration—in both education and research," said Albert P. Pisano, dean of the Jacobs School of Engineering at UCSD.
The participating institutions will now consist of UCSD, the Universidad Nacional Autónoma de México, Universidad Autónoma de Baja California, Centro de Ensenanza Tecnica y Superior, Universidad Politécnica de Baja California, Universidad Tecnológica de Tijuana, Instituto Tecnológico de Tijuana, Instituto Tecnológico de Mexicali, Universidad de Tijuana, Centro Universitario 16 de Septiembre, Colegio La Paz, Instituto Altazor, Instituto Cumbres, and Instituto Mexico.
Carl Nettleton is an acclaimed writer, speaker, facilitator, and analyst. He heads Nettleton Strategies, an environmental policy firm specializing in oceans, water, energy, climate, and U.S. Mexico border issues. Carl also founded OpenOceans Global, an NGO linking people to the world's oceans. Carl also serves on the national and California advisory councils for Environmental Entrepreneurs (E2), a national, nonpartisan group of business owners, investors and others who advocate for policies that are good for the economy and good for the environment. He is also active with the San Diego Regional Chamber of Commerce Energy and Water Committee, the international Eye on Earth initiative, and other business and environmental organizations.
Popular in the Community