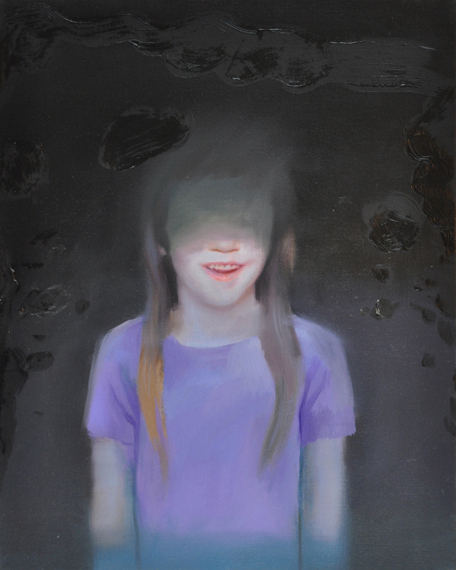 Brandi Twilley, Rebecca
16″ by 20″ oil on linen, 2014
Courtesy of the artist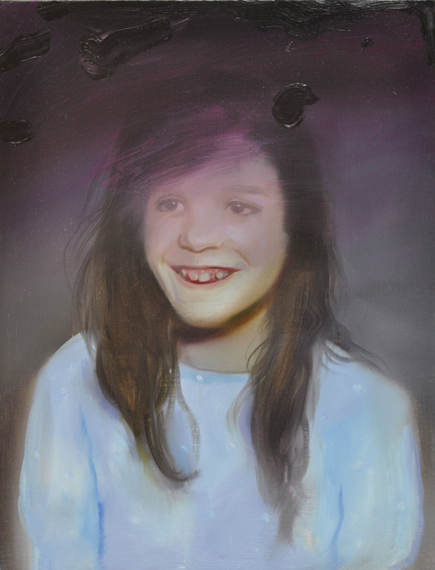 Brandi Twilley, Self Portrait Age 10
14″ by 18″ oil on linen, 2015
Courtesy of the artist
Elizabeth Insogna: Your paintings are rooted in memory and dreams and these aspects work in tandem as a process. The dream work especially acts as a potent agent in fielding your subjects as described during your 2015 interview with Caroline Chandler for The Color Hour. What does the process look and feel like now, and how has your involvement moved through the years? How do you understand and engage with these processes?
Brandi Twilley: For the last couple of years I have been painting a series of images of the house I grew up in from memory. The house burned down when I was 16 and I don't have many photo references to help me reconstruct what the interior looked like. I often have a re-occurring dream in which I am walking through the house. In the dreams I am convinced that I am really there. I always investigate the patterns of striations and knots on the wood of a rail or the stains on the wall. These things with their very specific patterns and markings of time seem to be very meaningful to my dreaming self. If I could really see these details and not have to contrive them it would make the paintings more real, but these things are lost forever. It makes it clear to me that I should give extra attention to these patterns and textures in the paintings.
In the past my dreams have been a source of subject matter. When I first began painting I often painted images from my dreams. I read Freud's interpretation of dreams and I understood the concepts of wish fulfillment and symbolism, but I rarely try to interpret my dreams. I usually enjoy the mystery of them and like painting the intense imagery. I still write down my dreams, but these days I see them as a tool to more clearly understand my thoughts and feeling about my work.
EI: Your sister, Rebecca Twilley, is also a painter. Although there's a variance in approach, fundamentally, you've both found a space together that overlaps, though the symbols and forms may differ. Please describe this space, and its meaning to you.

BT: I find it fascinating to see the ways that we are similar, since we are at a glance very different. Her work involves fantasy imagery, a cast of characters that repeat, and symbols from popular mythology. She has created a world that is a source of pleasure and escape from every day life. In my work I have tried to explore my observations of Rebecca, her life, who she is, in addition to the fantasy world within her work. I have made portraits of her since she was a small child. I know her life story, the things she has over come, and the reality that coincides with the world within her imagery of princesses and dragons.
We are going to have our second show together at the end of the summer at Hood Gallery. I will show a group of photographs of Rebecca, that I took during my visit last Christmas, and a new painting of her. Rebecca is going to show paintings and drawings. I want to keep having shows with her in the future. It means a lot to both of us to keep working together.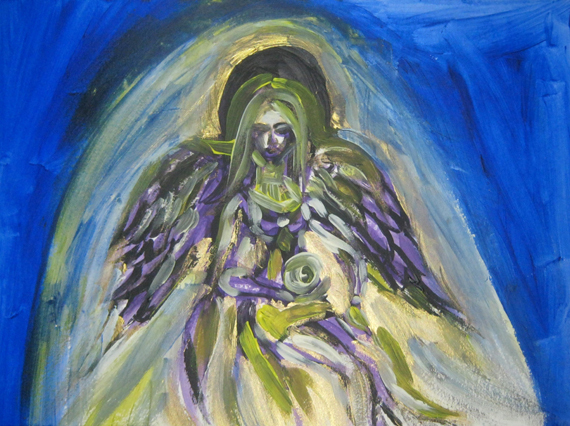 Rebecca Twilley, Electric Angel,
12" x 16", acrylic on paper, 2009
Courtesy of the artist
EI: A darkness interacts with a kind of phosphorescence in many of your paintings, realism with the fantastical and strange. How do color, form and the fundamental structures of narrative painting work for you?
BT: The darkness in my recent paintings is created with many thin glazes. The way in which 35 mm photography translates darkness into indistinct murky colors that look like many colors all at once has been on my mind. I associate this sort of photographic look with the time period that I am trying to remember. In the paintings this sort of inky color palette has extended into the realm of iridescence when glazes of Egyptian Violet, Pthalo Blue, and Ochre over lay. It happened on its own, but it is no coincidence that I was painting Rebecca in her Wizard T shirt and was thinking about the palette of fantasy art when this started to happen in the paintings of the house I grew up in.
Color has become an important part of the narrative in my work. The first paintings in the series of interiors are in colder colors of gray scale plus green and blue, but over the course of making ten paintings, moving 360 degrees around the living-room, the colors have gradually become warmer. This happened as a result of moving out of a monochrome scheme to the more natural colors of the room as I became more confident in taking on the full color palette. The last paintings in the group, which I am working on now, are of the fire and are of course the warmest.
Brandi Twilley lives and works in Brooklyn, New York. She received her MFA from Yale School of Art in 2011.
She and her sister, Rebecca Twilley have an upcoming two person show at Hood Gallery this summer.
Hood Gallery
1397 Myrtle Ave, Container #17
Brooklyn, NY 11237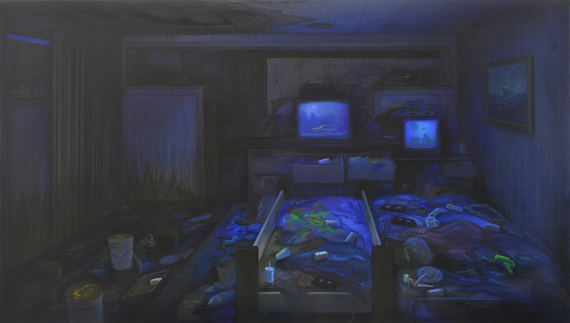 Brandi Twilley, Living Room Night,
32" x 56" oil on canvas, 2015
Courtesy of the artist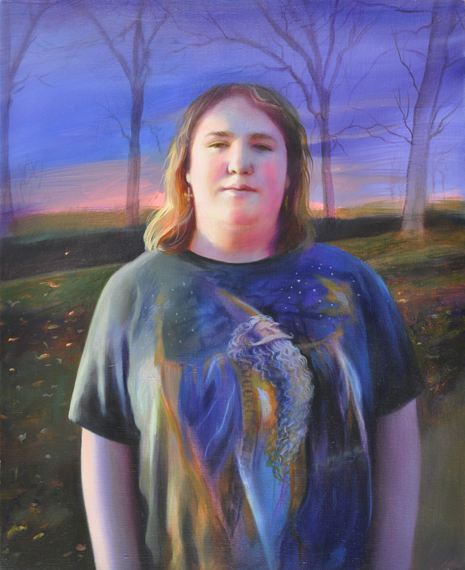 Brandi Twilley, Wizard T-shirt II
16" x 20", oil on canvas, 2015
Courtesy of the artist
Related
Popular in the Community