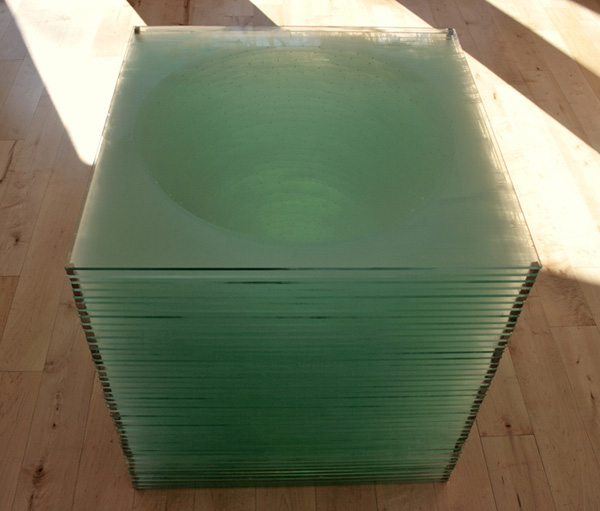 Kathy Goodell, "Sounding," 2007
26" X 26" X 26", Glass (Acid Etched) Glass Beads, Wood,
Photo Credit, Todd Sargood and Odin Cathcart
Courtesy of the Artist
I've been thinking a lot on your works on paper, especially the Pneuma series and
Paradoxa series. There's something to the level you've been able to take uncertainty in the (ink) medium's expression within the process of making your work. The final expression in your finished work is something to ruminate on and perhaps even extract some knowledge from. I'm wondering about your relationship to the uncontrolled, uncertain and opaque qualities in art making. I'm curious about where you are with it and where it is with you in any and all capacities.

The Paradoxa series began in 2005 when I moved my studio from New York City to the forest. I am interested in art making as an "elixir" -- something that creates change both externally and internally. This process is really a dance with the uncontrolled and chance qualities inherent in my materials on my way to finding the elixir.
The results are obviously not scientific but in regard to my own lineage the first stage of the "Paradoxa" series would be the challenging and sometimes most discouraging phase, in which I am compelled to face directly into the "void." In this beginning stage I feel I am addressing certain parts of my ego that might be inhibiting my growth, or I am looking into the "face of the deep."
Getting back to the physical world, these drawings use ink and salt, nothing more.
The salt is used to draw moisture out, leaving marks like traces of the salt bodies. They are often buried in salt then after drying are swept clean with a stiff broom revealing beneath, the transformed body of the drawing and then I decide if the drawing needs more work and might repeat the process several times. In life we bury things within ourselves, and then reveal them, over and over. I associate salt with tears and feelings but also a passage from sadness to release. In the drawing, I want the polar opposites to "hold a space." I don't want to use force as I want the integration and change to appear gradual, as if its essence matured. The integrity of this process is critical to the resolution of the drawing. I feel as if I am a mediator in a love-hate relationship, and that I can't take sides but allow the conjoining to occur in an instinctual manner. The rawness of the struggle to find completion or resolution is evident in the final drawings.
And that evident struggle is what led me to the Pneuma drawings. "Pneuma," is the Greek word for breath but in other contexts wind, and can also refer to the "spirit." These drawings are made with breathe, wind, water and ink. There are forces at work that are caused by vibrations on the water and ink surface, so when I initiate one movement, waves are formed which create the image that is lifted from the waters surface. There is a great amount of chance and uncertainty built into the process, so I increase the uncertainty and I don't force control. But by using the circle as a containing form a dynamic is created between the potentiality of the organic flowing ink and the circular form that it inhabits. I see this process as a breaking down and rebirth; the volatile forces finding a home within the form of the circle.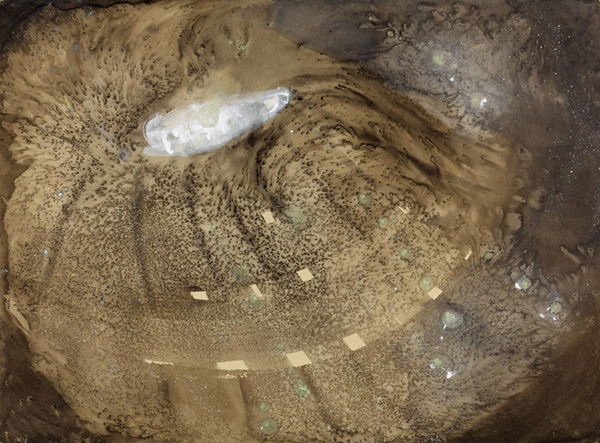 Kathy Goodell, "Paradoxa Series # 4," 2010
22" X 31" Ink, Gouache, Salt on Stonehedge Fawn
Photo Credit, Todd Sargood and Odin Cathcart
Courtesy of Schema Projects, Brooklyn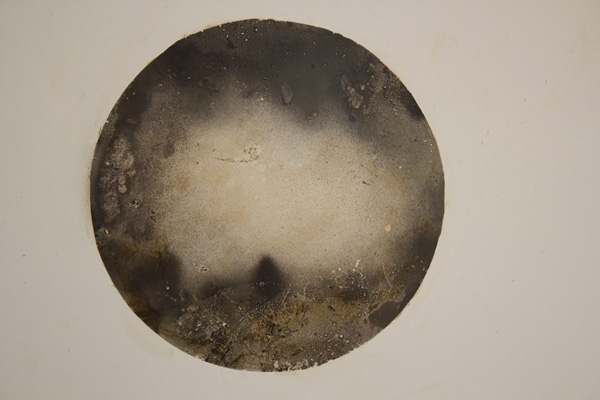 Kathy Goodell, "Pneuma # 6," 2012
26" X 40", Ink on Yupo Paper,
Photo Credit Tim Pyle
Courtesy of the Artist
Thank you for your generosity. It's as if you're confronting yourself every time, but a self well aware of their major and minor arcana -- ones intertwined in the forces of free will and fate and the natural abyss that occurs at the crossroads. It's here that Alchemy seems to play a large role on a number of levels and I'm wondering if you might go into greater details with this in mind, if possible, with specificity.

Yes, you are right. I am confronting myself with each new piece but it isn't about self-expression. I feel that making art is a collaboration -- when it is a "magic bullet day" there is a wiser and more elevated being there with me -- its myself but not as I exist in everyday life but the quintessential me right there beside the earthly practicing artist. You asked about alchemy, perhaps because I refer to things as opposing forces? I am interested in what our senses don't normally see, therefore as an artist I want to see beyond what we comprehend and I go to extremes to allow chance events to flourish. So, whereas I acknowledge alchemy as largely not definable I have the utmost respect for the metaphors contained within. My interest in alchemy came from studying the six-century Taoist Lao Tzu, while in college. The idea of finding the elixir of life began with Lao Tzu. But then I think Buddhism has influenced my practice more than my interest in Alchemy.
With the Pneuma drawings as with all my work, I am not looking to be in "control" but in "touch." The work mutates between forms and materials but it is always searching for the same thing. And maybe because I am curious and sometimes restless I change the forms, I allow them to mutate: so for instance, the Paradoxa drawings mutated into the Pneuma drawings. I will utilize any way that I can to address the same question, all forms are fair game, and I think of it a little like a "sneak attack," or keeping myself awake, so there is a spark, or a collision of opposites. When I demand solutions or force them, my brain freezes up and nothing gets resolved. That's one reason I love to draw so much, because it is filled with responses to phenomena! Maybe it feels more shamanistic because of that, at least more immediate.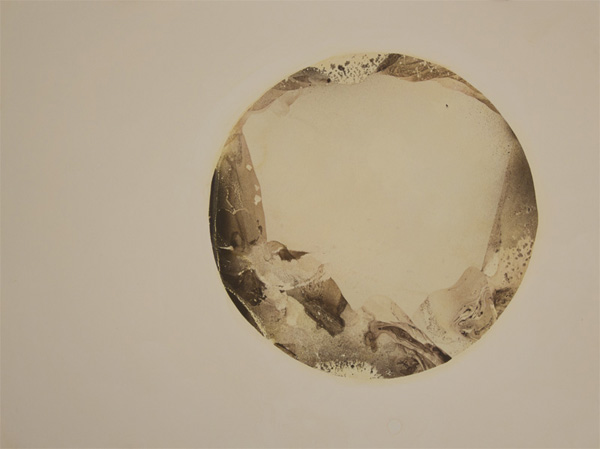 Kathy Goodell, "Pneuma # 3," 2012
20" X 26", Ink on Yupo Paper,
Photo Credit Tim Pyle
Courtesy of the Artist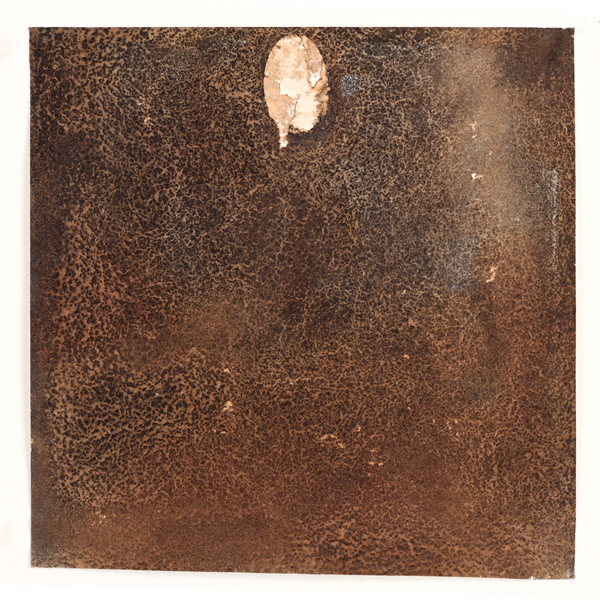 Kathy Goodell, "Ophirizum," Paradoxa Series # 1
2010, 18"X18", Ink, Salt on Paper
Photo Credit, Todd Sargood and Odin Cathcart
Courtesy of the Artist
Thank you. I enjoyed your articulation on the collaboration with self in art -- the quintessential self as you have named it to be. This is a key component to your work and is important to remember -- especially now -- as spirituality in art is being recontextualized into the contemporary fabric. Your sculpture work -- which I'd like to move into a bit now -- has this definite quality -- with an even more present feminine quality, as with an Anne Truitt. The presence is felt as are many of the aspects you've described in your experience with the making. I'm using the word "felt" as it's the best way I can describe the attribute which does not encounter the work by vision alone. I also use this word as I fumble for the right way to describe the part of the work that reminds me of -- to mention Anne Truitt again -- the apparent invisibility of art -- as she wrote, "some, most simply cannot 'see' the work at all." (In regards to her own work in Daybook). I remember entering your studio a few years ago and spending a lot of time with a sculpture -- I looked on your website and believe it was either "Sounding" or "Luna" -- the quiet involved as well as the use of glass, a clear substance, reminds me of this.
I am looking forward to reading Anne's book. We never met but about 10 years ago or more we almost got a large studio together which unfortunately fell through. We were both losing our studios in the city, because of real estate development and began a conversation by phone. I respect her a lot.
It is insightful that you ask about the glass stack sculptures, "Sounding" and "Luna," because they have such a direct relationship to the Pneuma drawings. I have worked with stacking forms for a long time and continue to, but those glass stacks were definitely in the territory of the "invisibility" of art. From a distance they appear, perhaps as minimalist structures, but because of the mutability of glass they present themselves as ever-changing and very indeterminate. Upon closer inspection, looking into the portal, the interior depth becomes illusive. Most viewers think they are looking into a hole in the layers. Others are perplexed and don't know what they are looking at, just as Anne mentions in her book. The piece is quiet, but it actively focuses the light, becoming a transmitter while remaining highly susceptible to natural changes in the environment. I am largely speaking of the relationship of the Earth and the Sun, and clouds and other weather changes. It comes alive with sunlight and retreats with a cloud. "Luna," on the other hand, is uncoated silver on glass, so it is a softer light, like the moon, and is aging, becoming a warm gold tone in places as the silver oxidizes. I am interested in both metaphysics and the uncanny in equal measures. The body of work I am currently producing (thanks to the Guggenheim Foundation) works to destabilize perception through complex shifts and contradictions. If one knows something they can't be surprised, so I feel I have to keep one step ahead of my own work, always, hence the frequent mutations!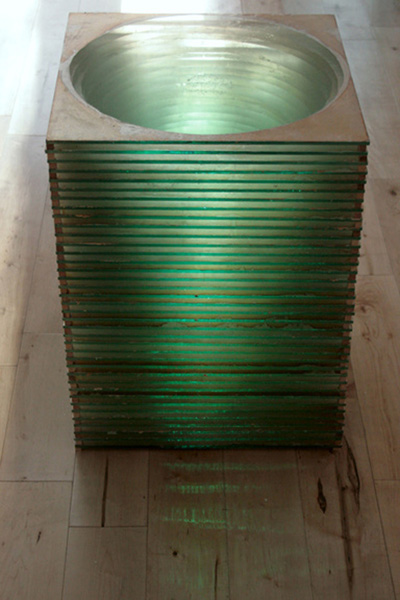 Kathy Goodell, "Luna," 2007
29" X18" X 18", Glass, Silver Leaf, Glass Beads, Wood
Photo Credit, Todd Sargood and Odin Cathcart
Courtesy of the Artist
Kathy Goodell was born in San Francisco, California and attended The San Francisco Art Institute, receiving both her B.F.A. and M.F.A. degree in sculpture. She is currently a professor in painting and drawing at SUNY New Paltz and has exhibited her work both nationally and internationally including numerous museum exhibitions. In the last five years she has participated in more than 80 group and solo exhibitions in cities across the United States, Mexico, South America, Italy, Germany, England and the Netherlands. She has received awards and fellowships from the New York Foundation for the Arts, in 1997 and 1993; The Pollock-Krasner Foundation, in 1991; The National Endowment for the Arts Awards, in 1983 and 1979; The Phelan Award, in 1981; and a Fulbright Fellowship, in 1977 and most recently a Guggenheim in 2013.
Current and Upcoming Exhibitions:
Why Not-The 2nd Biennale International of Non-Objective Art, Curated by Roland Orepuk, Ville De Pont De Claix, France,Sept.9-November 8, 2013 (catalog)
Related
Popular in the Community