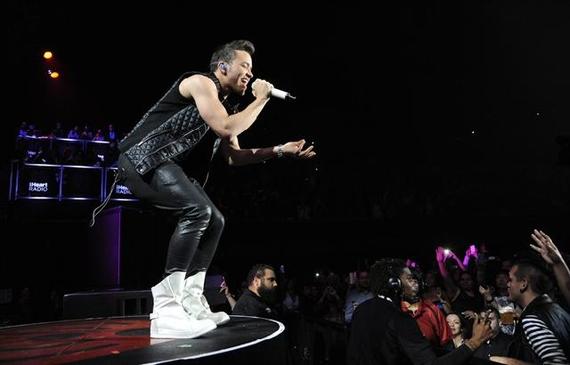 Prince Royce performs at the iHeart Radio Fiesta Latina concert at The Forum on Saturday, Nov. 22, 2014, in Inglewood, Calif. (Photo by Chris Pizzello/Invision/AP)
Prince Royce is a Latin music superstar and his transition into the American music scene shouldn't surprise anyone. At 25, the 20-time Latin Billboard Award winner and multi-platinum singer-songwriter is releasing his fourth album which is a compilation of English-language songs. Its first single "Stuck On a Feeling" featuring Snoop Dogg, is quickly climbing up Billboard's Hot 100 chart and Royce joined me this week to talk about his latest music project.
This is going to be your first English-language album. Why now? Why make the transition?

I grew up in The Bronx. I mean I was born and raised in New York City. And I started singing in Spanish because I was always just connected to my Latin roots. My parents are Dominican, I would always go to the Dominican Republic, and I fell in love with Bachata, which comes from the Dominican Republic. And I've released three Spanish albums now which been very successful in Latin America, the states among people who speak Spanish, and why now? I'm not sure, I think that it just feels right to do it now. I think I have a little more experience, I've grown so much as a writer, as a singer, as a performer, and now was the time to kind of come back to New York City and put out an album in English. I'm excited to put out my first English album this summer. We released the lead single which is called 'Stuck on A Feeling' with Snoop Dogg. So I'm excited, especially for my core fans who've been with me since the beginning, to see what they're going to think about this new sound.
When I tweeted out that we were chatting, I got a crazy amount of messages and questions. Your fans went nuts. What's the wildest thing a fan has done when they see you?

I wouldn't call it crazy, I'd call it love, because I think it's just love. I know how excited people get when they see someone that they follow and that they admire. I usually bring a girl on stage or I try to bring a girl on stage at every concert.
How do you pick who you bring on stage with you?

I try to find a girl that's kind of singing her heart out. And I try to pick who really knows like all the songs, even the songs that never played on the radio. And I mean, you know... they kiss me and they kind of grab certain areas they shouldn't have grabbed. But it's all love. I think it's really emotional to see how people can connect to music, how they can fall in love with one of your songs, and I think it means a lot to see how much love I've gotten until now.
I've seen a lot of Latin stars try to transition over like Ricky Martin and Shakira, who've done it successfully, but the majority don't -- have you considered collaborating with American artists to maybe help break that mold?
We're going to collaborate with some American artists and also some Latin artists as well. And you know, there's always that crossover. There's been a handful of people who have done it. Like you said, Shakira, Enrique Iglesias or Ricky Martin, and I'm trying to just not put too much pressure on myself when it comes to that. But at the end of the day I also feel very comfortable singing in English. I sang in English my whole life, I just happened to decide that I had a passion for Latin music and I wanted to jump into Latin music first. I'm not that nervous, I'm just trying to put out music, and do what I do and see what happens. But definitely I think those artists like Ricky Martin, Shakira, Enrique, all kind of paved the way for me now. So I'm excited to see what the future holds.
A lot of people wanted to know who you'd be working with on this new album -- I know in past interviews you said you've done a little work with Chris Brown. Might Chris Brown be on the new album?
He might be, he might be. I don't like giving out surprises. Right now we got Snoop Dogg on the first single but there's definitely gonna be, like I said, American artists, Latin artists, there's gonna be a flair between pop, and a little R&B, a little urban with some Latin. I'm also adding some Spanish on some songs so we can all learn Spanish together, whoever doesn't know Spanish. I'm excited to bring a new sound. It has been so cool recording this new record because it's so different from my past albums. I hope people like it. It should come out before the summer time hopefully.
How about a tour? Would you tour the states?
I finished a tour in the states last year. I'm just trying to work on this album. I'm going to be singing at Miss Universe this Sunday. 'Stuck on a Feeling' should be fun here in and throughout Florida. And I'm looking forward to the year; maybe start a tour in the fall in the states.
What are you hoping people take away from this new album and your music?

Well, I just hope they see who I am, you know. I'm just a person that's following my dreams. I grew up in the Bronx in a kind of difficult neighborhood in the projects, and I had this small dream to kind of do something different, and sing, and represent my culture, and my community. Hopefully they can see that. I try to always motivate young kids who want to be singers or actors or whatever it is they want to be that anything is possible with hard work. It doesn't matter where you're from or what language you speak, as long as you work hard, you can achieve those goals.
Support HuffPost
Every Voice Matters
Popular in the Community