LeBron James will always have his detractors. That's the nature of being an elite, generational type of player, who also happened to leave Cleveland for Miami in the way he did. But times are changing, and with James' 31st birthday just a couple of months away, it's time for us to turn the page on the unjust criticism of one of the game's all-time players. Keep reading to find out why. (And you can see more NBA previews here and here.)
Five straight NBA Finals appearances is something that not even Michael Jordan, Kareem Abdul-Jabbar or Magic Johnson have accomplished. In fact, in the nearly 70-year history of the league, LeBron is only the 10th player to have achieved the feat, and the first since Bill Russell in 1966. For a guy whose clutch gene has been incessantly questioned for a decade, it's hard to argue with such standout numbers. Go back to his first stint with Cleveland, when James' second-best player was Mo Williams and he was flanked by Sasha Pavlovic and Daniel Gibson in the backcourt.
Whether or not you agreed with his decision to join Miami in 2010, you can't argue the facts: James has been sensational in the finals, and maybe at no point more so than this year, when he became the first player ever to lead his team in points, rebounds and assists, according to ESPN Stats & Info. In addition, James has now made four go-ahead shots in the "final seconds" of playoffs games, per ESPN Stats & Info. Over the past 15 years, nobody has made more. He is clutch -- there's simply no reasonable way to argue otherwise.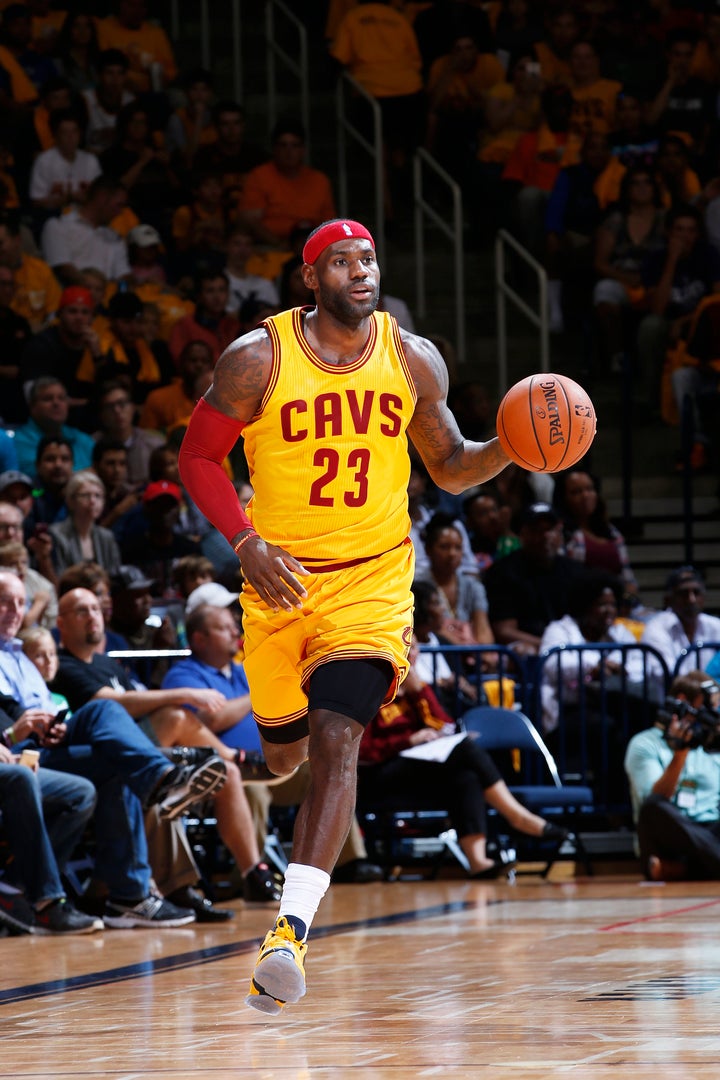 Before last season, James altered his entire diet and workout regimen in the belief that he needed to be leaner and, in turn, put less stress on his body. What came next was the lowest minute total of his career, but also his second-highest assist clip. At just 30 years old, the four-time MVP has already logged more minutes than Johnson, Larry Bird, Jerry West, Clyde Drexler or Steve Nash, per HoopsHype. Moreover, when compared to Carmelo Anthony -- another member of the infamous 2003 draft class -- James has nearly 11,000 more minutes. To be fair, James has enjoyed significantly more postseason success -- hence more games and minutes. At some point, he'll have the opportunity to surpass Abdul-Jabbar for most minutes ever played. And it's not as if James doesn't take a massive beating: His 8.5 free-throw career attempts per game slot him near the top of the previous decade.
"We have to understand what it takes to win," he said. "It's going to be a long process, man. There's been a lot of losing basketball around here for a few years. So a lot of guys that are going to help us win ultimately haven't played a lot of meaningful basketball games in our league."
It's not merely the wins and losses with James. He is also the definitive leader of any team he plays on. His presence alone changes the culture. When his relationships with both Erik Spoelstra and David Blatt were under fire, his teams suffered. When those relationships improved -- e.g. the second half of the season -- the result was sustained playoff success. The same can be said about 2015: The Cavs enter year two under Blatt, and the second year of their Big Three. How James handles Blatt and how he handles his massive leadership responsibility is only trumped by the culture change. The Cavaliers have never won a world championship. Maybe they do this year and maybe they don't, but having LeBron as the definitive face of the organization might be equally important.
REAL LIFE. REAL NEWS. REAL VOICES.
Help us tell more of the stories that matter from voices that too often remain unheard.