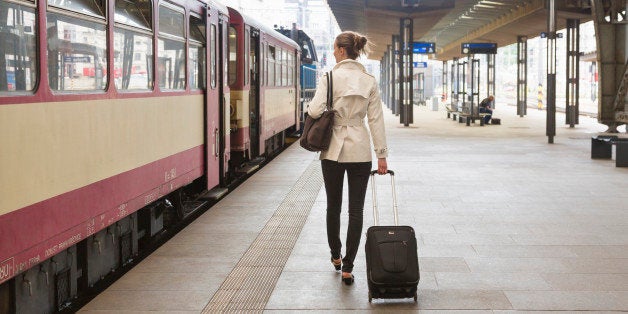 Quit your job, leave your boyfriend, buy a one-way ticket, and go...
One afternoon a couple years ago, after spending weeks purchasing one-way tickets to places I'd never been, I left my office for lunch. I walked along the brownstone-lined sidewalks of Park Slope, stopped into a neighborhood pub, ordered a whiskey neat (and then another), returned to work and gave my two weeks notice.
I'd moved to New York with very little money, few friends, no apartment and no real game plan. Four weeks and about a hundred job applications later, however, I'd secured a job  --  a job with a desk, and my own phone extension, and a salary with benefits. And even though it had nothing to do with journalism, which I'd studied in college, I was proud of myself for finding a relatively comfortable job in "the big city," in what was being hailed as "the worst job market in 50 years."
My friends and family were proud, as well.

"My choice of freedom over monotony was viewed as my selecting uncertainty over security."

So, the news that I was now planning on leaving this job that had enabled me to live in the expensive, fast-paced city that I'd left Seattle for, two years earlier, to "gallivant" around Europe and Northern Africa, greatly distressed the people in my life. Their growing concerns that I was running away from my problems were becoming more apparent, every day.
And they were right. I was 24, deflated from a job where I was overworked and unfulfilled, in a long-distance relationship that left me weepy in front of strangers on the Q train, and too often at the bottom of a whiskey bottle. I was miserable.
Regardless of this reality, my choice of freedom over monotony was viewed as my selecting uncertainty over security.
I recently caught up with my high school best friend who'd just called off her wedding to her boyfriend of nearly a decade. Resolved to no longer ignore certain persistent issues in her relationship, she made the final decision just a month before the big day.
As she told me her story, I was struck with an overwhelming sense of reverence for her. I considered the bravery required to overcome the pressure of expectation  --  from her friends, her family, her fiancé. She could have, very easily, decided not to rock the boat and ended up in a marriage doomed for failure.
We're conditioned early on, especially as women, to value security above all else and cling on to it at all costs, and it takes an exceptional sort of fearlessness to tune out the expectations of the people in your life and risk your own security, in pursuit of genuine happiness.

"People find comfort in consistency  --  even if that consistency is repetitive bullshit."

There's a saying that goes, "running away from your problems is a race you'll never win," but staying where you are, when you're discontent, can give you the feeling of being stuck. Even when you're not. Still, people choose this path, more often than not, because letting go is hard. Starting over is grueling. Adjusting to a new day-to-day life will almost always be daunting. People find comfort in consistency  --  even if that consistency is repetitive bullshit.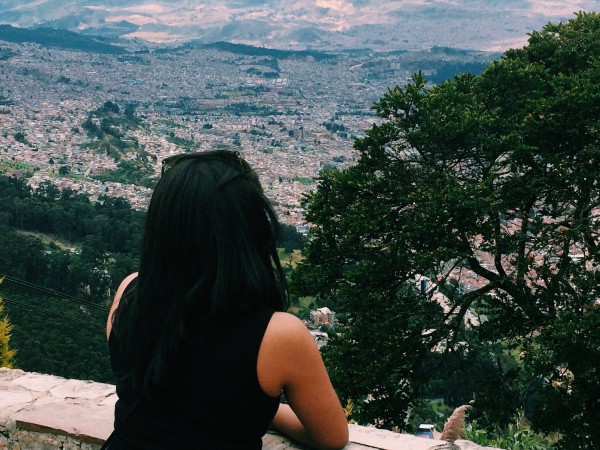 On top of Monserrate, overlooking Bogota, Colombia.
To be clear, I have no interest in getting into the business of aggressively encouraging young 20-somethings to quit their jobs and uproot their lives. Just because something worked for me, doesn't mean it'll work for you. And, more to the point, I'm not in any position to help you out financially  --  or emotionally, for that matter  --  when your cell phone gets turned off and your student loans go into default.
Still, there will be no shortage of people in your life discouraging your desire to be adventurous, to take risks. And, as someone who has developed a deeper sense of self, amid the mystifying chaos of Jemaa el-Fnaa in old Marrakech and the self-reflection inspiring serenity of the Spanish countryside, this is my humble petition that you don't make the mistake of anchoring yourself to a halfway fulfilling romantic situation or an uninspiring job (or anything!) because they're comfortable.
Don't be afraid to get up and go.
A version of this post originally appeared on Medium.