 On a friend's recommendation, I took the novel The Seven Perfumes of Sacrifice by Amy Logan with me to Costa Rica this summer. Casual beach reading it was not. More like a gripping John Grisham murder mystery page-turner meets Sophie's World history lesson, all while delivering an Oprah-style "power to womenkind" inspirational message.
The novel tells the story of a young woman who lives among the traditional Druze people of Israel until she is slayed in an honor killing, and the American reporter who investigates her murder. Cultures that permit honor killings condone the murder of mostly girls and women who have "violated" a family's honor for reasons such as interacting with men in a manner they deem inappropriate, or even being the victims of rape.
I was shocked to learn from The Seven Perfumes of Sacrifice that honor killings still exist in many parts of the world. In fact, over 5,000 such murders occur annually, according to the UN -- and that number only includes the few honor killings that officials ever find out about. Eight-hundred million women and girls live under the threat of honor killing, terrified that if they make one wrong move, or are unfortunate to be sexually abused, they will be murdered.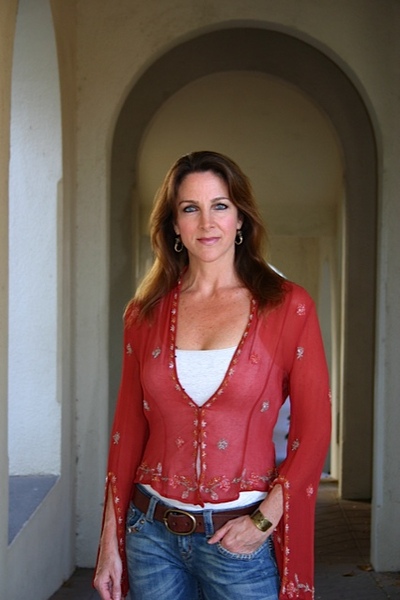 Amy Logan first became interested in the subject of her book in the mid-'90s, when she traveled to Israel with a group of journalists. On an afternoon visit to a Druze village, one of her chaperones informed her that the people there still practiced honor killings.
In that moment, Amy was overwhelmed by "this strange feeling that it was incredibly important" for her to explore the issue further. She did not feel she should hate the Druze for their tradition or put them in "The Other Box." She just wanted to understand better where and why the tradition existed -- and how it might be put to an end. Her pull to the topic was undeniably related to her own life experience.
"I had survived a sexual assault at age 21," Amy explained.
"At the time I learned of honor killing, I was being physically and verbally abused by my partner and trying to figure out how to leave him. My empathy for these Druze women made one thing crystal clear: As an American woman, however inconvenient or embarrassing it was, I could leave the violent relationship I was in. Most of the women and girls living under the threat of honor killing aren't so fortunate. It's the air they breathe. They are not free. Escaping is rarely an option."
When she returned from that trip to Israel, Amy left her abuser, moved 3000 miles away, and started over. She then began researching honor killing "like my life depended on it."
Ten years and a Ph.D. dissertation's worth of research later, Amy published The Seven Perfumes of Sacrifice. She said of her obsessive dedication to the book:
"I felt that somehow if I looked deeply enough into the lives of the Druze -- their history, their beliefs, their stories -- I might unravel how honor killing became normalized in many cultures. Clearly, something went very wrong at some point. By deconstructing honor killing, I hoped it would open a doorway to eradicating it."
I asked Amy what she found most surprising in her research into honor killing. She said perhaps the single most shocking thing was how little research existed. Then, when she began calling NGOs, scholars and social workers in the honor-killing countries and asking about it, she repeatedly got shut down.
"I thought, wow!" Amy exclaimed.
"How amazing is it, in this day and age, that to stand up against violence towards women and girls is still considered a subversive act in a large part of the world! That's exactly why this practice has gone unabated for centuries; it is taboo to discuss. I knew that honor killing would continue because of this conspiracy of silence unless somebody really spoke up about it."
That person, Amy realized, was her.
Here's where Amy's research, and the book, takes a really interesting turn. She discovered that in approximately 130,000 years of human civilization, only the last 5-7,000 years have been dominated by patriarchal religions. Archaeological evidence reveals that at all other times, Mother Goddess worship was the primary religion almost everywhere across the globe. Women enjoyed power, protection, safety and rights enviable nowadays: matrilineal descent of name and property, rights to the throne, and leadership of their religions.
When patriarchy began to take over around 5000 BCE, it took approximately 5,000 years of violent aggression and bloody battles to oust the Goddess. Amy said:
"I believe it was in this time of transition from Goddess worship to God worship that honor killing was born, because it was during this time that women first became property of men. Every time they butcher a woman for honor now, they are unconsciously ritually reenacting the destruction of the divine feminine... This is my theory, anyway."
When I asked Amy what effect the research and writing of The Seven Perfumes of Sacrifice had on her as a woman, she replied:
"It inspired a paradigm shift for me both spiritually and intellectually, and helped heal my own wounds as a survivor of male-on-female violence. To know that for most of human history, women have been held in the highest esteem is an incredible feeling. Our ancestors were queens who ruled nations, high priestesses who presided over the most sacred ceremonies, scholars, inventors, entrepreneurs, and mothers who were revered for that role."
As for how you can help to end the tradition of honor killing and all violence against women, Amy and I offer these suggestions:
Encourage all victims of violence and abuse to get to safety, then speak out and hold their abusers accountable. Silence protects the perpetrators and allows abuse to continue.
Support your local shelters for victims of domestic abuse and immigrant women escaping honor violence.
Help Amy Logan get The Seven Perfumes of Sacrifice translated into the languages of the Honor Killing Zone so that its empowering message can get into the hands of the people who most could use it. You can do this by buying the book, gifting it to friends, and telling others about it, including journalists. 10 percent of net book proceeds go to The Global Fund for Women. You can also invite Amy to speak and support her when she comes to your area.
Calling all HuffPost superfans!
Sign up for membership to become a founding member and help shape HuffPost's next chapter