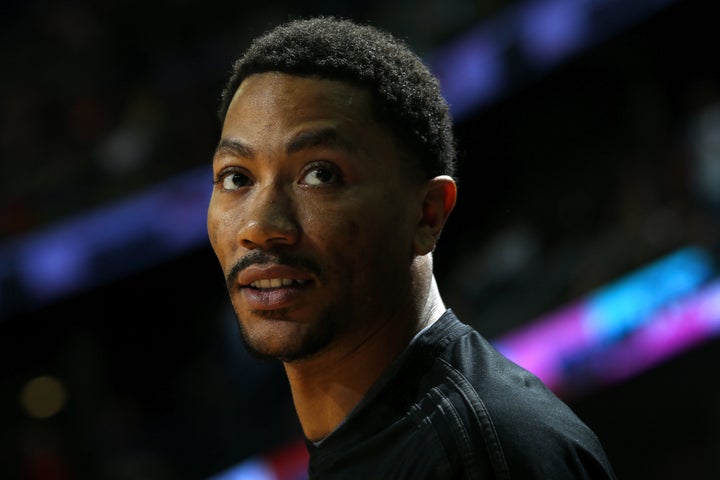 The New York Knicks screwed themselves, again.
The Knicks aren't trading for the 2011 MVP though. They're trading for a version of Rose whose once-elite athleticism has seemingly deserted him following two major knee surgeries. For the Rose whose jump shot looks shot. For the Rose who grades out as a mediocre point guard when considering more advanced metrics -- the same Rose whose crown as franchise star of the Bulls was usurped. Not the same old Rose, but the same old Rose.
It's understandable that Knicks fans are bummed and angry about the trade. Over the past decade, the Knicks' front office has shown little restraint when it comes to trying to obtain name-brand players whose on-court capabilities leave something to be desired. 
Let's break this down into two parts:
 To MSG's delight, Rose lit up the Knicks for 30 points in March.
1. Trading For Derrick Rose Is Better Than Signing Rajon Rondo 
It's not a pretty comparison, but consider this: Critically, the Knicks gave up no draft picks to the Bulls -- which used to be typical in bad Knicks trades of the past. In all, the team sent center Robin Lopez, guard Jerian Grant and guard Jose Calderon to Chicago in exchange for Rose, guard Justin Holiday and a second-round pick. 
Grant's Knicks departure is unfortunate -- he showed promise early on as a rookie -- and Lopez was also a decent starting rim protector and rebounder. Lopez's contract in particular was team-friendly, a useful trade chip that perhaps could have drawn more value than it did here. 
 Hurry up and shoot it Calderon!
But swapping Rose for Calderon as the starting point guard gives the team its best point guard since Raymond Felton's brief career rebirth through 2013 and 2014. And, as more NBA offenses continue to develop ways to open the floor more, the best of contemporary NBA basketball teams should ideally revolve around a quick playmaking point guard. The Knicks haven't had one of those since (maybe) Jeremy Lin. Regardless of the faster triangle-ish offense that new head coach Jeff Hornacek and president Phil Jackson compromise on, having Rose run it over the terrible and expensive Calderon works out as a legitimate favor to fans. 
If Rose, still only 27, continues his streaky shooting and poor passing, failing to improve on his 66-game 2015-2016 season, that's fine -- he'll be gone next summer at a forgettable cost.
2. The Trade May Look Very Pretty In Summer 2017
Saying the Knicks' move is clever may be nonsense right now, but it certainly sets them up for an aggressive and flexible rebuild. The real end result of the Rose trade is that it leaves the Knicks with only three players -- Anthony, Porzingis and Kyle O'Quinn -- signed to guaranteed contracts beyond the 2016-2017 season.
Of course, turning over the roster year after year is damaging, and coveted stars have outright declined the Knicks' recent free agent overtures, but an institutionalized team culture, clear playing style, and core superstars will alleviate that. If Hornacek can install a functioning offense and instill defensive discipline -- coupled with the star power of Anthony and Porzingis -- the team could suddenly become an attractive free agent destination for the backcourt star the Knicks need. They may have one in Rose.
Coincidentally, Rose dunked for the first time all season in a March road game against the Knicks.
The Knicks are searching for a superstar sidekick. A suboptimal Derrick Rose isn't the answer for the Knicks. His name represented a franchise savior in 2011, but his current abilities, unfortunately, don't. At worst, he's an exciting stop-gap at point guard. At best, he's a top 20 player. The New York Knicks aren't immune to such extremes.
This upcoming season, however, a year of moderate success and watchable basketball would be an achievement. On the court, Rose still has the chance to deliver that much to Knicks fans, even if it's a surprise to some. 
REAL LIFE. REAL NEWS. REAL VOICES.
Help us tell more of the stories that matter from voices that too often remain unheard.
BEFORE YOU GO