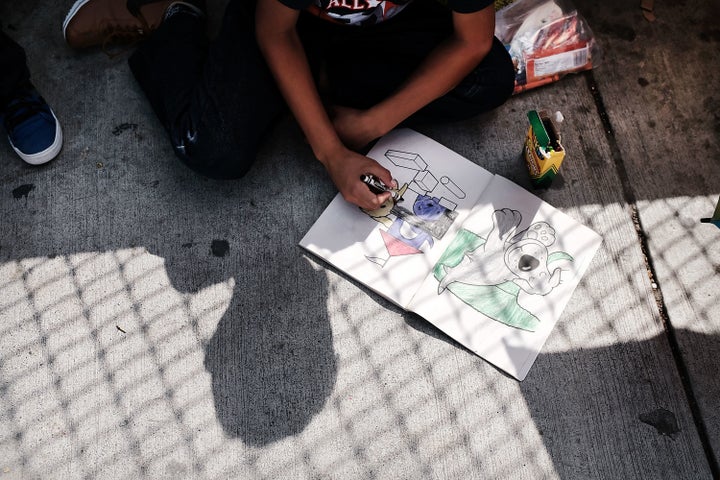 Under the Trump administration, hundreds of migrant children have allegedly languished in custody of the Office of Refugee Resettlement (ORR) for months. But detention, child experts warn, can put kids at great risk, including for a well-known concern in juvenile detention: Self-harm.
A spate of recent lawsuits and case files have surfaced troubling evidence of young migrants self-harming in federal custody, particularly in the secure facilities that house kids the government considers a serious danger to themselves or others. A complaint filed against Shenandoah Valley Juvenile Center in Virginia in July claims kids tried to drink shampoo; cut their arms and wrists with plastic or glass and at least in one instance a kid hit his head against the wall until he started to bleed. At Yolo County Juvenile Detention Facility in California, five of 18 youth self-harmed at least once between December 2016 and March 2017,  according to case summaries.
One 17-year-old who came to the United States when he was around 15 has been held in various facilities for over a year and a half. He said that he began to hurt himself soon after he arrived at Shenandoah, banging his head against the wall and cutting his wrists with glass and whatever else he could find.
"I had never cut myself before I came to the United States," he said.
Self-harm by young people is a complex issue that can be influenced by many factors, including prior mental health and abuse issues. It is not unique to migrant youth. Studies indicate it is prevalent in juvenile correctional facilities across the United States; one review suggests incarcerated adolescents have higher rates of suicide attempts and use more violent methods than those in the general population. In detention, kids may undergo additional trauma that heightens feelings of anxiety and stress. And officials may put them in a punitive environment, rather than one that provides appropriate mental health care.
ORR, which has thousands of youth in its care, has seen an influx of kids in recent months as a result of the administration's "zero tolerance" policy on immigration. These unaccompanied children are a particularly vulnerable population: They frequently suffered trauma before arriving ― some came to the United States fleeing serious abuse and violence; others made a dangerous trek out of their home countries or were forcibly separated from their parents.
Uncertainty of when they will be reunified with family can also be distressing for kids, explained Lisa Fortuna, medical director for child and adolescent psychiatry services at the Boston Medical Center.
Fortuna, who has reviewed records of youth in ORR custody, said kids become more and more agitated as time passes on and they lack a sense of control.  L.V.M, a migrant teenager who was in detention, spoke to that sentiment as part of a recent lawsuit filed against ORR head Scott Lloyd and other officials. "They kept telling me 'two weeks,' and then two weeks would pass and nothing would happen. It was very hard for me to keep getting my hopes up, only to be disappointed," the boy said. "It makes you feel like giving up."
"You could see very visibly on these kids' faces when they were getting worn down," said Antar Davidson, a former youth care worker at a Southwest Key Programs shelter in Tucson, Ariz. Kids got particularly upset when they would lose a sponsor, he noted. "The longer they were in there, the more depressed they were."
A Southwest Key spokesman said they have licensed, trained clinicians available on a 24-hour basis, who are "prepared to take every measure to keep the child safe."
ORR places unaccompanied minors into temporary foster care or shelters, with the aim of releasing them quickly to sponsors, such as relatives. But critics say that ORR has been taking a more active enforcement role under President Donald Trump, with kids ending up for lengthy periods in facilities with stricter security measures. This means more intense staff supervision, restrictions on movement and a more prison-like environment.
Though self-harm can be an issue in shelters with less restrictive measures, harsher detention settings in themselves are triggers for causing mental health distress, noted Fortuna.  
In addition, some of these more secure facilities have received troubling complaints of mistreatment and abuse over the past years. Migrant children in Shiloh Residential Treatment Center in Texas were forcibly injected with psychotropic drugs, according to court filings. Another teen who'd spent time in multiple federal detention centers claimed guards "push us, pepper spray us, and place the handcuffs excessively tight."
A lawsuit filed against Shenandoah alleges that youth in custody there frequently engage in self-harm. A 16-year-old boy from Mexico, who said he came to the United States when he was ten months old, was detained in 2017. He stated that he cut his wrists after arriving at his first staff-secure facility. "Sometimes I would get in trouble with [staff] because other kids would pick on me and I would defend myself…I was feeling very angry and very sad during this time." He said he cut himself again at Shenandoah.
In a court filing, Shenandoah admitted that "some residents have engaged in and reported self-harming behaviors," but staff denied wrongdoing.
Child advocates say that appropriate mental health care and staff training is critical, as well as making sure qualified professionals assess what the best setting is for kids exhibiting mental health issues.
However, Paige Austin, a staff attorney with the New York Civil Liberties Union, which is suing Lloyd and other officials over prolonged detention of immigrant children in New York, said that while her clients get some mental health care, she feels that in their case, it isn't sufficient to offset the damage being done by detention.
"What they need is stability, they need attachment," she said.
Ingrid Slikkers, a child and family therapist at Bethany Christian Services, which works with unaccompanied minors, said they teach kids coping skills from the beginning and provide psychoeducation to attempt to prevent self-harm. Kids in their care get individual therapy once a week, she said, and group therapy twice a week.
In group therapy, a kid will say, "when I feel sad, I do this," she said. There's a shared sense of, "We're in this. It's awful, but there's ways that we can cope."
REAL LIFE. REAL NEWS. REAL VOICES.
Help us tell more of the stories that matter from voices that too often remain unheard.