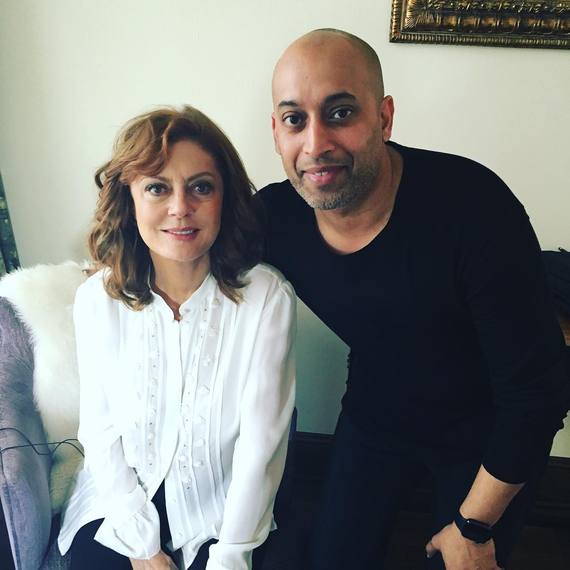 Four Incredible women changed the way I look at education and women in the global scope of life and humanity. I have had the most amazing career thus far, but the last two months have truly been epic and surreal. Leslee Udwin, Meryl Streep, Susan Sarandon, and Helen Mirren all took time to grace my lens for the most interesting and thought provoking interviews about education and supporting an initiative that was created by director Leslee Udwin.
I was fortunate enough to sit down with all four on separate occasions and talk about the Think Equal initiative and how educating the world will bring peace and substance to communities globally.
Leslee's documentary India's Daughter shed light on what was going on in the world and how education was a key to driving love and humanity globally.
Susan Sarandon is one of the most iconic people on the planet. Her body of work, along with her contributions to charity and great causes are just some of the many fantastic things she continues to accomplish.
I had the rare chance of connecting with her for a one on one about her feelings towards education for children globally.
She was delightful and surrounded by a wonderful team that really cares about supporting her work and the work of organizations like Think Equal.
I remember our time in New York together quite fondly, she had just come out of a shoot in the room adjacent to us with the most elegant Geena Davis who popped her head in to say goodbye. Which was one another moment that I will never forget. Susan took the time to have a dialogue with me about Think Equal and its important work globally. She was delightful and very thoughtful with everything she spoke to me about. I am left in admiration with this woman that I have watched all my life. Susan Sarandon is a true global hero and I can say that in person she is everything you can imagine and more.
See and excerpt of my interview with Susan here:
"Education of the head without education of the heart, is no education at all."
-Aristotle
Think Equal constructs and delivers an international curriculum, and acts as a global resource for educating the hearts of the world's children, and not merely their heads. The detailed, extended curriculum is a holistic approach to education, which provides concrete strategies, exercises and tools to secure an education in empathy, emotional intelligence, critical thinking, conflict resolution, respect, equality and diversity. Its objective is to break the cycle of discrimination and violence, and create a new generation of global citizens who can rise to the many challenges facing the 21st century.
Think Equal is the first implementation program of the objectives, which we have been merely talking about since the Convention of the Rights of the Child in 1928. It meets 6 of the 13 UN Sustainable Development Goals. Our team includes world-renowned experts and visionaries in education, human rights, gender, neuroscience, and psychology, and embraces the latest, visionary philosophies on inclusive and holistic education.
Popular in the Community