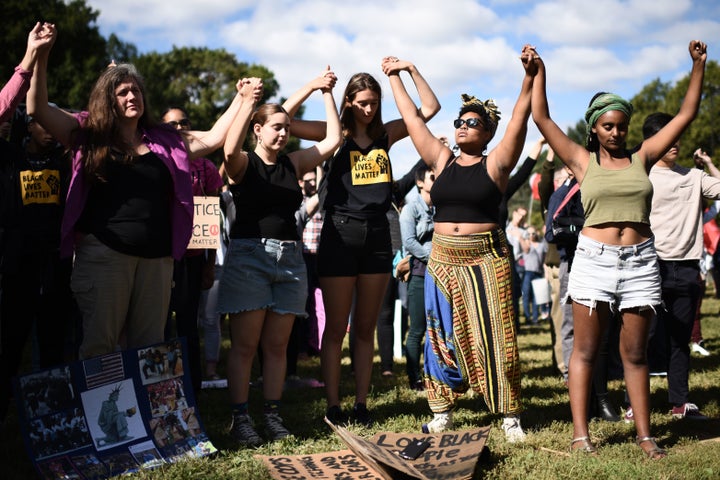 As mayor of a major city who witnessed the ugliness of hate shock my community, I have a simple proposal. No high school student should graduate without spending at least half a day at one of America's iconic civil rights centers.
Memphis' National Civil Rights Museum, the Smithsonian's National Museum of African American History and Culture, The Center for Civil and Human Rights in Atlanta and so many more teach painful American history with a clear mission: Make sure no person leaves without understanding that real change only happens when ordinary people choose to purposefully engage.
These experiences change hearts and minds forever. They teach tolerance and respect. They encourage humanity and kindness.
The idea for its creation began eighteen years ago when Sacramento and its people were victimized by a spate of horrendous hate crimes. Our community was terrorized by the same sick and twisted ideology that is creeping above ground today. Two gay men were assassinated in bed. My synagogue, of which my wife is now the Cantor, and two other synagogues, our NAACP and Japanese American Citizens League were firebombed.
My name was included on the terrorists' hit list. For days, we were surrounded with round-the-clock security.
But we stood strong. The capital city of the nation's most progressive state did not allow the haters to have the final say. Nearly two decades later, Sacramento erected a living, breathing center that seeks to embed the final say for generations to come.
The California Unity Center is a 4,000-square foot education center that confronts the state's history of discrimination and prejudice, and teaches visitors what Californians have done to create the state's culture of acceptance we often take for granted.
California has helped shape the values that define and distinguish our nation. The Fair Housing Act, marriage equality, overtime pay for farm workers and reparations for Japanese Americans are just a few of the many monumental advances in our country that California drove forward.
This progress did not happen by accident. Californians marched, went to jail, organized, sometimes died, taught, wrote, spoke truth to power and lobbied for a better California.
Young people who visit our center will learn about our historic battle for immigrant rights. They will step in the shoes of a transgender student in 2017 who is struggling to be accepted. They will be asked to imagine what it is like to be treated differently because of your race, gender, sexual orientation, faith, or just how you look. And they will be consistently challenged to answer the unending historic question: Will I overcome my fear and discomfort and speak up when someone is mistreated? Or will I allow an innocent person to suffer through my silence?
There has never been, and there will never be, a moral equivalency between American Nazis and those who toil for the beautiful American mosaic that includes everyone."
The Unity Center is opening at a fragile time in our country. The Southern Poverty Law Center recently released a report that listed states with the most hate groups. According to the report, California ranks first in the nation with 79 active hate groups, six of which operate in the Sacramento area.
Even where historic progress is celebrated, the threat persists.
That is why the need for the California Unity Center is as great now as it was in Sacramento nearly two decades ago. The center stands in direct contrast to the malevolence and hatred in Charlottesville. It's a historical reminder that, when good people stay active and engaged, what's great about America will always overcome what's wrong with it. It's also a direct rebuke to those who want to summon our past demons of bigotry and racism and use them to appease anti-American hate groups in our present.
There has never been, and there will never be, a moral equivalency between American Nazis and those who toil for the beautiful American mosaic that includes everyone. There has never been and there will never be a more important moment to recommit to a state and country which practices the best of American values.
We must model the behavior we hope to see in others: strength of conviction, respect for others, long-term commitment to justice and equality and a burning desire to heal the sickness of prejudice that stubbornly refuses to go away.
I remember as a young assemblyman standing on the stage of the community center theatre in front of 4,000 Sacramentans proclaiming that we must build a permanent commitment to fighting hate and intolerance. In some ways, the opening of the California Unity Center represents a commitment fulfilled.
And yet, we all know, our work to end the stain of hate is far from fulfilled.
No one disputes that math, science and English are necessary foundations for any high school graduate to prepare for success. Why is preparing young people to understand our history any less important? Why is motivating young people to participate in, and hopefully lead, a more accepting, compassionate and just America any less compelling than their actual job preparation?
Let our students' diplomas include that mark of distinction. I witnessed what others sacrificed to make my opportunity possible. And I will do my part to not allow us to go back.
REAL LIFE. REAL NEWS. REAL VOICES.
Help us tell more of the stories that matter from voices that too often remain unheard.
BEFORE YOU GO