It is often said that dogs don't lie, except to lie down, of course.
While I'm pretty sure I've been tricked into a treat or a walk from time to time, my experience largely supports this popular notion.
Late last month, three Nevada Highway Patrol officers filed suit against Chris Perry, the director of Nevada's Department of Public Safety and former chief of the Highway Patrol. They claim Perry hijacked the state's police canine program, turning the dogs into "trick ponies" with the purpose of falsely alerting to drugs on command, enabling the police to perform illegal searches and seize cash and other items in the process.
But the dogs were not lying. They were merely doing what they had been trained to do, to please their masters. Aside from the little con jobs a smart dog might pull to get a human off his backside and moving toward the door or the food, dogs really have no concept of lying.
The liars in this case, if the claims are true, would be Perry and the officers who knowingly gave their dogs secret commands to enable illegal searches and seizures -- them, and the trainers who help set up the scam.
I have been working with a scent-detection dog for nearly 10 years now, and it's been nothing short of amazing. Her name is Oreo, and she is an expert at finding hidden indoor mold problems. She's so clever that she can do what her trainer once said no dog could do: Alert to mold in the ceiling above her. The first time she did this, and we confirmed it, I was blown away. She'll also tell me if there's mold in a crawlspace by pointing straight down through carpeting, flooring and sub-flooring. She has never been wrong, even when she alerts on a pair of slippers or sneakers in someone's closet. Mold is mold, and Oreo finds it. She's a very smart cookie.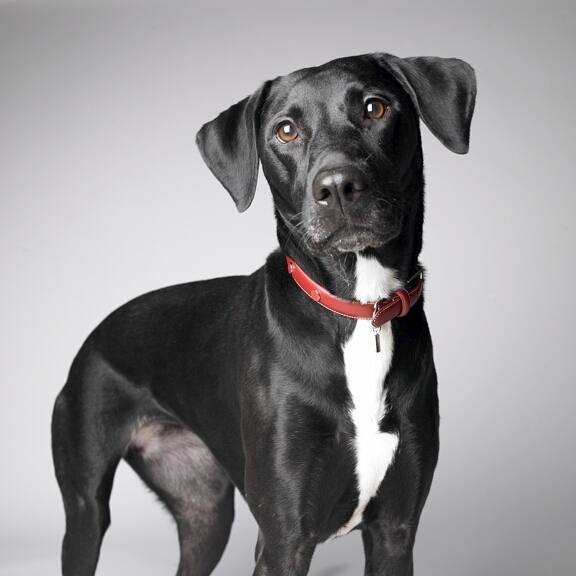 Oreo, the Northeast's first certified mold-detection dog (Photo credit: Amanda Jones)
I have come to use several phrases, perhaps sacrilegiously, that express my reverence for Oreo, and dogs like her. "In Dog We Trust" is my favorite. I also like "Dog is my copilot" and "I believe in Dog." She is the Canine Executive Officer of my company. In case you didn't notice, we're pretty fond of four-leggers in these here parts.
To be sure, Oreo could have been trained to alert on command, using a clicker or a code word, by an unscrupulous trainer or handler. But her training left no room for this kind of chicanery. She is operating under the premise (misconception) that I know where the mold is -- as if I hid it -- and if she doesn't point it out to me she doesn't get her reward. False alerts when she was in training incurred harsh reprimands. It has made her incredibly accurate and honest.
The bottom line is, a dog is exactly as trustworthy as its handler. This is why we use every available technology to confirm our dogs' findings. It's also why we're not in the remediation business, though there are many operators who do both mold inspections and the ensuing remediation.
This is an atrocious conflict of interest, almost as bad as a police dog handler who uses his canine to enable him to illegally search innocent people, and steal money from them. Until this scandal in Nevada, I was inclined to use the example of a small-town police chief who also sits as judge. Get a ticket in that town, and you have no hope of leaving with your wallet intact. Nevada has given me a new, more potent analogy.
So I make a big deal out of avoiding that conflict and making sure we work only for our customer. We take no commissions, kickbacks or any other form of remuneration from any remediator, and our clearance testing is ruthless. If the job isn't done right, the remediator will come back and redo it at his own expense.
While we know our dogs don't lie to us, our customers must also trust us not to teach our dogs to lie to them.
Now, I think I'll take Oreo for a well-deserved walk in the park.
She worked hard on this story.