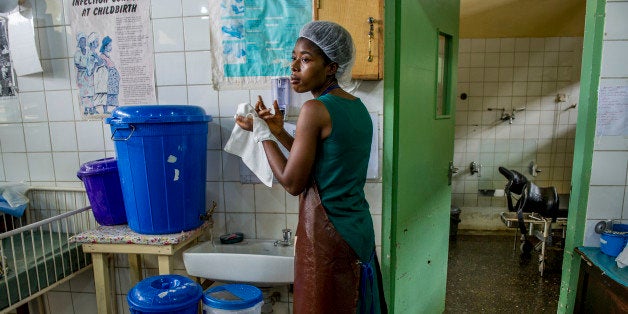 The devastating outbreak of Ebola in West Africa has drawn attention to the critical role frontline health workers play in health systems around the world. Nurses, midwives and community health workers are the backbone of health systems in underserved regions and are often the first and only link to health care for millions of people. From Guinea to Senegal, their importance in providing a wide range of health services is unparalleled, especially in remote and rural areas, and for those most vulnerable, notably pregnant women, newborns and children.
As infectious disease experts marshal reinforcements, materials and supplies to contain the Ebola outbreak and care for the sickest, those of us in the global health community have a responsibility to ensure that health workers on the front lines of the crisis have the support, proper training and tools they need to do their jobs safely and with confidence. This support is integral to maintaining lifesaving health services for mothers and babies during this public health crisis.
Throughout the developing world, nurses are the primary frontline health workers. A staggering 87 percent of all health care worldwide is provided by nurses and nurse-midwives. This is especially true in West Africa, where I have traveled extensively. As a nurse myself, I understand the responsibilities and challenges they face, especially providers staffing community health centers and clinics in Ebola-affected countries.
In Liberia, after a prolonged civil war, the government put a priority on strengthening nursing and midwifery education, community nursing and the country's health system. Today, the confidence of many veteran health care providers has been undermined by the swift, unremitting course of the Ebola virus, especially within their ranks. In Liberia, at least 1,450 people have died as a result of the Ebola virus since March. Of those, 80 were health workers.
The indiscriminate nature of the virus has left health care providers afraid for themselves and their families. Some have privately shared with our staff that they are reluctant to treat the sick. Others have been too afraid to report to work. As a result, key services in some health facilities are understaffed or unmanned.
Of most concern to me are the maternal health centers because reduced services means pregnant women, mothers and newborns are without the skilled care they need to survive complications of birth.
Given this unprecedented emergency and the fragility of the affected health systems, we must double our efforts to reopen and strengthen maternal and newborn health services. We must start by reinforcing infection prevention and control skills for health care providers and support staff, upholding proven standards of care in facilities and implementing quality assurance policies.
Our colleagues in health ministries recognize the importance of reinforcing these standards to provide quality health services for pregnant women, mothers and babies. In Liberia, for example, we have increased our work with the health ministry and partners and are adapting our evidence-based, infection prevention guidelines and materials to the Ebola context for use in health facilities. The relevant warning signs of the virus also must be shared with pregnant women in information sessions during antenatal care services.
In addition, we have assisted health facilities in working to establish a triage system for pregnant women and mothers so they can be assessed and screened for Ebola upon arrival and referred accordingly.
By updating infection prevention skills for health care providers and taking these other steps, we are making it possible for nurses and midwives to deliver services for women and babies confidently, effectively and safely. Pregnant women can receive the care they need to protect against malaria and other illnesses, maintain good health and give birth safely and to healthy babies, ensuring their children have a strong start in life.
Safety standards must be reinforced with all levels of health care providers -- from physicians to support staff -- and maintained across health institutions and without exception because we know that infection prevention does save lives.
The task before us is challenging -- Guinea and Liberia are among the 83 countries worldwide to have below the minimum number of doctors, nurses and midwives needed to provide basic services; the ratio of providers to patients is only a little more than two health professionals (doctor, nurse or midwife) for every 1,000 people, according to the World Health Organization.
But we must persevere, and use our resources in innovative and self-sustaining ways to restore essential maternal and newborn health services. As President and CEO of an organization dedicated to preventing the needless deaths of women and their families, that is my commitment to the mothers and children of West Africa. My fervent hope is that others will join us in this endeavor.
This post is part of a special series produced by The Huffington Post in recognition of the threats posed by Ebola, particularly to West Africa. To see all the posts in the series, read here.
Popular in the Community