In the midst of the recent presidential election results, many of us are wondering what the future will look like, including the future of the Affordable Care Act (ACA). Donald Trump has promised to repeal the Affordable Care Act (ACA) even though over 20 million Americans have gained access to quality, affordable health care coverage since the ACA's enactment in 2010.
You may be wondering how this will affect you and your coverage. While the threats to the ACA are very real, the likelihood that it will be fully repealed immediately is slim. You still have the opportunity to enroll in the New York State of Health Marketplace for coverage in 2017. Open enrollment began November 1st meaning that you can now enroll, re-enroll or change your insurance plan until January 31st.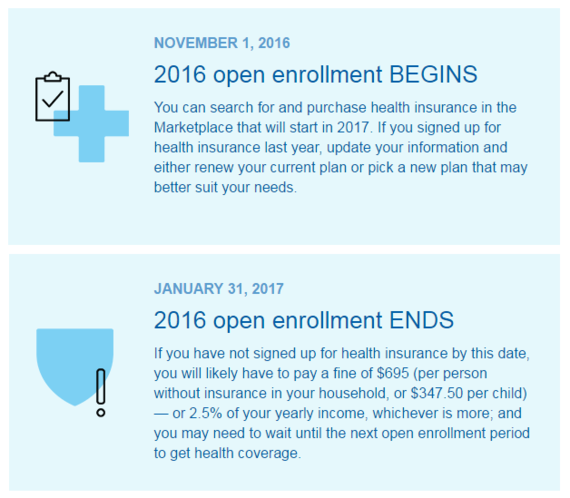 At Planned Parenthood of New York City (PPNYC), we are committed to helping New Yorkers enroll in insurance and get the access to the care they need. Health insurance protects you and your family, which means you can get the care you need, when you need it, without huge medical bills. If you don't have health insurance through a job, Medicare, Medicaid, the Children's Health Insurance Program (CHIP), or another source, the New York State of Health Marketplace offers a range of health insurance plans and financial help so you can secure the plan that is right for you.
But with so many different plans offered, it can be confusing to know what you qualify for. You don't have to figure it out alone - PPNYC can help you learn about the ACA and your insurance options. At any of PPNYC's health centers, our financial counselors can help explain your health insurance options, what each plan covers, and the protections that guarantee you access to quality care from trusted providers, including PPNYC. We can also help you determine if you qualify for affordable coverage through Medicaid or for financial help to buy a plan through the Marketplace. And even if you already have insurance through the Marketplace, we strongly recommend you check the Market Place again. Health insurance plans and costs change every year and there might be a better plan for you for 2017.
At PPNYC, we believe that everyone should have access to quality, affordable health care. Not only has the ACA helped get millions of people covered, it has also led to better health care for all people by expanding coverage for preventive services. Because of the ACA, all insured people, including those with private health insurance, can get preventive care (including birth control, and breast and cervical cancer screenings) without a co-pay. Millions of New Yorkers have benefitted from the ACA's enactment, and we will fight to keep it intact.
And our fight doesn't just end there. Nearly 1 million New Yorkers are still uninsured, including many individuals from our city's immigrant community, because of cost or ineligibility due to immigration status. At PPNYC, we stand with the immigrant community, and provide free or low-cost services to everyone, regardless of immigration status or ability to pay. All of our services are confidential and we provide care to everyone who walks through our doors at any of our five centers.
We do not know yet what will happen to affordable health care in the upcoming years. But what is certain is that we will keep fighting, no matter what, and that our doors will stay open as a resource for all New Yorkers. We offer and will continue to offer the full range of sexual and reproductive health services to all New Yorkers, including birth control, STD testing, and preventive care like cancer screenings. Whether you have insurance or not, we will continue to be a resource for you.
We invite you to our health centers to learn more about the ACA and how you can use it to get the best health insurance coverage for you and your family. To make an appointment for our reproductive and sexual health services or for help enrolling in insurance, call us at 1-800-230-PLAN or visit www.PPNYC.org.
Related
Popular in the Community