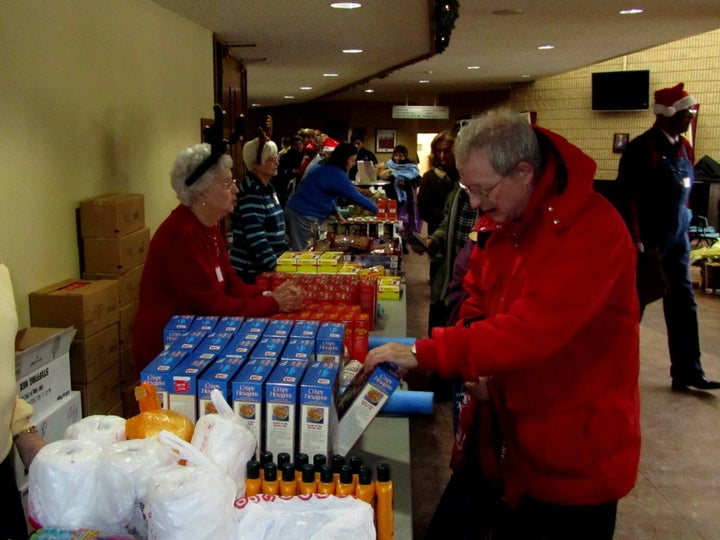 DES MOINES, Iowa -- Sometime next week, Carey Miller and her staff at the Food Bank of Iowa will receive a shipment of 6,000 turkeys to store in the freezers here until Thanksgiving.
With more than 30 million acres of farmland, Iowa is better known as the largest producer of corn in this country than as a state with a severe hunger problem. But one in eight Iowans is considered "food insecure," the government's term for people without consistent access to nutritious meals. Nationally, about 15 percent of households are considered food insecure.
Still, this is not the Iowa of pumpkin farms and meet-and-greets that most presidential candidates see. This is the Iowa of people like Joe Hoch, a 54-year-old who has been without work for more than two years. While looking for a new job in the technology industry, he has visited the food pantry at the First Assembly of God church here each week.
At first Hoch came just to get a bag of necessities, to keep food on the table he shares with his wife. But now he's taken to volunteering at the food pantry, helping elderly and disabled people carry groceries out the door. He said he doesn't want to "feel like a liability."
"I'm kind of marking time, just waiting for a job," Hoch said, his voice wavering as he sat, turned around, in a pew. "This is really all I have."
Leo Green, who runs the church's food pantry and seems to have memorized every piece of information about the program, said about three-fourths of the people that First Assembly helps come every week.
"Before about 18 months ago, we mainly got people who had gotten into the habit of coming here. This got to be an outing," Green added. "Nowadays we have more and more people coming here because something happened."
Whether that something is lost employment or a health problem or whatever else, First Assembly's food pantry isn't the only one in Iowa that's busier than anyone would like. Miller runs the state's largest food bank, which distributes more than eight million pounds of grocery products to food pantries and soup kitchens each year. She said the need for food here has gone up between 25 and 30 percent since 2008.
In large part that's because of massive layoffs in Iowa, but even some of those who are able to find work still need assistance.
"So you get an $8.50 an hour job, but you've got two kids and you owe everybody," said Green, who is 73 and "retired again and again and again" but has the energy of a teenager. "You think you're not going to need help?
That help can be hard to find. While First Assembly lets anyone come select items to take for free here once per week, most food pantries only allow visitors to stop in once a month and only take people from within a certain geographic area. On top of that, few food pantries, First Assembly included, are open at night or on the weekends.
There's no sign that help coming is soon for the hungry here, and policymakers in Washington may make life even harder for the food bank and the organizations and people connected to it. As legislators debate the 2012 Farm Bill, proposed cuts to The Emergency Food Assistance Program, or TEFAP, which provides millions of dollars in funding to Iowa and about a third of the food bank's annual budget, could have devastating consequences.
While Senator Tom Harkin (D-IA) told The Huffington Post this week that, "any deficit reduction must not be carried out at the expense of our country's low-income population," Miller and others worry what they would do without the funding.
"There's no way we could make it up through donations," Miller said as she walked through the food bank's mostly-empty, 53,000-square-foot warehouse. "You just couldn't."
REAL LIFE. REAL NEWS. REAL VOICES.
Help us tell more of the stories that matter from voices that too often remain unheard.