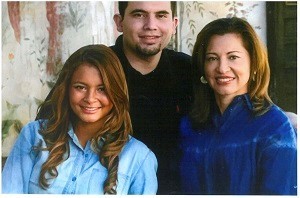 Our daughter Fatima Larios was a competitor who never gave up. Born five weeks premature, she knew how to overcome obstacles and persevere right from the start. She was swimming before she could walk, and just a few months after walking she was riding her bike. So we weren't surprised when Fatima became a star athlete. A four-sport standout in high school who twice earned all-county honors in softball--and who led her team to three straight league titles--she also excelled at soccer, water polo and basketball. In 2010, she was part of a team that won the USA Softball National Championship. And she ended up playing softball in college on an athletic scholarship. We always expected great things from Fatima.
What we never expected, though, was the news we got about Fatima on January 31, 2015.
A police officer knocked on our door and said we should call the Police Chief at Fatima's school, Chadron State College in Nebraska.
"I am sorry," he said. "I am delivering a death notification."
We felt as if the life had drained from our bodies.
Over the course of the weeks and months that followed, we learned that some of Fatima's college softball teammates and friends suspected she was being abused by her boyfriend at Chadron. They noticed suspicious bruising and changes in Fatima's behavior. When asked about this, Fatima said her boyfriend was beating her. Several of her teammates, wanting to help, notified staff at Chadron. They told their assistant coach, who also suspected dating violence. The assistant coach then told the head coach who, in turn, informed the athletic director. The director then informed the schools' Title IX Coordinator, who sent a letter to Fatima along with the school's lengthy policy on sexual violence and harassment.
Here's what didn't happen: The Title IX Coordinator didn't take additional steps to find out if Fatima was, in fact, being abused. Nor did she give Fatima information on confidential resources Fatima could turn to for help, if she needed it. Teammates and coaches were concerned about Fatima's safety. Apparently, the college wasn't. And, most important, the college had a legal obligation to act. But it didn't.
Under a federal law known as "Title IX," the Coordinators charged with ensuring compliance with the law are supposed to be experts on schools' obligations to address every form of sex discrimination--including dating violence. When they receive a report of suspected dating violence, they are supposed to immediately take a variety of steps to address it. This is because they have legal obligations to determine if a student is in danger. If the answer is 'yes'--and it clearly was 'yes' in Fatima's case--a college must take prompt steps to stop the violence and ensure it doesn't happen again.
Chadron failed Fatima, morally and legally. The Title IX Coordinator never even spoke to the friends that reported Fatima's abuse. And instead of trying to speak to Fatima privately, the Coordinator put Fatima at greater risk by sending a letter that Fatima's boyfriend could easily have seen.
Nearly three months after her friends first expressed their concerns, Fatima was found dead in her boyfriend's dorm room. The local police said it was suicide. That's not the Fatima we know and love--the competitor who never gave up. That's not the daughter who called us the day before she died to tell us how excited she was about an upcoming softball game in Florida.
We now know that, during the six months she attended Chadron--where Fatima had transferred to be with her boyfriend--Fatima was, in fact, a victim of dating violence.
After we learned that Chadron staff had received reports of suspected dating violence--but failed to take any meaningful steps to protect Fatima--we filed a complaint against the college with U.S. Department of Education's Office for Civil Rights.
Recently, the Office for Civil Rights informed us that it is opening an investigation into what happened. We're relieved that someone is finally paying attention, and we're determined to make sure no other student, and no other family, has to go through what we did.
In Fatima's memory, we want to help ignite a movement to demand that schools comply with Title IX and other federal laws that address dating violence. Everyone--faculty, families and friends--should be part of the effort to eradicate dating and sexual violence on campuses.
Fatima was 19 years old when she was taken from us. But in her time with us, we knew her to be a peacemaker, a motivational friend, and a champion with a contagious smile. When news of her death reached the community, one newspaper wrote that, "It is not just Fatima's family . . . that are grieving. It is a community that stretches up and down the Monterey Peninsula. Yes, she was that popular."
We know that Fatima would want us to advocate against dating violence on campuses across the country. She believed we all have a part to play, whether on a team, in a family, or among our friends.
It's a lesson that Chadron State College--and colleges across our country--need to learn too. We cannot win the day if we choose to sit things out. We're determined, as Fatima's family, to do our part and insist that the schools to which we entrust the care of our children do theirs too.
Calling all HuffPost superfans!
Sign up for membership to become a founding member and help shape HuffPost's next chapter