FERGUSON, Mo. — They're still here: a small group of protesters, across from the police department, in what passes for a downtown in this small suburb of St. Louis.
Sitting on overturned milk crates and portable folding chairs in the parking lot of Andy Wurm's Tire & Wheel shop Wednesday night, they talked about what life has been like for them since 18-year-old Michael Brown was shot dead by Ferguson Police Officer Darren Wilson on Aug. 9. As they speak, cars occasionally honk their horns in support, and a man on roller blades whizzes by in the shared car-bike lane.
Jermell Hasson, 27, says he lives right down the street. He's usually taken the night shift of the protests, showing up around 6 p.m. and sometimes staying until 6 a.m. He says at one point he was out here for three days straight. Supporters supply them with a constant stream of food: they've had Subway, Little Caesars, Popeye's, McDonald's and sometimes apples and oranges. "We eat too much out here," Hasson joked. "We stay full."
The rain started falling. Hasson and a couple of others had ponchos, but they'd still get soaked if the sky really opened up. The fold-up canopy tent they'd used earlier in the protests was nowhere to be seen.
Soon, two firefighters emerged from the firehouse across the street, right next to the Ferguson Police Department. They talked to the protesters, went back inside the firehouse, and emerged a few minutes later to give them blue tarps to help them stay dry. "Thank you, fellas," one of the protesters said.
"I just don't want the guys out here to get fucking rained on if it gets crazy," said one firefighter, who declined to give his name because, as a city employee, he didn't want to be seen as taking sides on the issue of Brown's death.
A calm has returned to Ferguson since the most intense protests hit the city earlier this month. Things have been quiet since Monday, when Brown was laid to rest.
The change is most distinct, eerie even, near where Brown was gunned down, which is quite literally on the other side of the tracks. West Florissant Avenue is where you'll find payday loan stores, fast-food joints and the burned-down QuikTrip, instead of the wine bar, bike shop, brewery and coffee shop over on South Florissant Road. South Florissant is also where you'll find the city's public resources: the police department, the public library and the privately contracted equivalent of a DMV, which is run by Ferguson Mayor James Knowles.
Earlier in the day, Knowles stopped into the Corner Coffee House on South Florissant before heading to work and chatted with some elderly former residents. Knowles, who faced criticism for claiming that there was "not a racial divide in Ferguson," struck a different tone on Wednesday, saying that the problems highlighted in the wake of Brown's shooting were not unique to his city.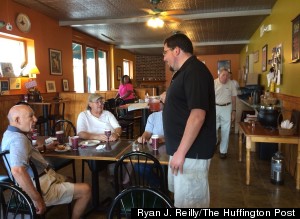 Mayor James Knowles visited the Corner Coffee House in Ferguson on Wednesday.
"At least the city of Ferguson will be moving forward on these things, and we're hoping that the greater St. Louis region will as well, because there's two million people that live in this area," Knowles told The Huffington Post. "Ferguson is only 22,000 people, and clearly I think you've seen here the problems, the frustrations really come from all across the region, not just Ferguson."
Knowles described being in regular communication with Minister Akbar Muhammad of the Nation of Islam, and said he was working to accommodate a planned protest in Ferguson on Saturday. But many of the issues raised, he said, "are so much bigger than Ferguson," and he said he sees a need to broaden the focus of the debate.
"There needs to be a broader focus if we're going to make a real change for the people who have been frustrated," Knowles said. "We're six square miles, so you can drive through Ferguson and feel better about it, but they've got to go through the rest of the world, the rest of the country."
Nearby, former Ferguson Mayor Brian Fletcher and Chris Shanahan, spokesman for a group called Friends of the City of Ferguson, sold "I
Things, of course, aren't completely back to the way they used to be. M.C. Hammer doesn't typically hang out in Ferguson, for example. But most reporters have moved on, and a sense of normalcy is beginning to return.
Ferguson officers have been spotted patrolling the West Florissant corridor, though they reportedly were accompanied by Missouri State Highway Patrol officers when responding to calls in the area where Brown was killed. The law enforcement command center, located in a nearby strip mall parking lot, has been dismantled. Highway Patrol Capt. Ron Johnson, who led the police response, held what he said would be his last press conference at St. Louis County Police headquarters. At the press conference, Johnson praised the community for coming together, while Chief Jon Belmar defended his department's response to the initial protests two weeks ago.
Hours before that news conference, Johnson sat down for lunch at Ferguson Burger Bar, one of the few businesses that stayed open at night throughout most of the protests. The restaurant has been packed with journalists and protesters over the past several weeks, but by 8 p.m. Wednesday, only the owners and a couple of employees were inside. Instead of CNN's coverage of the protests happening just outside, the television was showing Dr. Drew. The door swung open, and a customer walked in. He said he was there because he'd seen the restaurant on TV.
Across the street at the McDonald's, two veteran police officers from nearby Kinloch — which has a total police force of just six — milled around and discussed how the neighborhood had changed. Both officers were on McDonald's' payroll for the night, brought in to protect the store, which was staying open into the evening hours for the first time in weeks.
"It's kind of sad what they've done to our towns," said the female officer, who grew up in the area and lives in the small city of Jennings. She pointed to the Family Dollar and said it used to be a Walgreens, the Ferguson Market & Liquor — the store where Michael Brown stole cigars before he was shot — which she said used to be a 7-Eleven. "A lot of these places are not coming back," she said.
Back near the Ferguson police station, Hasson described occasionally getting yelled at by people who didn't support their cause. Occasionally, someone would yell, "Go home," or "Fuck you," or "You don't know why you're out here."
Many of the protesters described their frustrations with a system that locks people up for unpaid parking tickets. Despite having just over 21,000 residents, Ferguson issued over 32,000 arrest warrants for non-violent offenses — most of them driving violations — in 2013.
These concerns were shared by Keith Lloyd, 28, and Shay Taylor, 34, who joined the protest outside the police station.
"This has been going on for a long time, but now we tired," Taylor said, holding her one-year-old son. "Enough is enough."
Keith Lloyd and Shay Taylor joined a protest in Ferguson Wednesday night.
Popular in the Community