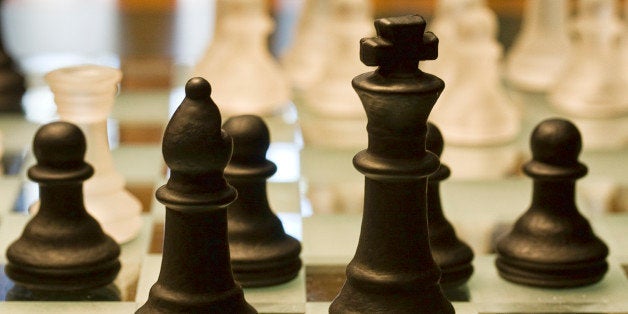 Last week, I visited Ferguson to meet a group of smiling students, excited at the opportunity to learn chess in a new afterschool program.
Since the civil unrest that ensued after the death of Michael Brown over a year ago, Ferguson has been in rebirth mode, repairing its community and rebuilding a sense of safety and trust among its government, businesses, schools and other institutions. One would anticipate seeing discontent, hopelessness and despair in the community. But, I saw the opposite: families and kids who want to succeed, schools that want to help kids achieve, and an appetite for some positive change.
Chess, albeit unusual, is an effective way to bring people together, instill hope and increase positive thinking.
When I was 12 years old, I moved from Jamaica to Brooklyn to live with my single mother. It was difficult enough trying to make the transition to a new country, especially into a neighborhood that regularly saw its share of drug dealers, prostitution and violence. So, when I began playing chess at 14, it was all I wanted to do. I played nonstop until I could win. I found my own identity in the game and it became the largest influence in my life. It kept me on the straight and narrow, allowing me to avoid many of the allures of the street that ensnared a number of my friends.
Chess changes lives for the better. I've seen it in my life and in the students I've taught and coached in inner city schools in Harlem, Brooklyn, Washington, D.C. and elsewhere. They discovered their potential and took the skills learned through chess - critical thinking, concentration, focus, problem-solving and tenacity - and went on to graduate from top universities and obtain great jobs. Now, kids in Ferguson will have this opportunity.
For the first time ever, a chess program is being offered in Ferguson schools. The program is a partnership between Ascension, the nation's largest non-profit health care system, the Chess Club and Scholastic Center of St. Louis to bring chess afterschool programs into every elementary school and middle school in the Ferguson-Florissant School District, all free to students.
Chess is a truly special and magical game, particularly for young people. Think about it: It helps them think critically, problem-solve, have patience and self-confidence, understand other people's viewpoints, which can help them in the classroom and in life. Chess is also a decision-making game -- you have to think about your options. If you make a bad decision, there are consequences; if you make a good decision, you'll be rewarded. Most kids do not get to make a lot of decisions growing up. In chess, they get to decide what moves to make and which strategies to employ. That might not seem like a big deal, but for a disadvantaged child the ability to make good decisions is a game-changer.
In 1999, at 33 years old, I became a Grandmaster, the first Black person in history to achieve the game's highest title. I have since made it a priority to raise awareness about the benefits of chess, encouraging young people, particularly in underserved communities, to learn the game and to learn their own value. So, when I became aware of Ascension's plan to implement the game in a neighborhood struggling to regain its identity and to promote the better welfare of its children, I was eager to help. I am proud to be able to partner with Ascension, and help the kids see their own value in chess.
Bringing the learning opportunities and fun of chess to young people may seem like a small step to take in the face of daunting challenges encountered by so many young people in underserved communities, but it's a step in the right direction, and a step I'm really proud to be a part of. Chess is means to give children the tools to sharpen their minds, to look into and plan for the future, and to see themselves as thinkers in control of their own destiny.
Martin Luther King Jr. once said faith is taking the first step, even when you don't see the whole staircase. I'm hopeful that this program will inspire other unique public and private partnerships to bring after-school activities like chess to communities in need of greater opportunity. Maybe it will even produce the next African-American Chess Grandmaster.
Popular in the Community