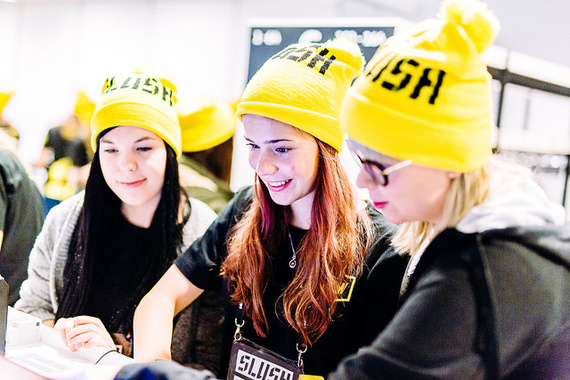 Volunteers at tech conference Slush in Helsinki [Photo by Jussi Hellsten, Slush]
In the old factory district of Helsinki, Finland, in a 4,000-square-foot electric power plant known simply as Kattilahalli ("boiler hall"), more than 500 developers and creatives gathered for the largest hackathon ever held in the Nordics. Known as Junction, the 48-hour hackathon boasted nearly 1,000 applicants from more than 35 countries and touted impressive co-organizing partners, including Uber, Shopify, and Klarna, among others, taking place on November 6-8. The hackathon was a prelude to Slush, Northern Europe's largest technology conference, a massive production estimated to have attracted 15,000 attendees this year, during November 11-12.
Junction and Slush embody the burgeoning startup and big business symbiosis I witnessed in Helsinki's entrepreneurial ecosystem on a recent visit. I couldn't help but notice the deep collaborations between young entrepreneurs with fresh ideas and executives from large industry players at both events.
At the Junction hackathon, for example, participants registered under seven tracks, including those with health, commerce, digital payments, and travel focuses, among others, all sponsored by big players. App-based car service Uber hosted the "Improving Cities Track," for example, while Reaktor design studio, Finnair airline company, and Finavia Helsinki Airport co-sponsored the "Future of Travel Track," and technology firm P&C Insurance led up the "Health Track."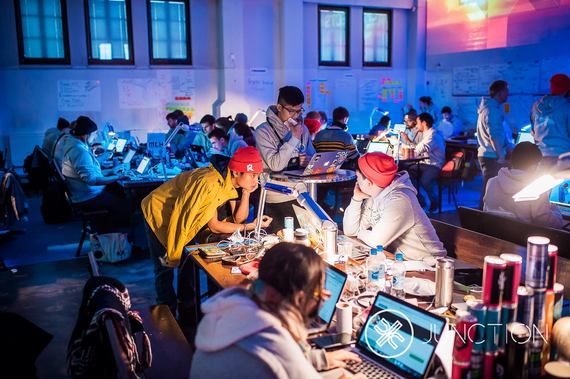 More than 500 participants attended the 2015 Junction hackathon in Helsinki. [Photo courtesy of Junction]
As one of two guest judge for the Future of Travel Track, I became well-acquainted with the 30 teams that participated in the track and the fellow judges from Finnair, Finavia, and Reaktor. I also got an inside view into what went into developing the track -- namely, a lot of synchronization across many organizations and collaboration with scrappy organizers and participants. As is the case at most well-organized hackathons, within the travel track alone, developers had quick access to roughly a dozen relevant application protocol interfaces (APIs), which were aggregated on the track webpage and accompanied by Helsinki-specific, travel-related data. Unlike the scene at other hackathons, though, participants also had access to developers and non-engineering talent from participating organizations.
Henri Lönn, an operations analyst at Finnair, consulted with multiple teams during the two-day hackathon, for example. One team, which called itself Fly4Free, had multiple questions about how airlines solve the problem of undersold flights and whether it'd be cost-effective to comp flight tickets in return for some other sort of value, such as consumer flight reviews. Lönn's industry expertise came in handy as he explained the industry status quo of overbooking, fuel costs per customer, weight tradeoffs, and even alternative shipping solutions. "Perhaps you could fill the seat with a human-shaped shipping container, instead of a passenger," I overheard him add.
Mentorship didn't end when the hackathon clock ran out, though -- judges included Reaktor Ventures Managing Partner Oskari Kettunen, Finnair Vice President of Digital Journi Oksanen, Finavia Head of Service Development Eero Knuutila, Runway Girl Network Deputy Publisher Maryann Simson, and Reaktor Aero General Manager Konsta Hansson, among the nine judges. To say the least, the sponsors brought their big players -- and from diverse backgrounds -- to the table to lend feedback to teams, in the sake of travel innovation.
It was refreshing to see big business getting nitty gritty with startups, rather than shunning the change that scrappy outfits typically bring.
Reviving a Dying Economy Starts with Education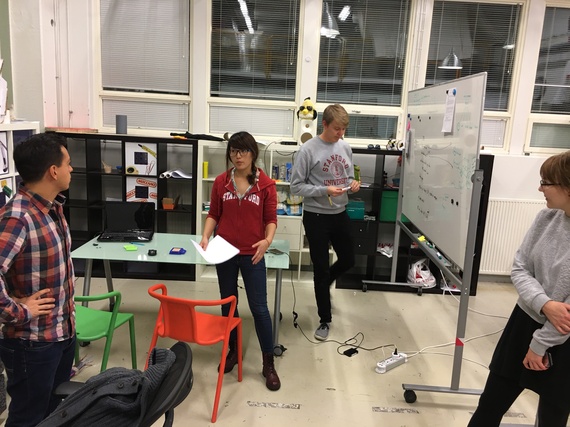 Aalto University students enrolled in the school's ME310 design-thinking course describe their year-long project with American pharmaceutical company Merck. [Photo by Erica Swallow]
Finland's growing startup ecosystem is taking root at an important time for the nation, developmentally, and educational institutions are partnering with industry players, as well, to make sure students are prepared for a new economy.
With the fall of Nokia -- Finland's once-dominant mobile technology juggernaut, which made up as much as 4% of the Finnish economy in its prime -- the country is seeking new ways to breath life into its economy, which has contracted for three consecutive years and is predicted to underperform its euro peers yet again in 2015.
While large organizations are joining forces with young innovators to imagine a new future, what may be even more important is the change taking place within schools. I was pleasantly surprised to learn that both Slush and Junction, as well as a number of Helsinki's entrepreneurial activities and organizations, are organized by Aalto University students -- that's right, a 15,000-person conference and a 500-person hackathon were both organized by students this year.
Described by numerous sources as "the MIT of Finland," Aalto University is home to startup co-working space Startup Sauna, startup internship program Startup Life, and the Aalto Design Factory maker space, among other entrepreneurial offerings. At the Design Factory, students have the opportunity to work on international projects with clients such as Apple, NASA, and Toshiba, through for-credit class ME310, which operates in partnership with the well-reputed Stanford University d.school. Or, they can use the ample machinery -- including a CNC machine, a woodworking shop, and 3D printers -- to prototype their own projects.
If it's not already enough that Finland offers tuition-free education at all levels to all students, regardless of nationality, its entire education system focuses on preparing students for life, rather than testing, from kindergarten through university. Furthermore, it's secondary and university programs -- such as those at Aalto -- are adapting more and more to meet the ever-changing economic landscape. Students work on hands-on projects and gain skills before graduating that enable them to enter the workforce or start their own businesses. And, once again, it's partnerships with industry that make such projects and on-the-ground experience possible.
The Bottom Line: Collaboration Is King
Too often, startups and big business butt heads, and educational institutions lag behind, because they're unable to adapt to industry needs, due to a lack of communication between players. Though I spent just under two weeks in Finland, it's the closest model to a fully integrated and collaborative economy that I've seen, from schools to innovative startups to big industry players.
In America, we value competitive advantage and tend to keep our "secret sauce" to ourselves. We are an innovative society, but we stay siloed by industry or company size or status. There are tons of partnerships across borders, but only when it makes strategic sense.
In Finland, I sensed a profound desire to collaborate -- even across country borders. The Nordic countries -- Denmark, Finland, Iceland, Norway, and Sweden -- seem to hold a camaraderie that is lacking in America and its neighboring countries. I attended an event at the Icelandic embassy in Helsinki, for example, in which Icelandic ambassador Kristín A. Árnadóttir and and Finland's Minister for Foreign Trade and Development Lenita Toivakka discussed the importance of the two country's strengthening startup ties and introduced a delegation of Iceland's top startups, including children's coding game Box Island and automatic identity verification service Authenteq.
Regionally, America is really only close to two countries: Canada and Mexico, but even with those two countries, I've never seen the amount of regional pride and intent to grow startup ties that I sensed among the Nordics. I can see these sorts of collaborations benefiting the region in the long run, especially as they talk about showcasing each other's works at huge events, such as Slush, which attract investors and entrepreneurs from all over the world.
Furthermore, I get the sense that if our schools integrated more industry involvement in their curricula and focused on learning and experience gathering, rather than testing, our students might start to rebound from their consistently poor and dropping international rankings. Finland's leadership seems to understand the relationship between education and economics -- America should consider the same and adapt for the 21st century.
All in all, the technology startup ecosystem I witnessed in Helsinki seems to be a burgeoning place for innovation in the wake of Finland's underperforming economy and dying flagship companies and industries. With the many partnership and collaborations that exist across industry and company boundaries, though, Finland seems to be on its way to a brighter future in technology innovation, particularly where design and gaming -- two of its strong suits -- are concerned. Investors may not be keen now, but if it were me, I'd go long on the Finns.
Popular in the Community