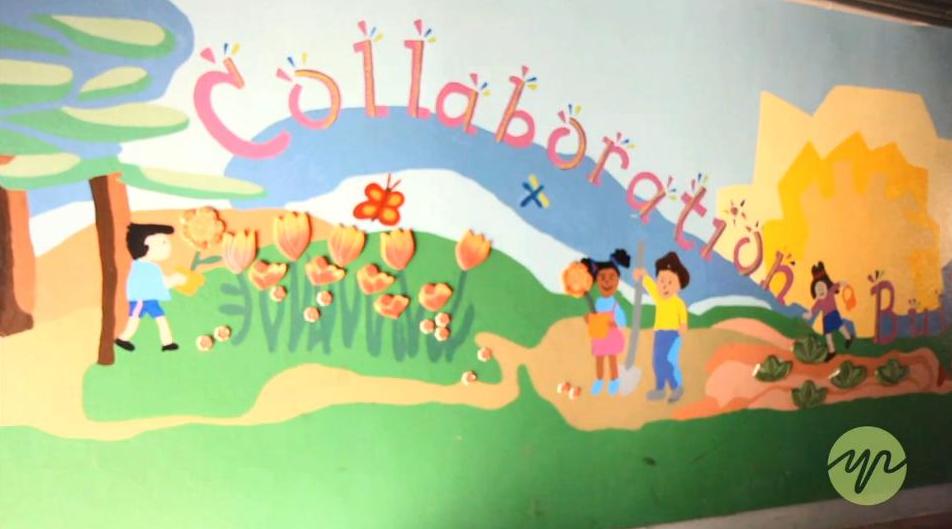 Photo Credit: JENNY BOLARIO/Youth Radio

A mural on the wall of Harder Elementary School in the Hayward Promise Neighborhood.
Youth Radio/New America Media
HAYWARD, Calif. -- Gerardo Ramirez wants to be a forensic crime scene investigator. An avid fan of TV dramas like Criminal Minds and CSI, the 16-year-old is bused every day from Tennyson High School in Hayward, Calif. to a regional occupation program (ROP), where he studies criminal justice in exchange for high school credit.
"We're about to learn how to take fingerprints," he said during a recent break in between classes at Hayward's Eden Area ROP.
Ramirez is one of hundreds of students in the Jackson Triangle neighborhood - a traditionally under-served area of this city southeast of San Francisco - hoping to get a head start on college and a career path thanks to an infusion of federal dollars.
His is one of two Hayward high schools included in the Hayward Promise Neighborhood (HPN), an initiative targeting schools in the Jackson Triangle and powered by a multimillion dollar Promise Neighborhood grant from the Office of Innovation and Improvement at the U.S. Department of Education.
The grant's aim: to improve education outcomes for children like Ramirez by investing not only in local schools, but also in the wider community.
Over five years of implementation, the Hayward Promise Neighborhood, along with four other sites around the country, will each receive $25 million to create a continuum of cradle-through-career services to support children living and going to school there. That includes improving schools, but also neighborhood resources, like health clinics, career programs, parenting classes and community organizations.
This year marks the first year of the program's implementation.
The concept is based on the Harlem Children's Zone in Harlem, New York, a non-profit organization and the brainchild of veteran social activist and educator Geoffrey Canada, who raised over $100 million to improve academic outcomes for children in Harlem.
Hayward's Jackson Triangle - part of the Hayward Unified School District - is one of the first neighborhoods in the country to receive the green light from the Obama administration to go forward with its plan. The other four neighborhoods are located in Kentucky, New York, Minnesota and Texas. Another 15 sites have been awarded planning grants.
Among the goals that make up the "promise" in the Hayward Promise Neighborhood grant are: children will enter kindergarten ready to succeed in school; students will transition successfully between grades and schools; students will graduate from high school; students will enter productive and personally rewarding careers.
A look at the numbers, however, suggests some serious challenges to reaching these goals.
In the 2010-2011 school year, the dropout rate at Hayward High School was near 20 percent, while at nearby Tennyson High School it topped 25 percent. Academic Performance Index (API) scores for both schools, meanwhile, fall near the bottom in statewide rankings, while close to 70 percent of students qualify for free or reduced meals. One third are designated English Language Learners.
Youth Radio/New America Media, Video, Robyn Gee, Posted: Dec 24, 2012
Sandwiched between San Francisco to the north and Silicon Valley to the south, Hayward is among a number of smaller Bay Area cities often overlooked by commuters shuttling back and forth between its more affluent neighbors.
The Jackson Triangle sits in the city's more industrial southern district, and is home to a growing Hispanic community that accounts for more than 50 percent of its residents, many of them immigrants from working-class families. African Americans and Asian Americans each account for about 14 percent, while whites make up 12 percent of the population.
The neighborhood encompasses six schools - two elementary, two middle and two high schools - serving some 11,000 residents, about half of them under the age of 17. Each school is slated to receive a portion of funding through the Promise Neighborhood grant.
"The one thing I wish about our school," says Igodaro, an 8-year-old attending Harder Elementary, "is that there was no fighting and no name-calling. And I wish that the school was clean."
While the first two wishes may be tougher to deliver on, Harder has seen some big changes since the HPN went into effect. The school has added two new preschool classes and is planning to launch parenting workshops as well. It has also taken on five new staff members, including a co-administrator who focuses on school culture and climate and a school psychologist.
"Five years from now," says principal Hector Garcia, "I hope we [become] known as a California Distinguished School," an annual designation reserved for the state's highest performing institutions. "[I hope that by that time] we have been able to deliver the kind of rigorous education that we expect to our students, and that that translates into academic achievement."
The School-Community Connection
At the other end of HPN's cradle-to-career spectrum is, of course, the question of job placement, which is where Eden Area ROP comes in. A recipient of HPN funds, students at the school earn high school and college credit, as well as certificate pathways toward such careers as dental assistants and auto mechanics.
Dr. Irene Fujii is superintendent of Eden Area ROP and a key author of Hayward's Promise Neighborhood grant proposal. "The more that [career and technical education] can be integrated into school ... grades improve, attendance improves," she notes, adding that employers often approach her and other program instructors seeking skilled workers.
Hayward's official unemployment rate for 2012 stood at 12.2 percent, the second highest rate of any city in Alameda County. For residents of the Jackson Triangle, a lack of jobs ranked second only to crime as a pressing concern.
The Promise Neighborhood money, Fujii explains, will allow the regional occupation program to expand its academic support services for students struggling in high school by keeping an independent studies teacher on site. This teacher will help students make up course credit without giving up their career technical courses.
Another component in the program is improving the area's health care infrastructure. At the Tiburcio Vasquez Health Center, staff members are using the extra funding to implement a neighborhood health program based in part on a concept first developed in Mexico.
"We believe that healthy bodies and healthy minds will optimize a child's ability to learn and grow," says Lori Baptista, director of policy at the health center. The center launched its Promotoras de Salud (promoters of health) academy in November, a free four-month course aimed at training Jackson Triangle neighborhood residents to become community health leaders.
Promotoras, a tradition begun in Mexico in the 1970's, are community members trained to provide basic health information to neighbors. In Hayward, they have focused their efforts on raising awareness around immunization, diabetes, HIV, cancer, cardiovascular disease prevention and stress reduction.
A 2007 report from the Pew Research Center showed that health was a key cause for student absences - more than 500,000 in that year alone. There is also a growing body of work showing a strong link between better health and improved student outcomes.
"I am trying to get more involved," says Dora Saldaño, a Jackson Triangle parent and student in the Promotoras class. Like many of her classmates, Saldaño is a stay-at-home mom, and says the program is bringing her closer to the community. "It's helping me be less shy."
Russ Whitehurst is a researcher with the Brookings Institute who has been looking into the impact of the Promise Neighborhood program. While he says the original model in New York did see some success, he questions the efficacy of this broader, community-focused approach on student performance.
"I think that lots of the Promise Neighborhoods are not based around the one strategy that seemed to be working in the Harlem Children's Zone," says Whitehurst, adding that in New York, the strategy was built around "an excellent, no-excuses charter school."
With regard to the community services in Harlem, he says there's "very little evidence that all the add-ons [are] having any impact at all."
In Hayward, the plan does not include charter schools, but is instead focused solely on transforming public schools. "For me, it's not a promising Promise Neighborhood for that reason," says Whitehurst.
The co-author of a 2010 report on the Harlem Children's Zone, Whitehurst identified two problems with the outcomes there. First, while the charter schools in the area were exceptional compared to public schools in New York City, they compared less favorably with other New York City charter schools. Second, services like early childhood, nutrition and health programs seemed to have no visible impact on student achievement.
"To focus on the peripheral things," he says, "crime in the neighborhood, marital discord, and health services, and not focus on the core, which is the school itself ... is to be missing the target."
For Hayward Promise Neighborhood organizers, the funded program isn't an end in itself, but rather the means to building a longer-lasting foundation for local schools and the community.
"That's part of our job, not just to look at the here and now, but to look ahead," says Melinda Hall, project manager for the HPN. "One of the goals of this is not just to do it for this neighborhood, but to really inform the educational community so that the political powers that be can make informed decisions [about where to spend the money]."
The district has seen some major cuts in recent years, starting with a $26 million reduction in 2008 after it fell on the state's fiscal watch list for potential insolvency. That led to increased class sizes, staff reductions and the loss of key programs, like music.
Following California voters' passage in November of Prop. 30 - a tax hike that will provide funds to California schools -- the district's fiscal standing should see an improvement. But it's unlikely much of that will go toward neighborhood and community resources.
And for parents in the Jackson Triangle, that's where they're seeing a real impact.
"There's nothing critics could say that would convince me that a kid seeing their parent go to a class at their school [doesn't improve the student's attitude about school]. Even if that doesn't get reflected in students' scores, it's in their morale," says Seana Condit-Gordon, who has a kindergartener and a second grader at Harder Elementary. She was referring to HPN-related proposals seeking to convert schools into after-hour community centers where adults can take classes with their children nearby.
Condit-Gordon was among a group of Hayward parents who recently visited the Harlem Children's Zone, hoping to take away some lessons from the program there. On her return, she said, she felt a renewed sense of hope. "I want [our kids] to walk away with a sense of pride in their community, and [to] want to come back to Hayward in the future."
Robyn Gee is a reporter / blog editor for Youth Radio in Oakland, Calif. She covers education and politics and works with young people to produce stories for local and national radio.
This story was produced as part of New America Media's 2012 education reporting fellowship for ethnic media journalists in California, with support from the California Education Policy Fund (CEPF) and the David and Lucile Packard Foundation.
Youthradio.org is the premier source for youth generated news throughout the globe.
Youth Radio/Youth Media International (YMI) is youth-driven converged media production company that delivers the best youth news, culture and undiscovered talent to a cross section of audiences. To read more youth news from around the globe and explore high quality audio and video features, visit Youthradio.org
REAL LIFE. REAL NEWS. REAL VOICES.
Help us tell more of the stories that matter from voices that too often remain unheard.