Jenny Lyn Bader's charming and uplifting new play takes place in an unlikely locale--the offices of Omega Traveler, an in-flight magazine--hence its title. The magazine is run by a smart and ambitious woman named Marty (Danielle O'Farrell) who however lacks the sense of risk to actually venture out of her corporate existence--instead she sends her writers to experience all of the exciting things that she actually yearns for. Upstairs, her tough boss Melanie (Ginger Grace) owns Omega Airlines and its magazine, ruling both with an iron fist--she is one tough lady. At the beginning of the play she confronts Melanie after what she sees as a small debacle: "What you lack is common sense. You've lost it. Get it back./You don't have any fight in you. You're toothless. The magazine's a dying art. Be ruthless."
Marty hires a charming, handsome young writer named Andrew (Drew Ledbetter), with whom she slowly falls in love. To say that our Romeo has issues with the truth would be a kind understatement.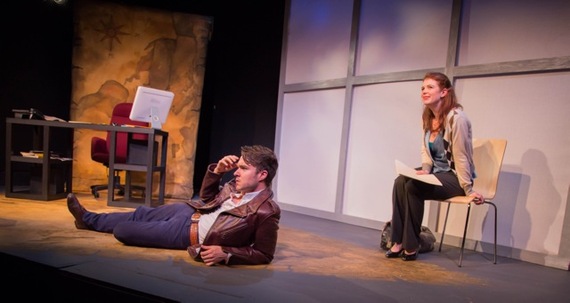 And when Melanie more or less strong-arms Marty into on-staffing her sweet but oafish son Ted (Jackson Thompson) whom she has more or less castrated into submissive incompetence over the years, the results are, well edifying. Shortly thereafter Marty sends Ted to Canada (how boring) and Andrew to Bhutan (how exciting). What could possibly go wrong? Everything, of course.
Bader has a remarkable facility with language. The entire play is rhymed and moves at a fast clip thanks to Jessica Bauman's deft directing and some superb acting from the ensemble cast. And playing Page, the passionate and brilliant travel writer, the wonderful Lynnette Freeman positively glows with talent and charisma. She is real thing through-and-through, the only one of the bunch worth her salt in frequent flyer miles.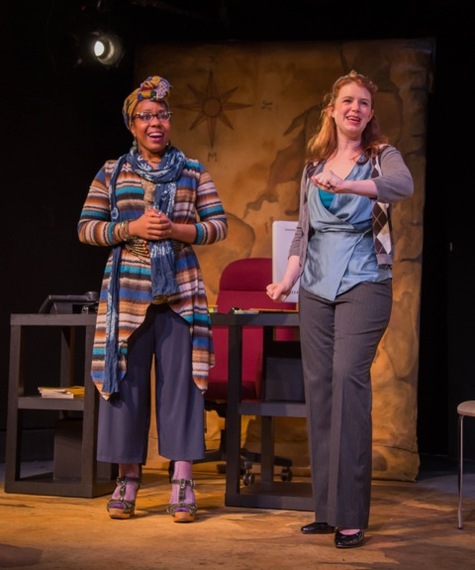 In the end, Bader's play is really about the walls that people put up around themselves and the personalities that they project to overcome their respective insecurities. Reality and illusion, if you will. The plot thickens as one of the writer is feared lost in a bloody revolution abroad and the airline company runs into some managerial issues worthy of the best of wall street scandals. It's heady stuff.
Form and function have been doing battle in drama since the Ancient Greeks. In this case, as in some of Bader's other writings, her delicious punditry and rhyming ease almost occult the very serious messages that she wants to get across about love, modernity and the way we relate to another in an age of social media. But I suppose that having an almost preternatural facility with words isn't the worst fate a dramatist can have.
IN FLIGHT by Jenny Lyn Bader; directed by Jessica Bauman; set design by Elli Engstrom; costume design by Nicole Slaven; lighting design by Chelsie McPhilimy; sound design by Iris McElroy; production stage manager, David Givens. Produced by Turn to Flesh Productions (Executive Director, Samantha Elizabeth Turlington; Artistic Director, Emily C.A. Snyder). At the WorkShop Theatre through May 23, 2015.
WITH: Danielle O'Farrell (Marty), Rajesh Bose (Art), Drew Ledbetter (Andrew), Ginger Grace (Melanie), Lynnette R. Freeman (Page), and Jackson Thompson (Ted).