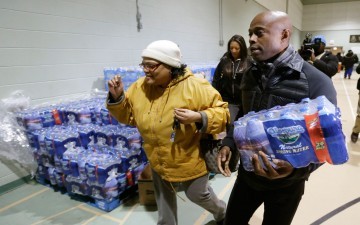 By: Kimberly Hayes Taylor
Relief from big names and big business is rolling into Flint amid the city's man-made water disaster.
The Rev. Jamal H. Bryant announced he is hosting the Environmental Justice #WaterForFlint Rally at noon Monday, leading a 50-vehicle caravan of 50,000 cases of water to the city. At least 60 churches from around the nation, including 30 Detroit congregations collected water and will join him in the effort he is calling an extension of the Black Lives Matter movement.
"This is environmental terrorism, and to exact this kind of cruel and unusual punishment to American citizens on our shores is completely inexcusable," Bryant, the dynamic leader of the 12,000-member Empowerment Temple in Baltimore, told EBONY.com. "We're calling for the accountability of the state, and an independent investigation."
Earlier this month in his State of the State address, Michigan Governor Rick Snyder apologized for the crisis and vowed to fix it. "Apologies for children who have rashes on their skin and have a level of brain stimulus being retarded in the process that's going to take years for them to know the full scope is much larger than saying, 'I'm sorry,'" Bryant said.
To help with foreshadowing legal action against the state of Michigan and its governor, Attorneys Benjamin Crump and Billy Murphy, attorneys for the Trayvon Martin and Freddie Gray families, respectively, will join Bryant in the beleaguered city.
The Rickey Smiley Show will broadcast live from Flint Monday, and Radio One's Roland Martin Show also will feature the Flint crisis in its Feb. 1 broadcast. Bryant will host a live telethon from 8 to 10 p.m. Monday on The Word Network, based just outside Detroit.
Soul legend Aretha Franklin pledged 25 to 50 free hotel rooms and food to Flint residents who have been affected by the water crisis, and exposed to lead poisoning.
"Detroiters usually come to the aid of Detroiters--and Flint is certainly regarded as Detroit," Franklin told Detroit television station WDIV Tuesday.
Her donation to her neighbors about 68 miles north of Detroit is among the latest in a long line of celebrities who have stepped forward to help the relief effort.
Motown artist Kem donated $10,000 to the Salvation Army and doled out bottles of water in Flint Tuesday. The R&B crooner, who lives in Detroit, also gave his support to the non-profits "text to give" campaign to fund water filters and other aid for Flint. People are asked to donate by texting "WATER" to 91999.
Calling all HuffPost superfans!
Sign up for membership to become a founding member and help shape HuffPost's next chapter