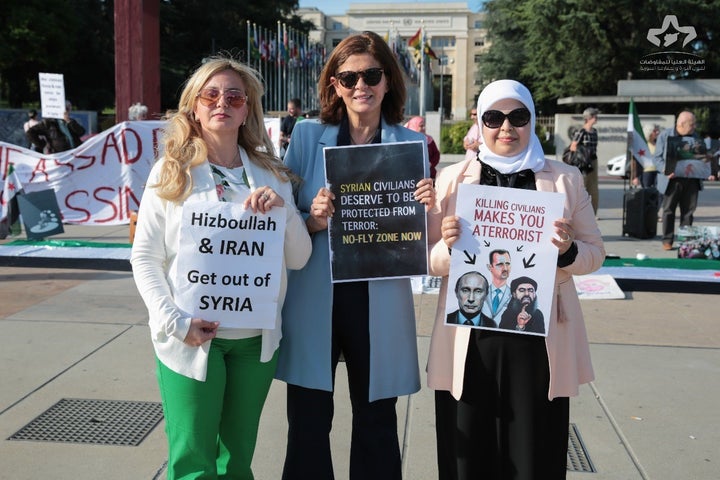 As another round of Syrian peace talks begins in Geneva, it is finally time to set the political transition in motion and address the very real danger Syrian people face: zero accountability for attacks on civilians means the inevitable continuation of indiscriminate killing. As a member of the High Negotiations Committee - and the HNC's Women Advisory Committee - my focus has always been protection of civilians and accountability for all who have committed crimes against the Syrian people.
Keeping civilians safe is not only my main concern: it is the first step toward a meaningful political transition in Syria. But so far, the international community has let the Syrian people down by refusing to take any meaningful steps to stop the regime's indiscriminate attacks on civilians. Apathy and a lack of a coherent international strategy has allowed the regime and its backers to continue to kill civilians with impunity.
As we enter the next round of peace talks, however, the international community has another opportunity to show the leadership necessary to end this bloody conflict. The High Negotiations Committee's western allies must ensure civilians' safety and their ability to access humanitarian aid. As we saw at the Astana talks, agreements with the regime are meaningless if they do not include clear international guarantees. International guarantees must include a willingness to monitor and enforce a ceasefire or the so-called de-escalation zones proposed by Russia, Turkey and Iran. Without enforcement, no ceasefire will hold.
As negotiators we have witnessed Bashar Al-Assad's appalling unwillingness to commit to meaningful talks. During the last round of peace talks in Geneva, his regime – with the support of Iran and Russia - continued to unlawfully displace thousands of Syrians from their homes. In some cases, the displacement and transfer of populations were so severe they amounted to ethnic cleansing. But this was not enough for the regime. Last month, while the international community gathered in Brussels to discuss the future of Syria, the regime carried out a heinous chemical attack against civilians in Khan Shaykoun. Assad ordered the dropping of Sarin gas on non-military targets, killing 86 people. A third of those civilians killed were children. There must be accountability for these attacks. The international community can no longer stand by idly in the face of such barbarity.
Holding war criminals, like the regime generals who carried out the Khan Shaykoun attack, responsible will be a necessary element of the political process. It is not enough for us Syrians to hear the path to the International Criminal Court is blocked by Russia, and with it any prospects for accountability. We will not drop our demands for justice.
The Assad regime's crimes make clear how crucial a meaningful political process at Geneva is. If the international community is serious about the Geneva process, then it needs to put in place a mechanism that deters the regime from continuing its attacks on civilians. This is not about regime change. It is about getting the regime to negotiate. It is clear, however, that the regime has zero interest in a political process. Only an assertive international response can force Assad to negotiate. The future of Syria should be in the hands of the Syrian people.
We, the Syrian opposition, must play our part in the negotiations too. And we already are. The HNC has developed a thorough vision for political transition in Syria. We have set out a clear plan to achieve accountability and justice in the peace process, which would ultimately allow the peace negotiations to realise their aims.
A lack of accountability only serves the interests of war criminals and extremists. More must be done in bringing cases to fruition through the UN's International, Impartial and Independent Mechanism, which assists in the monitoring and prosecution of war crimes committed in Syria. A majority, 105 states, endorsed the monitoring system in the UN General Assembly. Individual member states, too, should make greater use of universal jurisdiction, which allows countries to try individuals for war crimes committed elsewhere. Trying war criminals will help bring about necessary systematic change in Syria.
Still, we need the international community to pressure Assad to negotiate in good faith. Without international commitments, the Assad regime and its backers in Moscow and Tehran will continue to use Geneva as a means to buy time while it showers bombs and military strikes upon innocent civilians.
Member of the High Negotiation Committee / Peace activist
Related
Popular in the Community