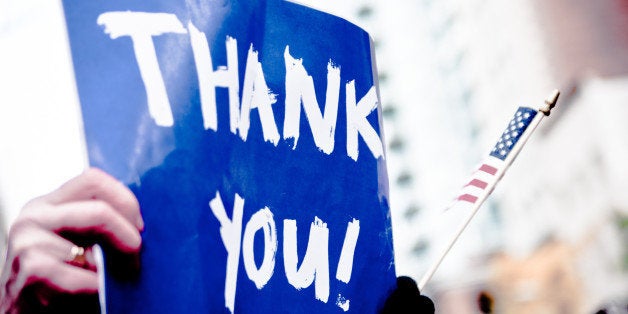 I likely won't get through this without crying, but Veterans Day was never about celebration anyway, so I'm okay with that.
Every Veterans Day, I've know exactly whom I wanted to honor. Stationed behind enemy lines as an Air Force aircraft mechanic during the Korean Conflict, my father was the bravest, most stoic man I knew -- and while he spoke very little of his time in combat, his commitment to his country was of paramount importance to him. He firmly believed that his time in the military turned him into a man with discipline and strength of character and often voiced his opinion that there was little wrong with the young men in our country that couldn't be sorted out with some time serving their country. He spent his entire career working for the Air Force, first as an enlisted airman and then as a civilian. He was part of the 4950th Division, serving as the lead mechanic on experimental air craft, meaning that he could rarely talk at home about the top secret projects he worked on. There were times he left in the middle of night to catch a military hop halfway across the world to repair an aircraft just enough to for its crew to hobble back home. When a blizzard shut down most of Ohio in the late '80s, my father spent several days with his men at the base. And when an aircraft needed to land without the benefit of any landing gear, he was one of the first to be called as a consultant to help the aircraft and crewmen land safely (they did).
But it wasn't until his last years as he fought valiantly against the encroaching loss of memory and speech to Alzheimer's that I learned things about my father's service that I'd never known. One day when my mother dropped him off to visit me, he brought along a box of mementos. I expected him to share a nice collection of rocks or old silver dollars he'd collected over the years, but, instead, he opened the veil for a few short moments on a career that was mostly shrouded in secrecy.
I discovered my father was a consultant to NASA. Who knew? I didn't. He never bragged about it, despite the prestige and respect it would have garnered. He didn't care at all about those things. He cared about people, about helping others and doing the right thing by those he encountered. Fame and accolades were never an attraction for him.
I also found a small card tucked away in the box that stated that my father was an essential emergency responder and should be allowed passage and support when the card was presented. Again, I had no idea.
My father died this past summer, and even now, I sometimes feel completely adrift when it hits me that this man -- the rock of my childhood -- is no longer here to tell me everything will be okay. I miss him terribly, and I am so grateful for every memory he was able to share before it was too late.
And so today as I remember my father and the life he gave in service to his country, as well as the pride he took in quietly contributing where and how he could, I honor not only his sacrifice but the kind of man he became because of his service to our country. I am deeply grateful for so many who, just like my father, contributed and continue to protect the freedom I enjoy today.
I can't call my father this Veterans Day. Oh, how I wish I could. If it isn't yet too late for someone you know, take a moment this Veterans Day to thank them for their sacrifice. One day it will be the memory you hold dear when, like me, the gratitude simply resides in the heart because the words have nowhere else to go.
Related
Popular in the Community