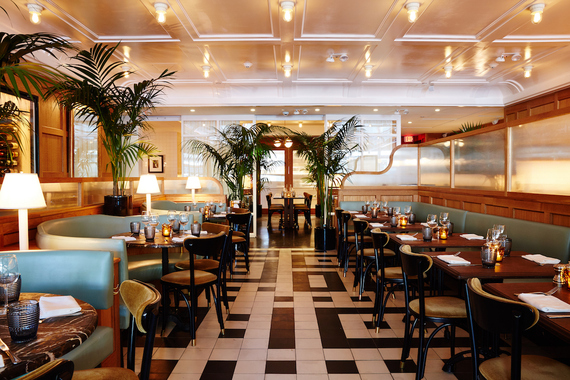 Ten years ago Greenwich, Connecticut, had perhaps five good restaurants--two of them long gone--but since then this Gold Coast town, for which the term "affluent" almost seems a snub to the enormous wealth in the area, has seen the opening of a remarkable number of restaurants of every stripe. Most, however, are still copycats of a kind you'll find in any NYC bedroom community. So the arrival of The National has brought a finer degree of sophistication and good taste to the upscale but casual segment.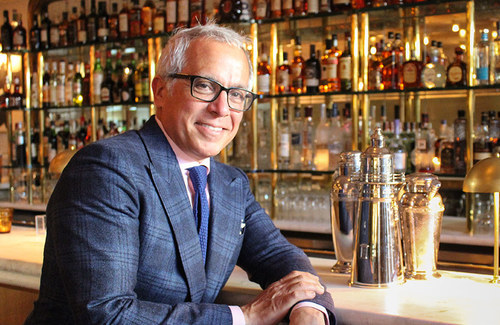 Which is what you'd expect from Geoffrey Zakarian (above), who, despite a celebrity status that turns most chefs into mere QVC hucksters, has managed to maintain an array of six restaurants with high standards of cuisine, service and design, from The Lambs Club in Manhattan to the Georgie at Montage in Beverly Hills. That he cannot be at all properties at once and still devote time to his TV shows is worrisome, but Zakarian is not the kind to let things drift into mediocrity.
The National (abbreviated on the menu as The NTL), set along Greenwich's prime retail street, looks terrific: Gray velvet curtains inside the door give way to spacious banquettes along the wall, gray and white floor tiles, and bare marble tables, with a few palm trees dotted around to give it a omni-seasonal ambiance. A glass panel separates the dining room from the mirror-backed bar. All those hard surfaces make the room fairly loud, the decibel level further hiked by wholly unnecessary piped-in booming music. (Who would ever go to an upscale restaurant like this to hear music? Greenwich is not the Lower East Side.)
NTL's menu is very well balanced and has been carefully crafted to appeal to a contemporary palate, although there isn't much on it that will surprise anyone who has dined at The Lambs Club (where prices are somewhat higher.)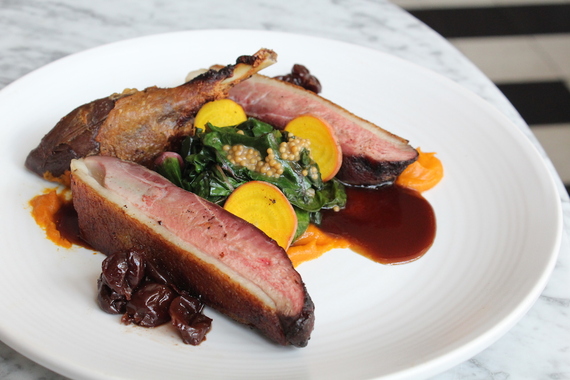 There are four pasta dishes--no American restaurant can fail to serve pasta--the best of which was squash-plumped ravioli with crushed walnuts, rich brown butter and a touch of sage ($23). Squash was also the main ingredient of a soup, the vegetable first roasted, served with a Sultana raisin emulsion, candied pumpkin seeds and brown butter ($12), whose contrasting textures and sweetness were in perfect equilibrium. Hawaiian tuna poke was a good example of a dish fast becoming something of a cliché on menus, with ample scallions and avocado, spiked with a ginger lime vinaigrette ($22).
I sampled two seafood entrees, a wood-grilled dorade ($36), which is not a fish easy to love, but it was nicely cooked, its own bland flavor helped by celery, olives, and a little bite of grilled lemon. Spanish octopus was tender, served with gigante beans, fennel, black olives and taramasalata ($33).
It's not difficult to cook a duck (above) till juicy but to retain all the flavors of fat, its meatiness and crisp skin as done here, with radicchio for bitterness and figs for sweetness ($36), is to break from the ordinary. The Prime hanger steak had the right chewiness, riddled with beefy juices, served with a creamy shallot confit and watercress ($32); and a side dish of crispy Parmesan-dusted potatoes ($10) is well advised for a table of four.
I'm helpless when it comes to judging sticky toffee pudding for dessert, and NTL's is as good as the best around town. But is there any real reason to include yet another tiramisù on a menu? Instead go with the delectable (O.K., yummy) strawberry ice cream sundae (bellow). With two spoons.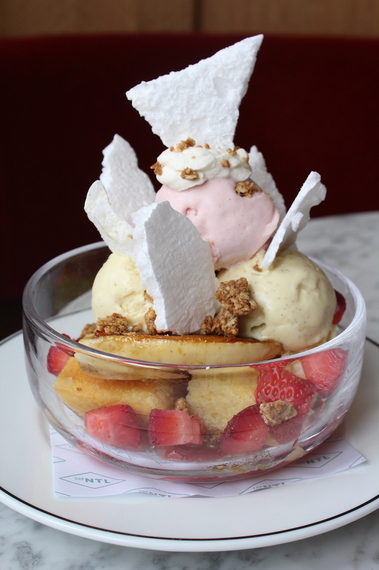 The wine list is overseen by Geoffrey Fischer, previously at WD-50 in NYC; the cocktails menu by Brian Van Flandern. Cocktails, run $14-$16, but there are two "craft classics" priced at $24 and $75; beers run $7-$9; wines by the glass number fourteen. The bottle list is well chosen to go with the food and includes many out-of-the-ordinary bottlings from France and Italy. Some wines are priced at a reasonable 100% above retail, others 150% or more. There are plenty of wines above $200 but, I'm happy to report, many good bottles under $50.
You can dine well in Greenwich, but The NTL raises the bar for this kind of contemporary comfort food, priced right and served with care. Its popularity--the room was full on a cold Monday night--makes it seem like a place Greenwich and the surrounding area had been waiting for. Look for some others to copy its virtues.
THE NATIONAL
376 Greenwich Avenue
203-861-685