Marathon Boy chronicles the treacherous true saga of a frail, dirt-poor four-year-old boy in India and his ambitious mentor-trainer who loves him and makes him famous for running long distance races. While many have heard of the boy, Budhia, few outside India know who powered the child forward with the dream of escaping their impoverished lives. That man was Biranchi Das, an enthusiastic romantic whose colorful life and can-do spirit make this story so compelling. According to the film's British director, Gemma Atwal, Budhia Singh became the most googled child in the world while she was filming his story from 2005 to 2010.
I was huddled with Atwal in one end of photographer Leslie Hassler's large loft, at that moment filled with other directors and actors during the 2011 Tribeca Film Festival. It was our first of two interviews, and I was just learning about her fascinating five years filming Marathon Boy. It premiered on HBO November 3.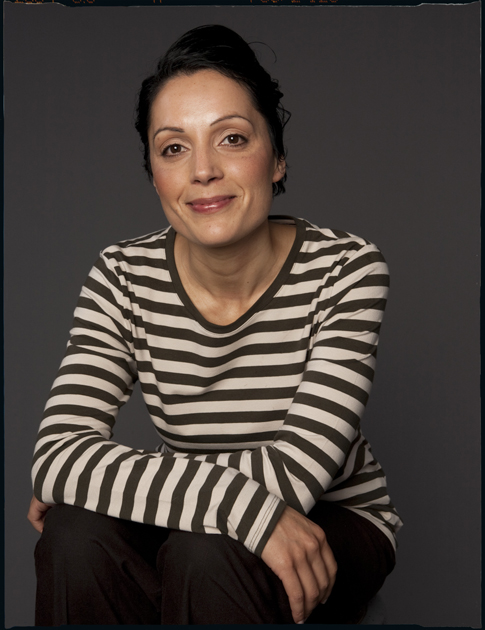 Director Gemma Atwal / Photograph by Leslie Hassler
Atwal admitted becoming quite emotionally involved with the story's characters and the intrigues that plagued them.
The lead character was Baranchi Das, a big-hearted, industrious, lovable, completely arrogant man with a dream much bigger than the area he was from. That area is the squalid state of Orissa on the east coast of India. Biranchi had little, but he was generous and loved by the common man. In some ways, he reminded me of Fagin in "Oliver Twist" because he gathered up orphans and fed, clothed, and took care of them. He sectioned off some government land and built Judo Hall, where he trained the boys. (He took a few girls in, too.) He was a skilled judo coach. He told them 'I don't want money from you. Just bring me two bricks every day.' With those, he built the place. He had several small businesses that helped him feed the children and his wife and son. One of the boys later said, "When there wasn't enough, he didn't eat."
Biranchi then noticed a two-year old boy he'd seen playing in dirty water was now missing from his mother. Learning the mother had sold the boy to a peddler, Biranchi bought him back, negotiated with Sukanti, the mother, and took the sick lad to his own home.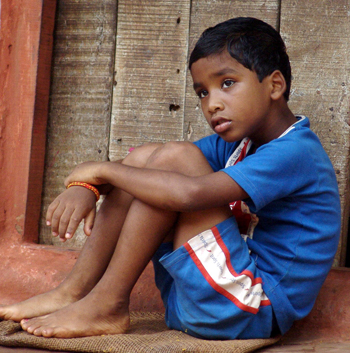 This was Budhia (right), whose leg had become gangrenous. Baranchi paid the child's medical bills and nursed him back to health over six months. He'd finally convinced his wife, Gita, to take the little urchin (who had become foul-mouthed) into their home. Although a poor man himself, Biranchi seemed always to find enough resources to save poor children from the streets. He had even bult a small swimming pool for their exercise and pleasure.
One day, after punishing Buddhia for cursing by making him run circles around the yard, Biranchi found Buddhia still running effortlessly hours later. Running was something he loved to do. The enterprising Biranchi then seized upon a dream: with his help, Budhia could someday run in the Olympics. Plying Buddia with protein supplements, he put him through rigorous long distance training until Budhia entered his first race. Then a second. Then a third. At the age of three, Budhia had run several half marathons. By age four, he had become famous for running 26-mile marathons. The duo had captured an adoring media, helped along by Biranchi's superior PR skills.
Now Budhia and Biranchi were fawned over, written about and photographed. Budhia's winnings brought needed money to the school and a foundation was being planned for Budhi's athletic future. It was, so far, a win-win. But one fateful day, near the end of a grueling record-breaking 42-mile run featuring only Budhia - a PR stunt - Biranchi's zeal squelched his reason.
Atwal was filming that day, perched atop a motorcycle, aiming her camera backward upon Budhia as he ran. A coterie of adult males ran behind him. Budhia clucks to the press, "I'm running for the pride of India." All of India was focused on this indefatigable wonderboy.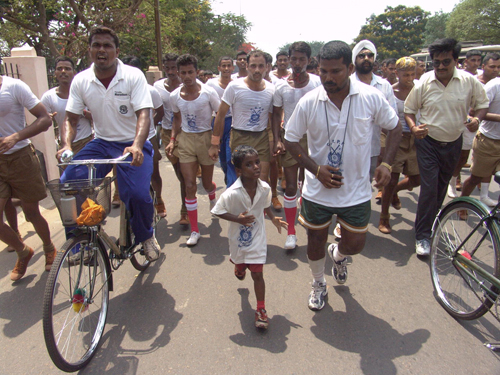 Budhia with Biranchi Das beside him on the right / Photo by Gemma Atwal
Atwal said she turned off her camera near the end of the run she was so irate with Biranchi. "I begged him to stop the race because I saw Budhia was nearing collapse. He did finish the 42 miles.
Yet pride-filled Biranchi wanted more from Budhia. His dreams of grandeur overriding his judgment, he asked the exhausted child to run another 1.8 miles to the grandstand where dignitaries awaited. It was during this final distance that Atwal turned her camera back on. Budhia couldn't make it. You will, as I did, breathlessly see the tiny boy collapsed in a heap, his eyes rolling back in his head from exhaustion. Watching these events closely, India's Child Welfare authorities came after Biranchi full force, accusing him of cruelty toward a minor and threatening to take the boy from him. Facing down the Orissa state government's wrath, Biranchi openly defied them. Atwal explains the tug-of-war over Budhia:
The party in power declared an all-out war on Biranchi, who had the backing of ALL the people and ALL the media. During these battles, the opposition party became his allies. He could have won an election if he'd wanted to run. Every government worries about its image in the media, so they came after Biranchi with accusations, made-up charges, arrests and grandiose displays of force to weaken and crush him. But he was a formidable character who enjoyed courting controversy and did so.

Then the boy's mother (below with Budhia), began listening to voices who convinced her she must take her son back and would be entitled to mountains of money from his earnings. "I empathized with her, " said Atwal, "she'd had a very hard life." While she could have stayed aligned with Biranchi (who had often invited her to his home), letting him give Budhia a future while supporting her, she would not back down. Then some men from her slum kidnapped Budhia, delivering him to his mother, and the authorities jailed Biranchi for a time. The state government sided with the mother. The duo had become bigger than the state, so they had to neutralize Biranchi's power. In the end, Biranchi Das lost the boy he called his son. He had made too many enemies.
Was Budhia consulted? Yes. He declared he'd been happy with Biranchi. Later, he claimed he'd been mistreated, which wasn't true. (He often said whatever he was told to say.) And what life did he have without his mentor anyway? "But the politicians felt they had to exercise their power over a man who was more popular than they were," said Atwal.
So in the end, Biranchi's unbridled strengths and arrogance caused his downfall. "The story boils down to a poor man and a poor boy who unite to pursue their dream in a ruthless world. Biranchi was as flawed as their dream was, which fascinated me," concluded Atwal.
HBO began airing "Marathon Boy" November 3. Watch as the Indian duo rides the fame train before coming to a tragic end no one expected and which I have not divulged.
View more of Leslie Hassler's photography at www.lesliehassler.com
Calling all HuffPost superfans!
Sign up for membership to become a founding member and help shape HuffPost's next chapter