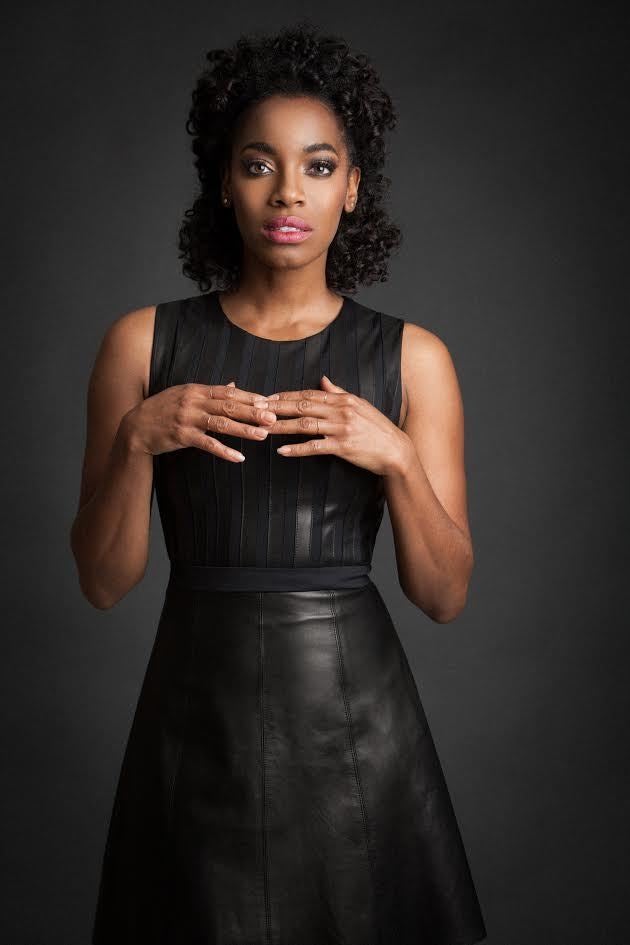 SPOILER ALERT! IF YOU HAVE NOT SEEN THE WINTER FINALE OF "HOW TO GET AWAY WITH MURDER," STOP READING!
It's been over a week since November sweeps came to a close for How To Get Away With Murder and the shocking winter finale aired, leaving fans jaw-dropped and tear-soaked from the death of Wes- meaning that the fan-favorite played by the extremely talented and beautiful Alfred Enoch would no longer be on the show. But, as heartbroken as audiences may be over the beloved character's passing, the ABC hit luckily gave fans yet another gifted actor to be thankful for this holiday.
As Rene Atwood, sizzling newcomer Milauna Jackson shows that she is far more than a capable talent as she proves to be a worthy on-screen opponent for the incomparable Viola Davis' Annalise Keating, as she goes toe-to-toe with her in and out of court. Needless to say, it takes a lot to even dare to act alongside Davis, so to have the courage to play her on-screen foe takes a special kind of guts, and Jackson clearly seems to have it in spades as her magnetic prowess is nothing short of fearless as she embraces the lens.
Already on quite the roll with her career, the talented actress has been able to show a wide range of diversity in her performances on shows such as Aquarius opposite David Duchovny, and Strike Back alongside Sullivan Stapleton. And as she adds not only Davis to that list, but also Shonda Rhimes- a woman known for immediately jumpstarting the careers of powerful actresses of color in the industry, as well as many other diverse talents- Jackson will surely soon be one of the most sought after names in Hollywood.
In the interview below, the How To Get Away With Murder star talks about working with Rhimes and Davis, as well as the rest of the cast, what fans can expect coming up on the hit show, what she would like to do in the future, why colorblind casting is so important, and more! Read below to see what Jackson had to say!
Talk about a winter finale! So, tell fans a bit about Rene Atwood and what we can expect from her on "How TO Get Away With Murder."
The tricky part about this show is that there are so many unknowns! There are so many moments where I think that I am aware of the trajectory that I am on, and then something is revealed that knocks me off course! One thing that I can say that fans definitely will see is more conflict! The conflict between Rene Atwood and Annalise Keating will definitely be explored on a much deeper and layered level. To many degrees, that's the exciting part- to allow the audience to experience that. We have already revealed that she is aware of the that Rene and Nate have a relationship, and that impacted. We'll see a lot more tension there, and a lot of the tension behind the choices of every individual party involved in this conflict also. So, it's exciting!
The show is obviously a huge hit and in its third season. Were you a big fan coming into the show?
Oh, absolutely! When I got the phone call that I had an audition for the show it didn't matter what the role was because I was such a big fan, as well as such a tremendous fan of Viola Davis. I went to see her on Broadway in Fences, and I followed so much of her career and watched what she did to get where she is today, and I'm just so impressed by her. So, upon receiving the audition I leaped at the opportunity to even be able to talk to Viola as Annalise- and I guess that the energy was so strong that even though I didn't get the role I had tried out for, they simply offered me this one. And every time I'm on set, I think about the moment that prepared me for this. Being a fan of the show helped, but also knowing how the show operates was also very beneficial.
This show really has a strong reputation for colorblind casting, which Shonda Rhimes is very proud of. Can you talk about that a bit and how important that is in media?
Now that we have more of a bird's eye view of the heartland of this country, we have to recognize that diversity is something that some people don't get exposed to. So, if we have the opportunity to spread the message that everyone is a human is through art to some people who might not see this every day, then it's very important that we do so. In fact, it's more important now than ever before, and it can't just be resting on the shoulders of one black woman! [Giggles] Colorblind casting is a beautiful thing. Seeing a specific role and thinking that anyone can possibly be cast- that's incredible. And that's not just colorblind, that's also without an agenda bias. What Shonda Rhimes did with Grey's Anatomy was unprecedented. The reason that there was so much fanfare was because she made the decision to do something so obvious that hadn't happened! We're talking about a show where the lead is a dark-skinned woman over 40, and there are storylines that explore her sexuality, and show her as flawed, yet professional, and efficient at her job. I can go on and on- and that's just the main character. She's not the only brown woman- there are other brown women, but there are other women of color, and white women, and other women over 40, and people of different sexual orientations, and religions- it is just so layered in a way that is real. Art should imitate life, and for centuries it hasn't, and while Shonda is pioneering that trend it truly can't just be her. So, everyone who is a part of these shows hope that it continues because it is absolutely needed.
And of course, when asked who they would like to work with, so many actors say the amazing Viola Davis. Talk about working with Viola, as well as the rest of your great cast.
Unfortunately, the only times I get to work with the K5 team is really when we're in trial- but they are incredible. A lot of my storylines are about the battle between Annalise and Rene, and a lot of that occurs in the courtroom. So, that's really when I get to work with these talented people- those court scenes. And, of course, the amazing Billy Brown- our scenes are in the bedroom. [Chuckles] I wish I could say any school has prepared me for this, but the truth is there is nothing like on the job training and I learned so much from being on this show- particularly from Viola Davis. She's just incredible. I'm truly very fortunate.
And having already worked on shows like "Aquarius" with David Duchovny and "Strike Back" with Sullivan Stapleton, who else would you love to work with and what other roles would you love to play?
Strike Back was the impetus to being exposed on a global level. I never thought I would have a chance to be a part of a show like that. I never even thought I was physically capable of doing a show like that! It was incredible that I was, and to be able to work with Sullivan was amazing as well. And then, to get to work with David Duchovny on Aquarius? He was just the biggest star I had ever worked with. And now Viola. I just feel so lucky. I would love to work with Denzel Washington, Meryl Streep, Julia Roberts- I mean, she was part of the reason why I fell in love with film. I am a huge Julia Roberts fan. I would jump at the opportunity to work with her. But, for me, it's always more about the character- because you can always work with a person on a project and never even get to be in a scene with them, or be exposed to their greatness. And I must say, I'm so happy to be able to say that I worked on the same project with Benito Martinez! I had been watching him on a number of shows. I love a lot of actors that might not necessarily always be household names, but are really talented and great at their roles- there are tons of actors like that I would love to work with. In that regard, I have to mention that I had an amazing time working with Grey Damon on Aquarius. He was an intricate part in helping establish who my character was, and he held my hand, and we were able to guide one another on that journey- and I always wanted to be able to articulate that if awarded the opportunity. That was a period piece, and a true character arc, and characters like that don't do it alone and he helped me- I just want to say that.
Talented and gracious? No wonder her career is skyrocketing so fast. And with fans now desperate to see more of both Jackson and How To Get Away With Murder this winter, the actress will only rise to the top even faster.
How To Get Away With Murder returns January 19th at 10/9c on ABC.
Calling all HuffPost superfans!
Sign up for membership to become a founding member and help shape HuffPost's next chapter
This post was published on the now-closed HuffPost Contributor platform. Contributors control their own work and posted freely to our site. If you need to flag this entry as abusive,
send us an email
.