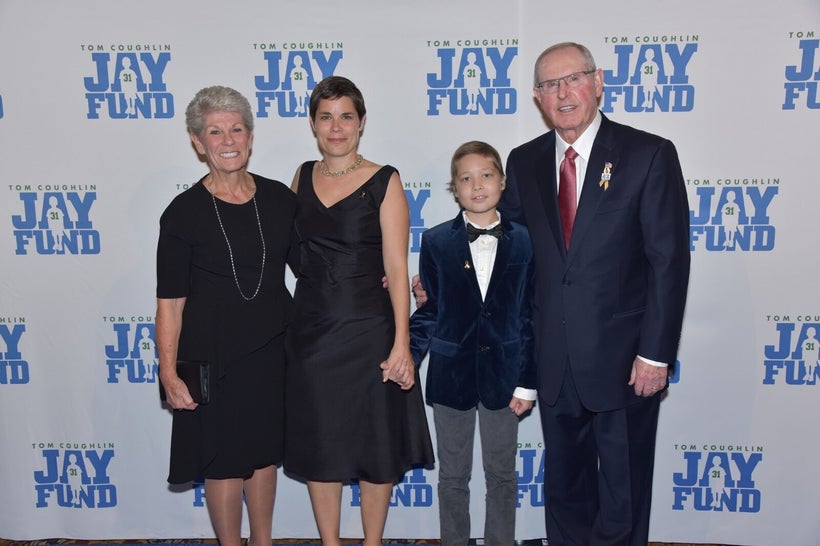 September is Childhood Cancer Awareness month and the Tom Coughlin Jay Fund Foundation is gearing up for its annual Champions for Children Gala to shine a spotlight on the families who are tackling the unthinkable and to raise money to help them during their child's treatment. The foundation will honor the New York Giants 2007 Super Bowl Championship team, accepted by Michael Strahan, along with Boston College alumni and Goldman Sachs Asset Management's Chief Investment Officer of Fundamental Equity, Steve Barry.
One story to be highlighted on the night of the event is that of Bea Levy and her son Beck. In her own words, Bea Levy shares her thoughts on the stresses of taking care of a sick child and the beauty of being able to share her experience with other moms going through the same thing at a Momcology retreat she attended.
Bea Levy, mom to Beck, 13, diagnosed with ALL 2015
One of the first things I knew I would need to do when Beck was diagnosed is to walk away from my job and drop all commitments. I could see that his care would be really intensive. For over a year, all of my time and attention was focused on Beck, caring for him at home, at clinic, in the hospital. He was forced to become completely dependent for some time, and I was constantly on alert for fevers, infections, nausea, falling, bruising, and so many other difficulties. My time was centered around getting him back and forth to treatments and then supporting him while he dealt with all of the side effects. It was exhausting and chaotic.
When I was invited by the Tom Coughlin Jay Fund Foundation to a Momcology retreat in the summer of 2016, it was a turning point for me. All of my time and energy had been given entirely to Beck and his care for so many months. I was exhausted, anxious, tense, out of shape, scared, lonely, far from myself, totally committed to caring for Beck 24/7. Like many moms supporting their children through cancer treatment, I was unsure of leaving my child for a couple of days, but Beck was excited about this opportunity for mom-care and encouraged me to go, which was a huge step for both of us.
From the moment I and the other moms stepped into the house for our Momcology retreat in NYC, we were surrounded by care and love from other moms who had been through what we were going through. At the Momcology retreats, the big message is, let us take care of you. After months of relentless caregiving, moms are given the opportunity to pause and catch their breath, to look around and consider where they are and what has been happening to them, to remember that they are people beyond caregivers to their critically ill children.
I came out of my Momcology retreat feeling as though a weight had been lifted from my shoulders. For the first time, I was able to really talk with other moms who had been through the same ordeal as me, coming away with new friends and supports. We ate, drank, laughed, cried, did yoga and meditative activities, were treated to massages and reiki, and were reminded of the importance of caring for ourselves. There had been space for none of this before, but I was reminded of how important it is to create the space and place for refueling my own self. The best thing is that this real caring space carries over into a virtual space via the Momcology Facebook group, where so much support and information is exchanged. This group has proven to be so useful to me, helping to lessen the severity of Beck's treatment side effects through information I have received from other Momcologists and allowing a space for unconditional understanding and support.
Calling all HuffPost superfans!
Sign up for membership to become a founding member and help shape HuffPost's next chapter
This post was published on the now-closed HuffPost Contributor platform. Contributors control their own work and posted freely to our site. If you need to flag this entry as abusive,
send us an email
.