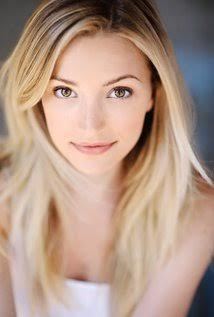 Very rare is it that an up-and-coming actress has over five anxiously awaited projects in the works in one year. Even more rare is when an actress does it while starring in what is one of the most anxiously anticipated show of the fall season. And yet, Brianne Howey seems to have accomplished such a feat as if it were the easiest thing to do in the world. Having already worked with such names like Kevin Spacey and Jamie Lee Curtis, the bright-faced young actress is now poised to work alongside Geena Davis in the television version of the legendary horror film The Exorcist, premiering tonight on FOX.
Receiving major buzz both critically and from fans who have seen it at pre-screenings, Howey's version of the horror hit is already all the rage- and that will only increase after tonight's premiere, further launching her into super-stardom. The actress plays Kat Rance, Davis' cynical daughter who has become disillusioned with the world after a tragic accident leaves her unable to follow her ballet dreams- and also leaves her far less religious than her devout Catholic family. The show is exactly what fans of the original will be looking for, while never trying to copy, reboot, or remake the classic, and instead carrying on its tradition, always adding to its legendary name.
Howey is excellent as the angsty teen, constantly peeling away levels to her character, and it doesn't even take the whole episode to see why she is one of the most in-demand actresses in Hollywood right now. Not only does Howey have the recent Netflix hit XOXO for audiences to enjoy, this angel-faced talent has been cast in five other projects this year for fans to get excited about, ranging from period pieces, to comedies, to dramas, giving her an opportunity to also show her broad range as an actress. But, it's no wonder why she's been cast so frequently- beyond being talented, she clearly has an impeccable work-ethic and she's truly a sheer joy to be around! Intelligent, sweet and sincere, Howey is the type of actress that truly brings no attitude to the many sets she has been hired on!
And below, the actress brings that same joy and sincerity to this interview where she talks about all her upcoming projects, what she would like to do in the future, what it's like working with the likes of Geena Davis, and what fans can expect from The Exorcist!
"The Exorcist" has everyone talking! Were you a big fan of the film? How different will the show be from the movie? How scary will it be?
So, when I saw The Exorcist, I was in junior high, and of course, I never imagined that I would be making the television version years later! Our story is very different from the film. It takes place forty years later, and our narrative is obviously inspired by the original movie, however it's not a remake or a reboot. The movie stands as is, whereas our story is surrounding a new family and we get to focus a little more on the Catholic church in the present day- which is kind of cool. And the show is very scary.
Can you talk a bit about your character Kat? She starts out in a pretty dark place in the pilot.
That she does. So, yes, I play Kat Rance- She's the oldest daughter in the Rance family. She go to Julliard for Ballet to follow her dreams, and then unfortunately you meet my character right after she has fallen into a terrible car accident. She completely destroys her leg and can no longer dance- so, that's one thing we are dealing with at the top of the pilot. So, yes, when we meet her, she is in a very dark place and she is grieving, and that's where the show starts.
One very interesting element in this show is the psychological component, which was never dealt with in the original. There's a strong conversation here about mental illness versus religion. Can you touch on that a bit?
This is interesting, because I actually get the audiences point of view. My character's family; the Rance family, is a very religious family- however, my character, Kat, is the least religious of all four of us. So, when the idea of an exorcism is poised, my character is more the one who would suggest a hospital for mental help. I do think that it's a little bit of a fine line and depending what your religious beliefs are, everyone will have a different take- and it's pretty exciting that there aren't many shows that open up this discussion of religion versus mental health, and if we have the opportunity to start that dialogue, then that's wonderful. Every character in our cast really represents a different point of view in that dialogue, so it doesn't really come at you with an agenda. The priest is going to have a different point of view, obviously, and my character is more of a cynic, and then there's everyone in between.
Talk about your amazing cast that you are surrounded by here. You have some really great actors beside you such as Hannah Kasulka, Alan Ruck, Ben Daniels and the incomparable Geena Davis. Talk about the amazing company you are in.
It was very exciting. Hannah and I arrived here in Chicago, and we weren't told who we would be working with because that's how pilot season works, and as each day went on we would find out one more character who was cast and it was really amazing. They're all so wonderful, I feel really lucky to be on a set with so many talented people. I think as an actress in this career, you always want to be surrounded by people who are better than you because it raises the bar, and this is an incredible opportunity to get to act alongside Geena Davis, Alan Ruck, Ben Daniels, and to just be in scenes with them, and watch them do their thing is really phenomenal.
You've got to work on a lot of great projects and with a lot of great people so far; "Revenge" with Madeleine Stowe, "Horrible Bosses 2" with Kevin Spacey, "Scream Queens" with Jamie Lee Curtis. Who else would you love to work with, and what other roles would you love to play?
I have gotten the opportunity to act alongside some pretty great people, and I feel very lucky. I just love a good story. For me, it's not necessarily playing in comedy or drama, it's about playing honest characters. I would love to get to work with Julie Delpy! She's just so amazing and talented! I was bawling in the whole "Before Sunset" trilogy- it's just too real. I saw it with my boyfriend, and we just wound up fighting the whole night afterward because all I could do was side with her on everything! [Laughs]
You have a slew of projects in the works; "The Great Indoors," "Little Bitches," "Synkhole," "I'm Dying Up Here," "The Keeping Hours,"...when do you find time to sleep? Can you tell fans about these projects a bit, and are any close to being released that audiences should look out for?
I've had a very lucky year- which is a wonderful feeling! I'm Dying Up Here is very close to my heart. I absolutely adore that show. It takes place in the 70's- and that's so much fun, hair and wardrobe-wise. The pilot is very poetic. That will come out in January. XOXO just got released on Netflix, and aesthetically that movie is beautiful. The Keeping Hours should be out soon- that was also really fun to shoot. It should be awesome! The Great Indoors is super funny, and a friend of mine from my acting class is in that, which is great because it's always fun to work with friends. But, I do have a lot coming out and after a lot of auditioning it seems as though it paid off- and I couldn't be more thankful!
And Howey isn't the only one who is thankful that her hard work has paid off, leading her to become one of the most sought after actresses in Tinsel Town- clearly, judging by her scream-worthy new role on The Exorcist, fans, casting directors and all of Hollywood are equally possessed!
The Exorcist begins tonight, September 23rd, at 9/8c on FOX.
Calling all HuffPost superfans!
Sign up for membership to become a founding member and help shape HuffPost's next chapter
This post was published on the now-closed HuffPost Contributor platform. Contributors control their own work and posted freely to our site. If you need to flag this entry as abusive,
send us an email
.