Excerpted from For Love of Country by Howard Schultz and Rajiv Chandrasekaran. Copyright © 2014 by Howard Schultz and Rajiv Chandrasekaran. Excerpted by permission of Knopf, a division of Random House LLC. All rights reserved. No part of this excerpt may be reproduced or reprinted without permission in writing from the publisher.
As soon as Bill Krissoff glanced out the front window during breakfast to see who had rung his doorbell at eight on a Saturday morning, he knew. Three Marines, ramrod straight in their dress blues, stood next to an Army chaplain.
Nate, Krissoff's elder son, twenty-five years old, had deployed to Iraq with an elite reconnaissance battalion as a first lieutenant in the Marine Corps.
"We regret to inform you," one of the Marines began saying once Krissoff opened the door. He doesn't remember the rest. His head spinning, his body seized with shock, he stumbled through the house to wake up Christine, his wife. Soon they were sitting together on a living room sofa as the Marines explained, with grim solemnity, what had occurred a half day earlier half a world away from their home in Reno, Nevada.
Nathan M. Krissoff, a counterintelligence specialist, had been returning to his base from a village near Fallujah when his Humvee drove over a bomb buried in a dry riverbed. The brunt of the blast hit the vehicle's right side. Nate had been in the right rear seat.
The Marines sat stoically, awaiting the next question Bill or Christine would ask.
The Krissoffs wanted to call their other son, Austin, at the Marine Corps' Officer Candidates School in Quantico, Virginia.
Less than three years younger than Nate, he was following his brother's trail from an elite prep school in Pebble Beach, California, to a small New England liberal arts college, and then into military service.
The Krissoffs aren't one of those families in which every male for the last four generations has worn a uniform. Bill, who came of age during the Vietnam War, wasn't drafted and didn't volunteer. Nate hadn't been on the military track. In high school, he wrote poetry, played in the school symphony, and enjoyed wild-water kayaking. At Williams College in Massachusetts, which doesn't have an Army or Marine ROTC program, he captained the swim team and majored in political science.
Then came September 11, 2001. He was a junior. The father of his best friend on the swim team, a New York banker, did nothing for six weeks but go to funerals. Nate's carefree ways began to turn more serious. A year after he graduated, he applied for a job with the CIA. At his interview, the recruiter was impressed with Nate's education and aptitude but urged him to get some seasoning before pursuing such a career. Crestfallen, Nate contacted a friend from Williams who had become a Marine intelligence officer. If he wanted seasoning, his friend said, the Marines would give it to him.
In June 2004, as the Iraq war was becoming ever more perilous for American troops, Nate told his father that he wanted to become a Marine officer. Bill was more than a little apprehensive.
"Do you fully understand what this means?" he asked his son. "Do you understand the risk?"
Nate said he did.
Three months later, Nate was marching across the parade field at Quantico, a newly commissioned second lieutenant. Bill and Christine sat in the bleachers, as proud as the other parents, but understandably anxious. This is the real deal, Bill thought to himself as he watched his lanky son in the distance, standing at attention, his thick, dark hair shorn into a Marine-regulation high-and-tight buzz cut under his cap.
But before Nate could be called into a battle zone, there would be Basic School, where he was taught the art and science of leading Marines. Then intelligence school. Then an assignment on Okinawa. It was there that he talked his way into an Iraq deployment with the Third Reconnaissance Battalion.
As he headed to Iraq in September 2006, he sent an e-mail to his parents and Austin, who had graduated from college and was preparing to enter Marine officer school.
Almost five years to the day after September 11, 2001, I have the chance to put my money where my mouth is in terms of service ... I'm constantly reminded of that famous quote from Tom Hanks' character at the end of Saving Private Ryan: "Earn this." Earning it will mean sacrifice, determination, doing my job to the best of my ability. I chose this, and I wouldn't have it any other way.

The complexities of the conflict and the shifting perceptions of the world are all but totally irrelevant to the fact that we fight for the men at our side; my success will be gauged by the responsibility to safeguard Marines and accomplish the mission, not by any other metric. I'm lucky to be deploying with such a phenomenal, savvy group of guys.
Several weeks later, Nate wrote to Austin, who had started school at Quantico, with a description of an attack that killed Sergeant Jonathan J. Simpson, a much-admired member of the recon battalion.
Why do I tell you this? Because Sgt. Simpson and many all-Americans like him are the ones you will be entrusted to lead, protect and stand in front of. Never forget that all the trials and training you and the other candidates (eventually Second Lieutenants) go through is not about you. America's sons and daughters will be entrusted to your care. You owe them competence, discipline, courage, judgment, etc. Post Sgt. Simpson's memorial picture, perhaps up on your squad bay read-board, tell your fire team and squad and platoon about him -- as a clear reminder of what this is all about. Keep it with you through the trials ahead. Because when you hear the final roll call, the long bugle playing taps, and the bagpipes wailing -- we better have done everything short of the hand of God Himself to accomplish the mission and bring Marines home. It is a sacrifice he and many like him have made fighting for each other. Earn it.
When Nate became the 2,924th American service member killed in Operation Iraqi Freedom on December 9, 2006, Austin was almost finished with officer school. He wanted to stay with his training platoon, "the only people," he thought, "who understood what happened." But the staff at Quantico put him on a flight to Reno.
His mother hoped he would reconsider his decision to be a Marine -- the service offered him the choice of walking away because he was his parents' only surviving child -- but he would not change his mind. Nate "would have wanted nothing more than for me to carry on the mission," he said. But to partly assuage his mother's concerns, he decided that instead of going into the infantry as he had planned, he would specialize in intelligence, as his brother had, though in a noncombat role. A week after he arrived in Reno, he was commissioned as an officer in a low-key swearing-in at his parents' house.
On the Saturday before Christmas, the Krissoffs held a memorial service for Nate in Reno. White-gloved Marines hoisted a flag-draped coffin containing an urn with Nate's cremated ashes. The national anthem was played. A teacher at Nate's high school recalled his warmth, his love of literature, and his mischievous side. "As a young man Nate was, indeed, Dickens' Pip, Salinger's Holden, and Twain's Huck. But he was also Ferris Bueller." A friend from Williams described him as "goofy, hilarious, and charismatic on the outside but disciplined, insightful, and focused on the inside." Captain Michael Dubrule, who had led Nate through intelligence training, told the mourners that Nate skillfully collected information to help save the lives of American troops and innocent Iraqis. "I want you all to know that Nate died doing what he loved, leading men in combat, saving lives, and making a difference in the lives of so many," Dubrule said. "No greater epitaph can be written, no greater sacrifice can be made."
After a few weeks, Bill threw himself back into his work as an orthopedic surgeon. Chris joined him in the office, where she ran the business side of his solo practice. He returned to the operating theater. Grief welled inside him, but his skill as a physician was undiminished. Soon, however, treating busted shoulders and bum knees -- as he had for twenty-eight years -- began to feel unfulfilling. One day that spring, a patient came in complaining of minor knee pain, the sort of ache that would go away with some rest or a varied workout routine.
Why, Bill thought, am I spending my time hearing people complain about nothing?
A few months later, Nate's battalion commander, Lieutenant Colonel William Seely, traveling the country to visit the parents of his fallen Marines, came to see the Krissoff family. Bill and Austin took him for a hike around Lake Tahoe's Emerald Bay, and Bill asked Seely about medical care for Marines in Iraq. Seely told him that every Marine battalion deploys with a surgeon and numerous medics, all from the Navy. As Seely described the role of the battalion surgeon, the penny dropped for Bill.
That's what I want to do, he thought. I want to be a battalion surgeon.
Bill was as lean as his boys. He stayed fit by biking, hiking, kayaking, and skiing. He figured he could meet the military's physical requirements, so he called up a Navy recruiter in San Francisco and offered up his services. The recruiter posed a series of questions. Finally, he asked how old Bill was.
"Sixty," Bill said.
"Um, that's a problem," the recruiter replied. "You're too old." Anyone over forty-two who wants to join the Navy Reserve medical corps needs an age waiver, the recruiter explained. He wasn't optimistic about the possibility of a sixty-year-old obtaining one.
Undeterred, Krissoff called an Air Force recruiter. He got a similar answer. So he went back to treating sore knees.
That August, he and Christine received a voice-mail message from a White House aide inviting them to meet with President George W. Bush after he spoke to an American Legion convention in Reno the following week. They attended the speech with Austin, standing in the back and laughing at the president's self-deprecating humor. As the president was concluding his remarks, they were ushered into a small room with several other families. All of them were "gold star" parents and siblings, those who had lost sons or daughters, brothers or sisters, in Iraq or Afghanistan.
Bush strode in a few minutes later and shook everyone's hand. He spoke at length about the war, explaining his strategy and lauding the sacrifice of his audience's fallen relatives. The Krissoffs listened intently. Iraq was being torn apart by a civil war. U.S. troops were getting attacked daily. Hundreds of Americans had come back in caskets since Nate's final journey home. The war had become deeply unpopular: fewer than four in ten Americans still believed it was worth fighting. When Bush asked for questions or comments, Bill spoke up. He knew what had driven Nate to join the Marines, to find his way to Iraq. He didn't want his son to have died in vain.
"Let's stay the course," he told the president.
Bush approached each family individually and asked if there was anything he could do to help them. Several made small requests for assistance in dealing with death-benefits paperwork. An aide dutifully jotted notes.
Then Bush walked over to the Krissoffs and posed the same question.
"Yes, sir. There is one thing," Bill said. "I want to join the Navy medical corps and serve, but they told me I was too old. No disrespect, but I'm younger than you are."
Bush's eyes widened. He looked at Christine.
"What does Mom think?"
Christine said she and Bill had talked about his desire to serve.
She wasn't thrilled with the prospect of his traveling to a war zone, but she wouldn't stand in the way if going might help her husband heal. "I'm on board with it," she said.
Bush turned to Austin, who had driven up from Camp Pendleton to accompany his parents to the meeting. He was skeptical, but he, too, didn't want to sabotage his father's quest. "He'll be pretty good out there," he told the president.
Bush said he would be meeting with General Peter Pace, the chairman of the Joint Chiefs of Staff, in two days and would mention Krissoff's request. He summoned Karl Rove, one of his top aides, to collect the necessary information from Bill.
"I'll see what I can do," Bush said.
Three days after meeting Bush, Krissoff received a phone call from the same Navy recruiter who had scoffed at his request to join a few months earlier. "I have orders to meet with you by the end of the day," the recruiter said. When Krissoff replied that he was trailering a horse with his wife and could not immediately drive down to San Francisco -- three hours away by car -- the recruiter was undeterred. "I'm coming up to see you," he said.
Krissoff took the recruiter to dinner, filled out a stack of paperwork -- and waited. A month later, he got word that he had been accepted into the Navy Reserve for his dream assignment: a Marine Corps medical battalion.
Although he was required to train once a month, Krissoff treated his reserve duties as a full-time job. For him, joining the military wasn't about wearing a uniform and attending to Marines on the home front. He wanted to go to Iraq, as Nate had done and Austin would be doing soon. And that meant spending as much time as possible learning how to be a combat physician. He had decades of medical experience, but none of that involved treating blast wounds.
He and his wife moved to the San Diego area in early 2008 so he could be closer to the Navy hospital on the Marine Corps air base in Miramar, where he signed up for every combat-medicine course he could take. He traveled to Morocco that summer to participate in a military exercise during which he practiced working in a field hospital. He attended advanced workshops at an Army hospital in Texas, and he joined Marines on heart-thumping hikes through the rocky Southern California hills to prove to superiors a generation younger that he could withstand the rigors of deployment.
When his training felt grueling, he thought back to a letter Nate had written while he was at officer school:
0 dark 30. 4:30 a.m. Then it began. Platoon staff formally introduced us and then took charge. Imagine tables flipping, chairs getting thrown against walls, instructors screaming. A volume that shocks the body. PT has been harder than any work I've done in my life ... Pain is constant here. Honor, sacrifice, integrity aren't just fairytale phrases. They're earned every day in sweat, tears, blood, etc., by these people. The values of the USMC are one of a kind. Keep shit straight ... The more you sweat in peace, the less you bleed in war.
Austin, who was stationed at Pendleton at the time, came by to watch his father put on his uniform. "He'd shake his head and redo everything," Bill said with a chuckle.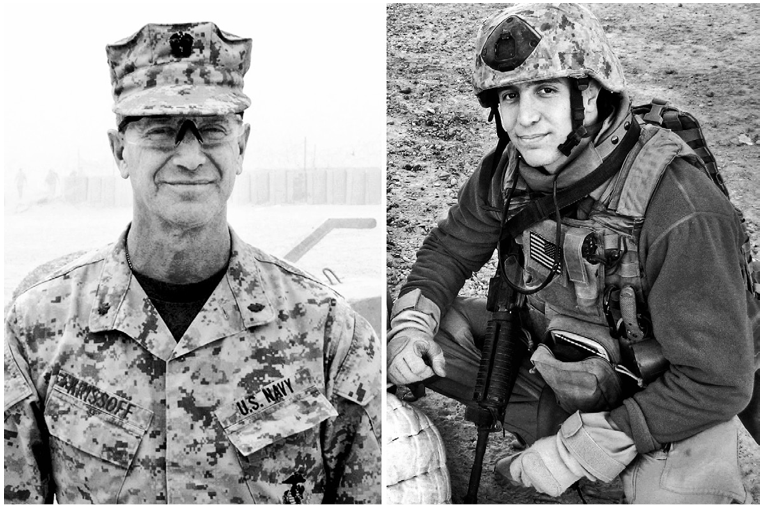 Bill Krissoff and his son Nate.
Eighteen months after meeting President Bush, in February 2009, Bill Krissoff arrived in Iraq -- as a lieutenant commander in the Navy -- to spend seven months treating orthopedic injuries at a field hospital on the sprawling al-Taqaddum Air Base near Fallujah, less than ten miles from where Nate had been killed.
For Bill, the decision to go to war at sixty-two had nothing to do with seeking closure after his son's death. The term itself provoked him. "'Closure' is for somebody else," he said. "That's not for people who have lost sons and daughters. Your life has changed. Forever changed ... You don't just have closure and move on with your life."
Shuttering his lucrative medical practice, joining the Navy, and deploying to the western Iraqi desert was about "turning that loss into something positive." Nate's commitment to service -- to his nation, to his fellow Marines -- and Austin's decision to follow in his brother's path had not just filled Bill with pride. Their devotion had humbled him. As he took stock of his life in the bleak months after losing Nate, he concluded that he needed to be more like his boys. He possessed skills that could help save lives and limbs in a land of IEDs. He needed to put himself to better use, even if it meant leaving his luxurious home, his comfortable job, his devoted wife.
"In most cases, fathers inspire sons," he said. "In this case, sons inspire Dad."
By the time Bill reached Iraq, the war was winding down. Sunni Muslim tribesmen in Fallujah, Ramadi, and across the western desert, once mortal enemies of the United States, were now collaborating with the Marines to beat back al-Qaeda militants. The hospital at al-Taqaddum, which had been among the busiest trauma centers in the country just two years earlier, could go a full week without a serious casualty. Bill found himself treating sore knees and shoulders, just as he had back home, and teaching young corpsmen how to attend to orthopedic wounds. He had time to visit Austin, who was stationed at another large Marine base in western Iraq.
When Bill returned home that fall, his wife and son assumed his thirst for deployment had been satiated. They knew he wouldn't be going back to his Reno practice, but they expected him to transition to full-time work at the Pendleton hospital, which he did -- for a few weeks. Then he got word that a position was open on the next rotation of doctors to Afghanistan. The captain in charge, one of the pioneers of combat surgery, wanted Krissoff to join him. Bill hadn't even unpacked his bags from Iraq.
"I know I've been gone, but this is probably an opportunity that won't come up again," he told Christine. "I'm not getting any younger. And I'm all trained up."
She looked him in the eyes. "Well," she said, "you better go."
*
Krissoff began work at the main trauma center at Camp Bastion, in southwestern Afghanistan, in February 2010, the same month Marines commenced a bloody assault on Marjah, a Taliban sanctuary riddled with snipers and makeshift antipersonnel mines. His first case was a triple amputee. Over the next seven months, he would serve as the primary or assisting surgeon on 225 serious casualties. He lost count of the number of amputations he performed.
He had expected a caseload unlike anything he had experienced in the civilian world -- before joining the military, he had performed only one multiple amputation in his career, on a drunk who had fallen onto a train track -- but nothing could have prepared him for the frequency of horrific injuries that rolled through the trauma bay doors at the hospital at Camp Bastion. There were times when all five operating tables were in use, and Krissoff had to scurry among them. He and his fellow doctors once performed twenty-four surgeries in a single day. "All you're thinking about is how to patch them up," he said. "You're cranking."
Back then, Afghanistan was an orthopedic surgeon's war. In the southern deserts that were the focus of President Obama's troop surge, the Taliban's weapon of choice was a five-liter plastic jug packed with homemade, fertilizer-based explosives, buried in the ground and triggered with a balsa-wood pressure plate. It was crude but ingenious: because the only metal parts in the device were tiny pieces of wire, it was nearly invisible to American bomb detectors. If a U.S. or Afghan trooper stepped on one, the force of the explosion was usually enough to sever a leg or two, and perhaps an arm.
A generation ago, such wounds were often fatal. By 2010, however, all U.S. service members in that part of Afghanistan kept two or more tourniquets affixed to their ballistic vests, allowing comrades to stanch the bleeding from severed limbs. Medical evacuation helicopters would bring the wounded to Camp Bastion in less than an hour. Then the really difficult work would begin: agonizing about where to amputate; cauterizing blood vessels; searching for shrapnel inside the abdomen; combating infections; trying to ensure young men would be capable of fathering a child when they healed. If a patient arrived at the Camp Bastion hospital with a heartbeat, he or she had a 97 percent chance of surviving.
When he wasn't working shifts that could stretch to sixteen hours, depending on the pace of medevac choppers alighting at the hospital's landing pad, Krissoff slept in a tent he shared with ten other medical personnel. He didn't have more than a few days off in seven months.
"There wasn't any 'No, I'm not doing that today. I'm off.' Everybody just works when you need help."
Despite the intensity and privation, the daily exposure to the horrors of war, those seven months were the most rewarding time in Krissoff's three-decade-long orthopedic career. It wasn't the challenge or the adventure. It was about the Marines and others in his care. He chatted up those who could talk, reveling in their stories.
He treated one sergeant who had been shot in the arm in Marjah and was missing a chunk of his bicep. "Doc," the Marine told him, "you need to know one thing: I returned fire." Krissoff cleaned out the bullet hole -- it was the simplest case he had treated in weeks -- and told the Marine he'd be sent home. "What do you mean 'home'?" the Marine said. "I'm going back to my unit."
To minimize the chance of infection, military doctors prefer to leave many wounds open for several days, with just a gauze cover, as opposed to stitching them up right away. Krissoff struck a deal with the Marine: once he closed the wound, the Marine could return to Marjah.
A few weeks later, Krissoff treated another Marine from the same unit. "How's that sergeant doing?" he asked.
"He got shot again -- this time, in the hip," the other Marine said. "But he got treated in Kandahar, and he's back on duty again."
Where do we get these guys? Krissoff thought. He's a war fighter. He's not going to give up. He's not going home. His guys are still there. You can't explain that to most civilians.
Marines who learned Krissoff's story would come up to thank him in the dining hall. He'd always turn it around. "Thank you for what you are doing," he'd often say. "Your service humbles me."
Military doctors in field hospitals are loath to take sole credit for treating patients. "It's a team effort. You don't do this stuff by yourself," Krissoff said. But senior officers familiar with his work readily volunteer what he is too modest to divulge: he led or assisted surgical teams that saved dozens of American, British, and Afghan lives.
"He made an enormous contribution," said Stephen F. McCartney, a now-retired Navy captain who served as the command surgeon to the Marine brigade in southwestern Afghanistan when Krissoff began his deployment. McCartney said Krissoff's age was an invaluable asset. "He brought experience and judgment that can only come with many years of practicing medicine," McCartney said.
Major General Larry Nicholson, who had been Nate's regimental commander in Iraq, served as the top Marine general in southern Afghanistan for the initial months of Krissoff's time at the Camp Bastion hospital. "Bill made a difference for good every day," said Nicholson. "There can be no greater act of love by a father for his fallen son than to take his place in the ranks in the midst of war."
*
For James Raffetto, as for so many of those who wound up on Krissoff's operating table, it was horrible luck that got him there. A single footfall on a bit of earth in southern Afghanistan that was home to a bomb.
Raffetto was a strapping, Pennsylvania-raised Navy medic. Not a medical doctor like Krissoff, but a corpsman. He traveled with elite reconnaissance Marines in the field -- as Nate had -- treating wounds until the medevac birds arrived. His platoon had been patrolling a small desert village used by the Taliban as a staging area for attacks on Marine units based in nearby farming communities. It had been an easy day. The houses suspected to be insurgent hideouts were empty, and residents had been willing to talk to the Marines. (Taliban intimidation usually tied their tongues.) One father even asked Raffetto to examine his sick daughter.
As they departed from the last insurgent compound, Raffetto spotted a box of gauze on the ground. Ah, this must be a Taliban field hospital, he thought. He took a step toward the box, and the ground rose with an earsplitting boom. He flew into the air. A second later, he slammed into the ground facedown. He tried to turn over, but he couldn't. As he winced in pain, a platoon mate flipped him on his back. Raffetto opened his eyes and looked down.
Left leg gone.
Right leg gone.
Left arm dangling by a tendon.
Right arm intact, but battered and bleeding.
"Doc," one of the Marines called out, "tell us what to do."
Raffetto knew that if he was to survive, he needed to cut off the blood gushing from his limbs. With his right hand, he grabbed a tourniquet off his ballistic vest and wrapped it around his left arm above the elbow. Then he directed his comrades to do the same for his legs, and to shoot him up with morphine.
They strapped a standard-issue nylon and plastic tourniquet on his left thigh. Then they tried to do the same on his right side. But so much of his leg was gone that they needed to cinch the band near his hip, at the widest part of his meaty thigh. The tourniquet broke. As did a second one. As death from blood loss grew imminent, a quick-thinking sergeant took off his canvas belt and pulled it around Raffetto's thigh. Then he grabbed a spare machine gun barrel, pushed it between the belt and the leg, and twisted it around to tighten the belt and cut off the flow of blood.
Through it all, Raffetto remained conscious.
I'm fucked up, he thought, but I don't think I'm gonna die.
As they waited for the medevac chopper, he joked with his buddies, who knelt around him. "Survive!" he said to them -- and himself -- doing his best to imitate Sergeant Lincoln Osiris in the movie farce Tropic Thunder. And he asked them to give a message to his wife. "Tell Emily I love her."
A British evacuation helicopter arrived in less than fifteen minutes. As Raffetto was hoisted aboard, the flight nurse asked him how he felt.
What a charming accent, he thought. Then he passed out.
When Raffetto arrived at the Camp Bastion hospital, Krissoff didn't know where to begin. He had seen terrible trauma, but nothing like this. His patient was a pile of bloodied flesh atop a gurney.
"This guy is in bad shape," he muttered to himself. Treating such grievous wounds sometimes prompted a quiet doubt. What are we doing? Are we saving people who are going to have no life? But he pushed the thought out of his head. Here was a fellow American. A sailor. A young man who had volunteered to serve his nation. Krissoff vowed to do all he could to save the patient.
He and his fellow physicians sealed off blood vessels. They cleaned the exposed tissue. They sought to salvage as much of Raffetto's right hand as possible.
A day later, Raffetto was bundled on a C-17 transport aircraft and flown to the Army's hospital in Landstuhl, Germany, and then on to the Navy's medical center in Bethesda. Unlike Krissoff's patients in the civilian world, whom he would check up on in the days after surgery, he knew he would not see Raffetto again. That was true of most of his patients. Did they bounce back quickly? Suffer more complications? Succumb to the injuries? He usually had no idea.
A little more than a year later, after Krissoff had returned to his home in Rancho Santa Fe, California, he tracked down Raffetto's phone number. When he called, Raffetto's wife, Emily, picked up. They had been married for just four months before James deployed. But she never wavered when he returned to America covered in bandages, connected to half a dozen tubes, and missing three limbs. She remained by his side as he convalesced in Bethesda for two years, first as an inpatient and later as a daily member of the rehabilitation center, where he was fitted with prosthetics and slowly, painfully learned to walk again.
Krissoff asked Emily if he could talk to his former patient.
"I'm sure he'd like to," she replied. "But we're on our way to renew our vows."
Later that afternoon, clad in his Navy dress uniform, Raffetto walked down the aisle with his bride.
Eventually, doctor and patient did connect. When they did, Raffetto told Krissoff that he was learning to drive a handicap-enabled truck and looking for work.
"You're just amazing," Krissoff told him.
"Thanks to you," Raffetto replied.
Krissoff began calling periodically. It wasn't medical curiosity that drove him to keep in touch. He admired the young man's perseverance, his don't-dwell-on-the-negative attitude. As Raffetto shared milestones in his recovery -- landing a full-time job with the federal government, fending for himself for three weeks while Emily was on a trip to Europe -- Krissoff's cheers were valuable reminders to Raffetto that he wasn't just healing, he was thriving.
As amazed as Krissoff was at Raffetto's recovery, Raffetto was similarly awed as he came to learn Bill's story through their calls.
"To join the military at sixty -- wow," Raffetto said as he zipped through his kitchen in a power-assisted wheelchair. "And not like he tried, someone said no, and he said, 'Well, all right.'"
Raffetto pulled up to his dining table and thought for a moment.
"You can be a war hero even if you never fired a weapon in combat," he said. "What he did -- now, that's uncommon valor."
Calling all HuffPost superfans!
Sign up for membership to become a founding member and help shape HuffPost's next chapter