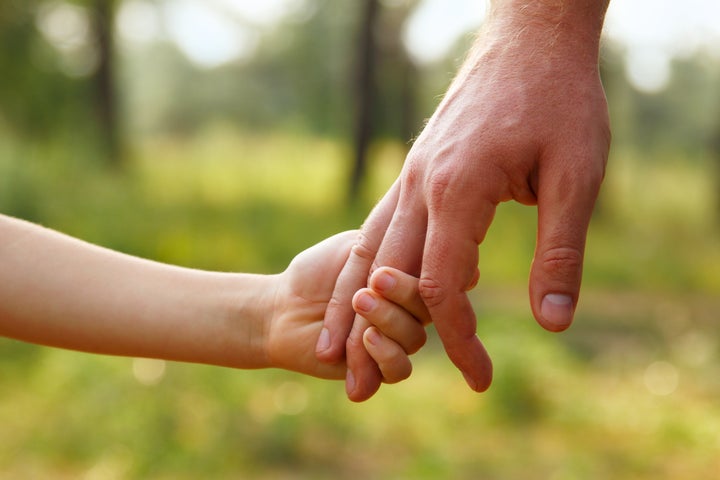 When I was 16-years-old, I had a friend named David Boyd Jr. He was hilarious and had so much energy that he could light up a room within 30 seconds of being there! He was my best friend and my comrade. In 2007, when David was 19-years-old, he was in a car accident that caused his death. At that point, life hit me hard and I realized that each day is truly not promised.
On Oct. 15th, 2011, six days before my 25th birthday, I was hit with this crazy idea to raise $1,000 in one day for David's Memorial Fund. The fund was set up in order to send a young, deserving high school male to Morehouse College. I knew all my friends and family would be calling me, texting me, writing on my Facebook wall, tweeting me etc. to say "Happy Birthday." So I thought, why not take all that traffic and put it toward something good -- something I know I will remember forever? I called David's mom and she said she didn't mind, she loved me, and wished me luck. I created a video and made sure I put it on GoFundMe.com at exactly 12:00 a.m. on Oct. 21st, 2011. The moment of truth. At first, I couldn't sleep because I was so busy responding to all my birthday wishes with the video asking to give. However, as 2:00 a.m. approached, I finally had to rest with the $125 that I raised at that point.
I slept peacefully and woke up the next morning to find out that as I slept I had raised $1,100 in honor of David -- $1,000 in eight hours! I was excited, emotional, and thankful that a young man, who would never have the opportunity to see 25, was remembered on my birthday. What an awesome feeling! That evening, I went to dinner with friends. We were all a little emotional from what took place throughout the day. I made a wish as I blew out the candles and by the end of the day I had raised $2,010 for the David R. Boyd Memorial Fund.
It's Oct. 15th, 2012. I have been thinking and thinking of how I can do something similar to last year but for a different cause. Suddenly, the same "hit" came to me as it had the year earlier. "If last year was about remembering the past," I thought, "What if this year I'm able to invest in the future -- DAMIAN'S FUTURE!" And the idea was born to raise funds for my "little" brother, Damian.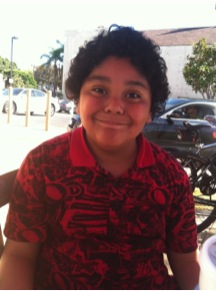 I met Damian Henning in April of 2011 through Big Brothers, Big Sisters LA. I decided to become a "Big" because I had become conscious of the fact that after moving to LA, I had become so consumed with myself and my aspiring acting career. I decided I wanted to focus my efforts towards someone who was truly in "need." So God sent me an angel in the form of Damian. We have shared many moments together from theme parks, to museums, to movie theaters, to imaginary basketballs (yes, I said imaginary basketballs), and more. He came into my life as a shy boy who didn't think life was that big of a deal. Now, he stands as a young man ready to be a race car driver one day, and part of a frontline troop in the army the next. I can truly say this young man has changed my life. He has reminded me how important it is to stop and ask, "What ever happen to just having fun with life?"
It's the eve of my birthday weekend, Oct. 18th, 2012, and I'm putting the finishing touches on the GoFundMe.com video. One hour until launch, although this time was different. This time, I'm asking for $2,600 in three days! I'm feeling the same nerves as last year, but as my mom always said, "The moment it entered your mind as an idea, it was already done." And she was right. On Oct. 21st, 2012 (my 26th birthday) I raised $2,648 for Damian to invest in a fund he can access when he is ready to go to college in eight years.
People ask me all the time why I do this. I then simply ask them, "Why not?" We have been given the amazing gift of a heart and it allows us to make drastic change in this beautiful world that we live in. As long as I have the power to make someone laugh, make someone think differently, inspire someone to chose love over fear, I will continue to strive to do all that God has given me power to do, in order to fulfill this gift. And that is why my 25th and 26th birthdays have not only been the best birthdays ever, but the best life experiences period.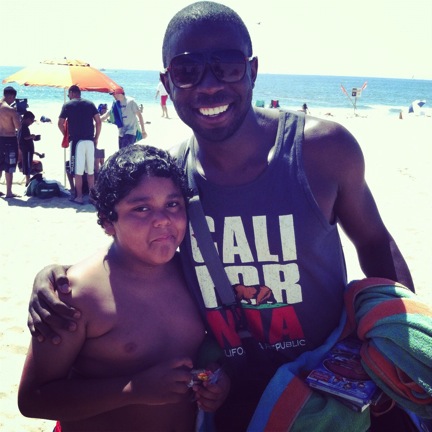 The author with his Little Brother, Damian.
Calling all HuffPost superfans!
Sign up for membership to become a founding member and help shape HuffPost's next chapter