Today, we join together to remember the six million European Jews murdered by the Nazi regime during the Holocaust. The people of Israel and those from all around the world will pause today for Holocaust Remembrance Day, Yom Hashoah.
This Sunday, the Skokie Valley Agudath Jacob Synagogue in Skokie, IL will hold its 70th annual collective Holocaust memorial observance. Hundreds will gather from all around our region to honor those who were killed, raped and terrorized, and the courageous survivors among us.
As Charles Lipshitz, president of Sheérit HaPleitah of Metropolitan Chicago -- the umbrella organization for the area's Holocaust survivor groups and sponsor of the memorial service, has pointed out, we still 'face a world of hatred and injustice against the Jewish people.'
I stand in solidarity with Charles and millions of others who strongly oppose anti-Semitism in Europe, the Middle East and anywhere in the world it occurs. Even in the United States, we have not yet been able to eliminate anti-Semitism and intolerance.
This week, I attended the inaugural event of the Bipartisan Taskforce for Combating Anti-Semitism. Ambassadors to the United States from Britain, Germany and France, along with other members of Congress came together to compare experiences and discuss strategies. This conversation will continue and it will lead to action.
Clearly, decades after the Holocaust, challenges still remain. However, I know we are equipped to overcome them. As we remember today those taken from us, let us keep pushing forward. We pledge to honor and support our survivors. We will keep standing up to anti-Semitism and we pledge 'Never Forget and Never Again.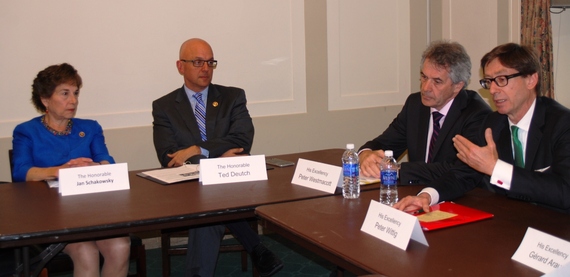 ________________
Congresswoman Jan Schakowsky listens to Peter Wittig, Ambassador of Germany to the United States during the inaugural meeting of the Bipartisan Taskforce for Combating anti-Semitism on Wednesday.
Popular in the Community