President Donald Trump's personal lawyer Jay Sekulow misrepresented the role of the Secret Service on Sunday morning during an interview on ABC's "This Week" in an attempt to justify Donald Trump Jr.'s controversial meeting with a Russian lawyer and a Russian-American lobbyist, several former and current Secret Service officials told HuffPost.
The meeting has drawn condemnation and concerns on both sides of the aisle because it appears that Trump Jr. colluded with a foreign power hostile to the United States to seek negative information about his father's presidential opponent, Hillary Clinton.
In his interview with ABC White House reporter Jon Karl on Saturday, Sekulow, a longtime Trump ally and a member of his personal legal team, asserted that if Veselnitskaya and Akhmetshin were such concerning figures, the Secret Service should have prevented them from entering Trump Tower. Sekulow made several misleading statements, according to current and former Secret Service officials who spoke to HuffPost.
KARL: But do you accept what we heard from the president's pick to run the FBI, that what should've happened there, you know, a situation where you have representatives of a foreign government offering assistance to ― in an election, that what should've happened is that the FBI should've been notified?

SEKULOW: Well, I wonder why the Secret Service, if this was nefarious, why the Secret Service allowed these people in. The president had Secret Service protection at that point, and that raised a question with me.
Trump's legal team and surrogates have been using a range of excuses to push back on the controversy surrounding the meeting, claiming it wasn't illegal for Trump Jr. to have accepted it; that any campaign, regardless of party, would have accepted such a meeting; or that nothing of note came out of the meeting, meaning that it shouldn't be a matter of interest to the press or public.
Some pundits and reporters have speculated that Sekulow shouldn't even have made the assertion about the Secret Service's role because Trump Jr.'s meeting took place on June 9, 2016 ― at that point, only his father had a Secret Service protective detail.
Even though Trump Jr. didn't have a protective detail at the time of the meeting, given that Trump's home, office and campaign office were all in the same space, the Secret Service did consider all of those spaces to be part of their screening oversight to look for physical danger to the candidate, according to two sources familiar with the protective posture of the Secret Service at that stage of the campaign.
"At that stage, we would only screen for physical threats, we were not at the stage to be in a counterintelligence posture," Jonathan Wackrow, a 14-year veteran of the Secret Service, who served on former President Barack Obama's detail, told HuffPost.
The Secret Service was conducting physical checks (magnetometers) for anyone entering Trump's office space and apartment (with some exceptions), but they were only checking names of people meeting with his father and those names were only checked to ensure that they wouldn't have presented a physical threat to Trump (for example, a prior conviction for assault), not a possible counterintelligence threat. Had Trump Jr. met with Veselnitskaya and Akhmetshin outside of Trump Tower, they wouldn't have been subjected to any screening at all.
"At that stage, we would only screen for physical threats, we were not at the stage to be in a counterintelligence posture."
"Donald Trump, Jr. was not a protectee of the USSS in June, 2016. Thus we would not have screened anyone he was meeting with at that time," a Secret Service spokesman said in a statement to HuffPost, referring to the counterintelligence screenings or criminal background checks.
Sekulow's assertion that the Secret Service would have prevented someone "nefarious" from entering Trump Tower is misleading because it assumes the agents' role in protecting candidates is the same as protecting officials. The Secret Service only has authority to physically prevent someone from entering a secure space of the president or vice president of the United States. Even if the Secret Service felt someone presented a physical threat to candidate Trump (after screening their name), they could not have stopped him or her from entering Trump Tower if Trump, his family, or his campaign team disregarded the concerns of the Secret Service.
With respect to Trump, now that he is president, the screening of people who will be in his proximity is much more rigorous. Any individual coming within proximity of the president is subjected to what's known as an "arms-reach-of-the-president," or an ARP, check. In that screening, the Secret Service will do a background check through all of the intelligence databases on anyone that will be in the same room as the president for a meeting or a reception where they will be photographed with the president.
For example, if the White House is holding a diplomatic reception with the president, the guest list will be run through an ARP check. If a businessman invited to the reception is flagged as a known Russian state security officer, their name will be flagged for the highest level of White House staff and a decision will be made if they should be allowed to attend.
But that level of scrutiny is only reserved for the president of the United States. Even though Trump Jr. has his own Secret Service protective detail now (as do all of the Trump children and grandchildren), people he met with were not screened for counterintelligence purposes.
Before You Go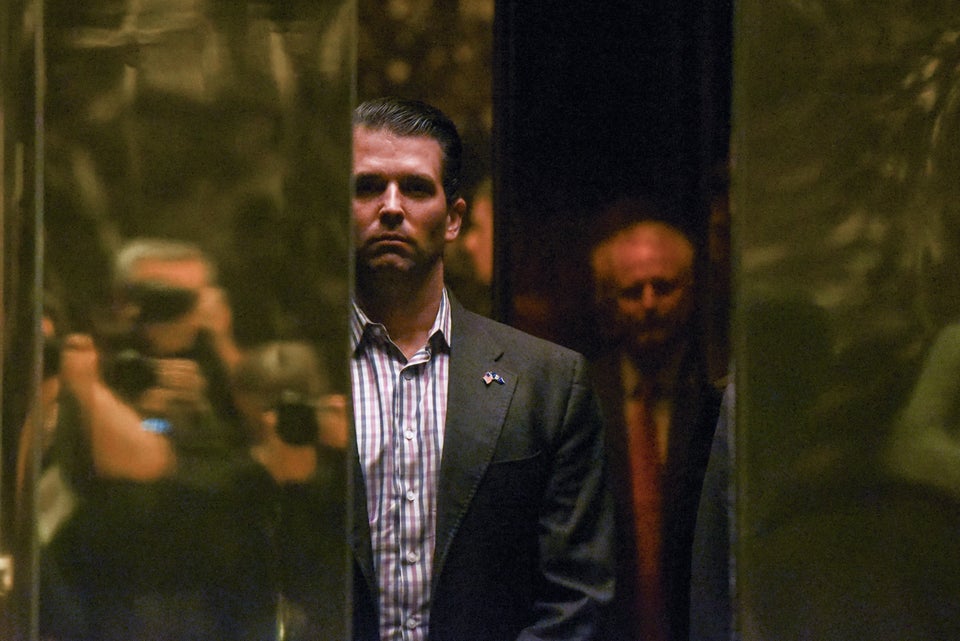 Who Attended Donald Trump Jr.'s Meeting With Russians?
Popular in the Community