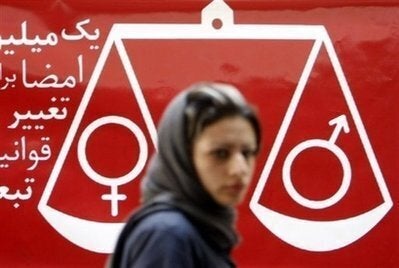 On February 12, the New York Times reported on efforts by women in Iran to stand up for their rights. The article briefly mentions the remarkable One Million Signatures Campaign, "a petition calling on authorities to give women more equal footing in the laws on marriage, divorce, adultery and polygamy." The article notes that 47 members of the campaign have been jailed for their peaceful activism, including 3 arrested in January and one now serving a three-year jail sentence.
While it's good to see their cases mentioned, even briefly, in the paper of record, a fuller picture of the incidents underscores the pervasive nature of government repression of women human rights defenders in Iran.
These gender equality activists are just some of the many Iranians repressed by their government. Activists promoting worker or minority rights, criminal justice reform, and many other fundamental human rights are harassed, subjected to travel bans, monitored, interrogated, prosecuted, and imprisoned. Through their efforts, however, these activists demonstrate that even the most repressive regimes cannot silence dissent completely. They point to a future in which the government of Iran respects the rights of all, and they deserve moral support and recognition as they fight their lonely fight. (You can take action here).Three Arrests in January
On January 30, Nafiseh Azad, Bigard Ebrahimi, and a third person (who wishes to remain anonymous) were in the foothills of the mountains bordering the north of Tehran, collecting signatures in support of the One Million Signatures Campaign, a campaign launched over two years ago to collect signatures in support of gender equality.
The three were approached by police officers, questioned about what they were doing, and taken to the local police station. After several hours, Azad and Ebrahimi were transferred to the Vozara Detention Center, while the third campaign member, a man, was transferred to another facility. All three were eventually released, although Azad was first held for six days.
Azad was previously arrested on three occasions: during a women's rights demonstration in June 2006; during a workshop about the Signatures Campaign in Khorramabad in September 2007; and in June 2008, when attempting to attend an event commemorating the 2006 demonstration.
Since its launch in August 2006, some 50 members of the Signatures Campaign have been arrested for their peaceful activities in support of gender equality in Iran. These arrests have been frequent occurrences and the subject of advocacy and concern from non-governmental organizations around the world.
Three Years in Prison for Peaceful Protest
On January 31, 2009, security agents came to the home of women's rights activist Alieh Eghdamdoost and escorted her to the Revolutionary Courts so that her sentence could be implemented.
Eghdamdoost had been arrested with dozens of other activists (including Azad) at a women's rights demonstration in June 2006. In July 2007 she was sentenced to a prison term of three years and four months--and 20 lashes. On appeal, Eghdamdoost's sentence was reduced by four months, and the judge also overturned the lashings.
Although a number of the activists who participated in the 2006 protest have been sentenced to prison terms, no sentence has actually been implemented. Eghdamdoost is the first activist who has been taken by security agents so that the sentence can be implemented. Eghdamdoost remains in Evin prison while her attorneys attempt to get her sentence stayed.
Related
Popular in the Community