After spending $50 billion, now the U.S. wants Iraq to take the lead in rebuilding itself. Several experts told me recently they want Iraq's women to play a prominent role in rebuilding the nation's crippled economy. Why women?
For insight I spoke with entrepreneur Amber Chand, an American of Indian descent who is teaching women in Iraq, Afghanistan, and other distressed countries how to become successful CEOs. A child of privilege, Chand grew up in Uganda, went to boarding school in England, then watched her secure world unravel when Idi Amin seized control of Uganda and immediately ordered the country's Indian residents to leave or be shot on sight.
Safe to say you know what it's like to be left with nothing except your own gumption?
Chand: We lost everything. My father took the keys to our house, tossed them over the front gate, and walked away with five dollars in his pocket, a raincoat, and a pack of cigarettes. He died eight months later at a bus stop in England. I was barely 21.
What a gut-wrenching turn of events.
At a young age, I recognized life was unsafe. Also, it occurred to me that there were two distinct paths before me. I could become depressed and bitter for the rest of my life. Or I could consider what happened to me a gift I could use to help others who were going through the same thing. To survive, I had to forgive.
How did you get back on your feet?
That summer I was to begin graduate studies at the University of Cambridge in England, when suddenly I had to scramble due to my new financial circumstances. I wrote letters to dozens of colleges. The University of Michigan came through with a four-year scholarship. The year was 1973. The Michigan campus felt like an oasis -- I had never seen a society so open. England wasn't. India certainly wasn't. I walked around Ann Arbor and thought, "Wow, I like it."
Did you become a 70s-style feminist?
No, I married a wonderful American man and we moved to a village in western Massachusetts and raised two daughters. My life became incredibly ordinary -- purposely ordinary -- in the sense that I wanted it to be safe.
How did you become an entrepreneur?
About 12 years ago my business partner and I created a catalog company to support artisans who produced beautiful handmade gifts. That's when I began to experience a yearning to connect with people who had become lost due to war, genocide, and other distresses. I saw it as a path of healing for me personally, as well as a chance to help others starting from scratch.
So you launched Prosperity Candle.
This month nearly 2,000 candles made in the kitchens of 50 Iraqi women will be shipped from Baghdad to the United States in time for Mother's Day. You can buy their beautiful candles on the Prosperity Candle Web site, and listen to their stories on the site's Voices page. Our next pilot program will take place in Afghanistan or Rwanda, or possibly Haiti because of what happened there recently.
How did you find these 50 women entrepreneurs?
My business partner Ted Barber and I partnered with a non-profit organization called Women for Women International. They introduced us to women who had recently graduated from their survival training classes.
Can women earn a living wage making candles?
We want to help women earn more than a living wage, which in Iraq is about $120 a month. Candle making is a highly scalable craft. To get started all you need is wax, a wick, and a mold. A woman can invest in one mold and make one candle an hour, or she can buy 10 molds and make 10 candles an hour. Compare it to basket weaving. A person can only make one basket at a time.
If an Iraqi woman earns more money than her husband, how is he likely to react?
It's a question we have to ask. And that's why in addition to business and accounting classes, we are committed to offering classes in transformational skills to show women how to take this step without engendering a hostile reaction. In fact, evidence suggests that when husbands see their wives thriving, they feel less stressed because they know women almost always invest their income into the family's well being.
Why train only women to become business leaders? Is it because you're a woman?
It's bigger than that. My former company, which was launched during the Internet dot-com boom, became huge and then collapsed during its seventh year. I spent the next eight months wondering how a company with $40 million in capital could collapse so quickly. I concluded it was because our business model did not incorporate feminine principles into its DNA. A fast-growing, testosterone-driven model is not sustainable. The attributes we consider aspects of the feminine -- empathy, collaboration, intuition -- need to walk boldly alongside the masculine to create a sense of thoughtful balance.
Good luck promoting that idea. The feminine voice has been marginalized for more than 2,000 years.
Financial systems all around us are collapsing, so now we must recognize the truth. In order to rebuild distressed societies, women must have a central place in the dialogue. Women must share their stories, even if it's from a place of profound vulnerability -- which fortunately is our strength. When women reclaim their voices and share what they know to be true, it is powerful.
How will you measure the success of Prosperity Candle?
Ted and I often say if we train a thousand women, who in turn make candles only to supplement their income, we have failed. That is not a success story. But if out of those 1,000 women at least 300 step out of their home-based businesses into medium-sized enterprises that employ and empower other women in the neighborhood, then we have achieved our objective to start a snowball effect of female business leadership.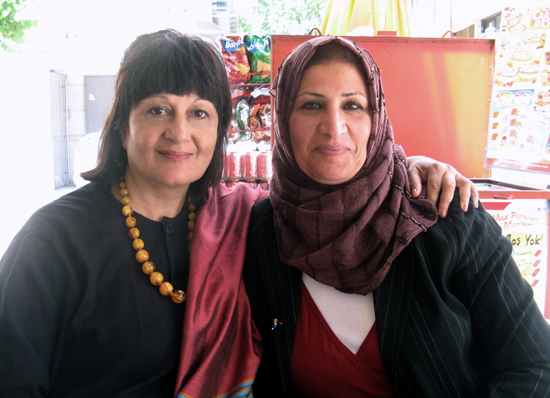 Amber Chand (left), Prosperity Candle, with Iptesam Latif Kadim, Women for Women International.
Calling all HuffPost superfans!
Sign up for membership to become a founding member and help shape HuffPost's next chapter