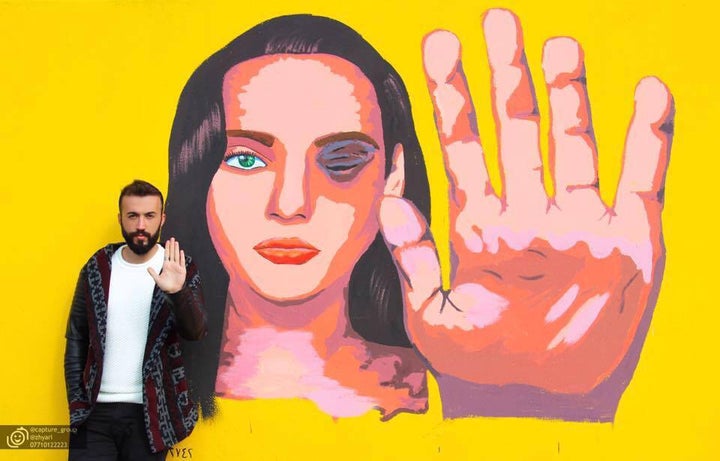 ERBIL, Iraqi Kurdistan — Barring a few exceptions, the outlook for LGBT individuals in the Middle East can be bleak, or even outright deadly.
The Kurds stand apart from their fellow Muslim-majority neighbors because of their progress on women's equality — boasting the only all-female units taking on ISIS — but are there signs that the Kurdish areas could someday be a relative sanctuary for LGBT people?
This Pride Month, the LGBT flag flutters once again at the U.S. consulate in Erbil, Iraqi Kurdistan. The State Department allows embassies to recognize Pride "as appropriate to their local context" — perhaps why it was raised over the Iraqi Kurdish capital city, but not in Baghdad, Iraq's capital. The resulting condemnation from a member of Iraq's parliament about wishing he could attack the Erbil consulate stands in stark contrast to the measured silence of Kurdish authorities.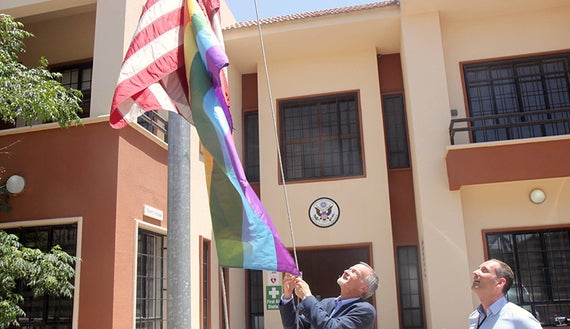 The restraint shown by Iraqi Kurds on the taboo subject began to change last year when Ayaz Shalal, a gender rights activist, became the first — and lone — voice in Iraqi Kurdistan advocating for LGBT equality.
Ayaz embarked on nationwide public engagement campaigns and public art projects, introducing Kurds and Iraqis to the issue in a personal way. In just one recent meeting, Ayaz hosted a town hall-style forum with 129 Muslim and Christian faith leaders.
"Obviously not everyone is open to what I have to say, especially at first. When I speak to the community, it is the first open conversation they've had on LGBT issues, and some do walk away questioning the antiquated popular opinions," said Shalal, 25.
His organization, Rasan, provides counseling support to struggling sexual minorities, and aims to soon provide safe spaces and greater asylum support to victims who currently have nowhere to turn.
Even while he holds visas to Europe and the United States — visas that remain elusive for typical Iraqis — Ayaz opts to stay: "These projects deliver hope to those who've never had it. If I leave, it's back to square one, back to the shadows. We can't let that happen, we can't give up," he says.
Meanwhile, the leading Kurdish party in Turkey campaigns on a message of equal rights for the LGBT community. Impressive by Western standards, the Peoples' Democratic Party maintains a 10 percent LGBT quota and a 50 percent quota for women for its parliamentary candidate list. In 2015, the party fielded the first-ever openly gay candidate for Turkish parliament.
According to Shalal, there is a silent trend of LGBT individuals seeking refuge in Iraqi Kurdistan from openly hostile areas in Iraq, Iran, and the Islamic State.
To the south, in Baghdad, killing squads have been known to pursue gays, who are lured through dating apps and face abduction, rape, and execution if caught. In 2009, human rights activists estimated that 680 were murdered over a five year period, at a rate of about a dozen per month. Hideous torture methods used by vigilante Iranian-backed Shia militants include sealing the victim's anus with super glue, and then inducing diarrhea — causing a horrific, painful death.
In ISIS-held areas, dozens of homosexuals have been brutally tossed from high-rise rooftops.
In Iran, as many as 6,000 gay men and women have been executed since the 1979 Islamic revolution. The more progressive elements of Iranian Kurdish society are powerless as the infamously heavy-handed regime permeates every area of society and the home.
Over recent years, the Kurdistan Regional Government — the autonomous authority in Iraq's northernmost provinces — appears to have quietly shifted from ignoring police who punish gays, to taking a more hands-off approach.
"The domestic security try not to interfere in people's personal lives, and diverting precious resources from fighting terror would endanger public safety. The main challenge is changing the conservative attitudes," said Shalal.
Progress is often uneven and complicated in the region –– a constant balancing act between various religious and cultural factors.
Even among some relatively secular families, the tribal underpinnings of Kurdish culture, which are more pronounced in rural areas, can strongly limit social behavior. Tribes still have their own conservative honor code, even if religion is not the only driving force behind the lack of tolerance.
Over the long term, things seem to be looking up. In 2002, Iraqi Kurdistan repealed Saddam Hussein-era laws which had severely limited the ability of authorities to prosecute those conducting honor violence. By 2007, Iraqi Kurdish Prime Minister Nechirvan Barzani launched special commissions to combat and track honor violence against women, with special-purpose law enforcement and a ban on village elders from deciding legal cases outside of the court system.
It's reassuring that for visitors, tribal honor rules do not extend to Western outsiders. One gay expat, residing in Duhok, observed that, "Living here for four years, I've had no issues in quietly going about my life, and I have a few LGBT expat friends in different cities here who feel the same way."
Pride Month marks another year of progress for human rights, and in many areas of the world, such as Kurdistan, the conversation is only beginning. This month is also an opportunity to reflect on this continuing struggle and the encouraging reminder that change can start with just one person.
The author is a Middle East analyst specializing in Kurdish affairs, and resides part time in Iraqi Kurdistan.
Popular in the Community