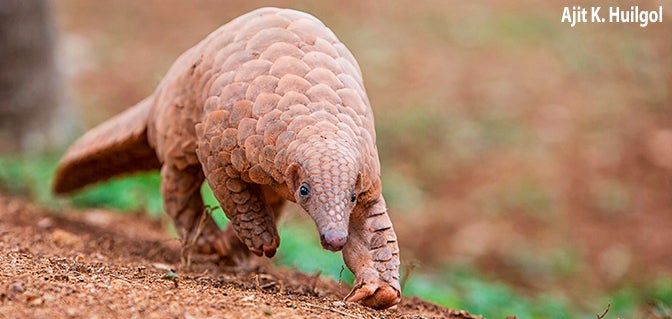 In South Africa, the word Ubuntu refers to the power of unity and the spirit of compassion and cooperation – "I am because of who we all are." Last week in Johannesburg, the world came together in that spirit to find global solutions to protect some of the world's most vulnerable wildlife.
The United States is a founding signatory nation to CITES, an international agreement initiated in 1973 and since ratified by 182 countries and the European Union that protects wild animals and plants against over-exploitation as a result of international trade. More than 35,000 species of animals and plants benefit from CITES protection.
The newest protections ratified in Johannesburg received support from hundreds of nations because people around the world understand that the ongoing poaching and wildlife trafficking crisis decimating these and other species is a global problem. As head of the United States delegation, I was privileged to be a participant and a witness to a remarkable spirit of collaboration as the world pulled together to find global solutions to these problems.
Just as we're collaborating globally, we're also uniting as one nation to fight for wildlife. Our delegation contained representatives from the U.S. Fish and Wildlife Service, the Department of State and multiple other agencies – reflecting the government-wide effort marshaled by President Obama's National Strategy to Combat Wildlife Trafficking.
We're developing a more robust legal framework, as well as the investigative, prosecutorial and judicial capacity to apprehend and prosecute traffickers, seize the proceeds of the crimes and apply penalties that deter and prevent others from committing wildlife crimes.
Last year alone, we awarded more than $21 million (in grants and cooperative agreements), matched by an additional $33 million, supporting 141 wildlife trafficking-related projects in 48 partner countries. Funded projects receive assistance of equipment and training for ranger-led anti-poaching patrols, as well as support for community member involvement in conservation activities.
It is equally vital to tackle the consumer demand side of the equation – helping consumers around the world understand the consequences of their purchasing decisions and how they can push for sustainability in trade. We're funding demand reduction campaigns with partners in the United States and many foreign countries to engage citizens in this fight. At CoP17, we were pleased to partner with the U.S. Wildlife Trafficking Alliance and Discovery Communications Inc. to unveil a new public service announcement that will inspire consumers to make informed purchasing choices and help protect endangered species populations around the world for generations to come. You can view the new PSA here.
The protections ratified at CoP17 are a vital component in this multi-pronged strategy. They will halt unsustainable trade and make it easier for international law enforcement agencies to crack down on poaching and wildlife trafficking of these and other species threatened with extinction.
But this consensus didn't happen overnight. It's the result of years of collaboration, capacity building and support by the United States, which has become a leading voice for international wildlife conservation. We reached out to our CITES counterparts in many nations during past years to show how science supports these listings. We also supported range states in their international collaborations to develop conservation plans, including policy actions under CITES.
The CITES CoP17 also provided a vital forum for us to work together to develop and embrace proactive strategies to tackle conservation challenges. In particular, I'm proud to note that we co-sponsored a resolution with South Africa to give youth a voice in global conservation and spearheaded demand reduction initiatives with other partners.
We also came together with more than two dozen African nations to push for the worldwide closure of domestic ivory markets. As a result, the CITES Parties agreed by consensus that all countries with legal domestic markets for ivory that are contributing to poaching or illegal trade should close those markets as a matter of urgency. In addition, all routes to opening legal international trade in ivory have been blocked. And together, we strengthened provisions to identify and potentially sanction nations that are not taking adequate steps to stem this crisis. The United States remains unalterably opposed to the resumption of commercial ivory trade under any terms, and will continue to urge member nations to close domestic ivory markets that contribute to poaching or wildlife trafficking.
I'm extraordinarily proud of the leading role taken by the United States in Johannesburg and in global enforcement, protection and capacity-building efforts.
These actions demonstrate the United States' resolve to do everything we can to work with partners around the world to sustain native wildlife and habitat for generations to come.
I'm optimistic that we're on the right track to succeed – with Ubuntu as our guiding principle.
Related
Popular in the Community