"Playing sports helps me forget everything my family has been through." – Heba, 12, from Iraq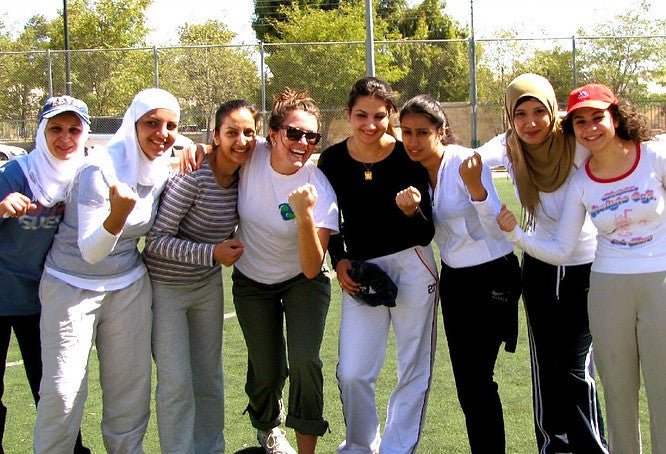 As the refugee Olympic team makes its historic debut in Rio, refugee athletes in training learn the basics of soccer, basketball, Zumba, and frisbee on a donated field in Amman, Jordan. Many of them have never touched a ball before, yet they chase after it with gusto and laughter. For four weeks this summer, refugee girls from Iraq, Palestine, and Syria, as well as at-risk Jordanian girls, are brought together for sports camps by an organization called Reclaim Childhood (RC)– perhaps the only one in Jordan that targets all four populations for the same program. Many girls at the summer camp have fled ISIS, religious persecution, or war. Heba, a twelve-year old Sunni girl whose family was threatened by Shi'a militia in Iraq, said, "Playing sports helps me forget everything my family has been through." At camp, her smile is completely infectious.
RC's purpose is to give girls in Jordan a place to play who otherwise would not be able to. As one of the Syrian participants asked rhetorically, "The street is for the boys, right?" Although RC can't change the deeply embedded patriarchy overnight, it gives girls the chance to express themselves, release stress, learn sports skills, team-building, and self-confidence by providing a safe space to run and play. Jenena, fourteen, from Iraq, said she used to watch a Turkish TV show where the characters played sports together, and she had always wanted to do that too but never had the chance. When RC invited her to play with them, "it was like a dream come true," she said.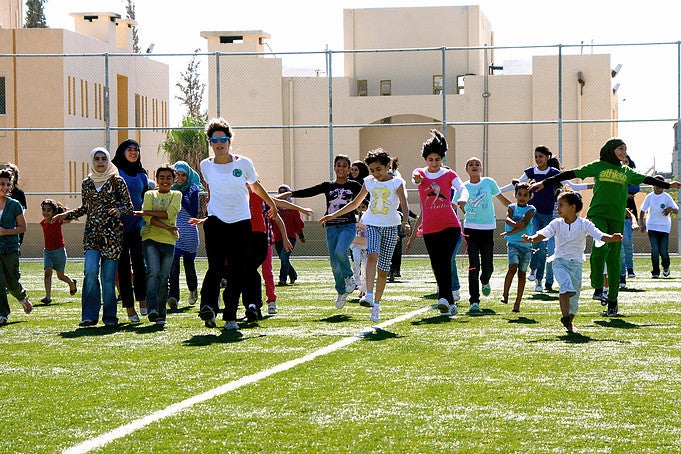 This September, Jordan will host the U-17 Women's World Cup – the first ever female world cup in the region. Prince Ali Bin Al Hussein told the Washington Post that this could help Jordan be a catalyst for women's involvement in every aspect of society, "not only for ourselves but also for the region." Several organizations are beginning to harness the power of play for both child and community development, such as Right to Play, UN Sport for Development and Peace, and USAID's Sport for Development Initiative. There is also increasing evidence that programs like RC can particularly help children who have experienced trauma.
Although things are moving in the right direction, the situation for women in the region is far from equal. According to UNESCO, women make up only 14% of the labor force in Jordan, although they outnumber male enrolment in and graduation from higher education institutions. Additionally, conflict and state fragility is widespread throughout the region and disproportionately impacts women and girls through increased violence and other harmful practices. Indeed, the girls who participate in summer camp programming with RC come from some of the most at-risk communities in Jordan. Refugee families often struggle with many hardships such as poverty, insecurity, and isolation. In a focus group, three Syrian girls between the ages of twelve and sixteen told me that the summer camp was the first time they left the house since school ended because their parents fear for their safety. When asked how playing sports makes them feel, they all replied, "Strong."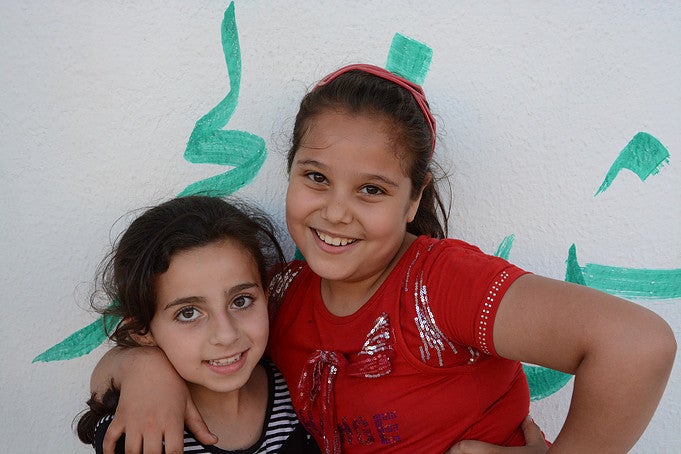 One of the most powerful aspects of RC's programming is that they recruit and train women from the target communities to be coaches for the summer camp and beyond. This community leadership model instills a great sense of self-efficacy and leadership in the coaches, who then act as role models for girls in their communities who desperately need that source of encouragement. One of the Syrian coaches, Ayah, said, "When children learn what it means to be a refugee, and that they are refugees, they cry." She explained how important it is to them to have someone who is a refugee like them to look up to, which gives them hope.
Refugee children often take on adult responsibilities such as work, both in and outside of the home. Some act as heads of household, while others grapple with the emotional trauma of witnessing war and other atrocities that young eyes should not see. Qamr, age 15, from Syria, mentioned that her dad is still in Syria, and her mom works all the time, so she is left home alone to care for her younger siblings. Playing with RC is the only opportunity she has to leave the house. When asked what she likes about the program, she replied, "The coaches, playing, and the change of pace." Sport and play programs allow children like Qamr to feel and act like kids again, albeit temporarily. One of the Iraqi coaches, who has worked with RC for five years and used to be a participant herself, explained, "It means more than you know. It's as if their lives are filled with darkness, and when they experience such happiness from the coaches and friends, this acts like the only light in their life."
At the start of the week, the girls can be shy and aggressive. They may fight over the ball, cut each other in line, and use disrespectful language. One of the program's superstar Iraqi coaches, Rania, said that at first, fights would break out between the Christians and the Muslims in her group. So she sat them all down and said, "We're here to play, not pray," and encouraged a cohesive attitude in every activity. By the end of the week, these barriers have broken down as the girls cheer for each other, hug, and call each other friend. They also freely express their hopes and dreams to their new-found friends and mentors. A ten-year old Iraqi told me on the last day of camp, "I want to become a doctor. I will treat sick and poor people and help my mom and dad." Through programs like RC, refugee children around the world can reclaim their childhood and ignite their inner potential.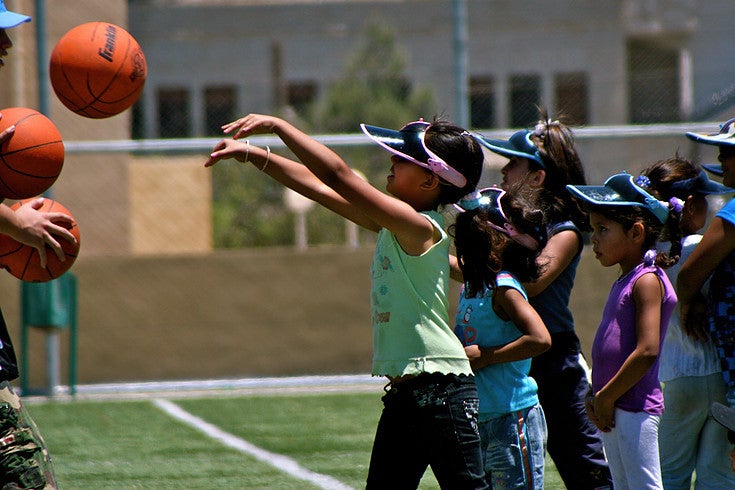 Note: Reclaim Childhood is a 501(c)(3) non-profit based in Amman, Jordan that seeks to empower refugee girls and local women through sport and play. RC was founded in 2008 and operates regular after-school sports leagues and a month-long summer camp for girls ages 6 – 18, and coaching clinics for local adult women. Last year, they were unable to run programming due to funding constraints. If you would like to learn more about RC and donate, click here. The author wishes to acknowledge RC program staff for assistance with data collection, particularly Yara Mehiar.
REAL LIFE. REAL NEWS. REAL VOICES.
Help us tell more of the stories that matter from voices that too often remain unheard.
This post was published on the now-closed HuffPost Contributor platform. Contributors control their own work and posted freely to our site. If you need to flag this entry as abusive,
send us an email
.