On May 1, Kathy DiVincenzo shared two photos taken by her friend, photographer Danielle Fantis. While one picture shows the mom dressed up and smiling with her children in their clean house, the other shows DiVincenzo looking tired and unhappy with a classic messy bun and cluttered home.
DiVincenzo explained in the caption that May is National Maternal Depression Awareness Month. Because she has struggled with postpartum depression, anxiety and OCD, she decided to speak out and show people what the experience can look like ― and "not just the side of me that's 'Facebook worthy.'"
The two pictures DiVincenzo posted represent her life, "depending on the day," she wrote.
"I would only ever comfortably share one of these realities though and that's the problem. The only thing more exhausting than having these conditions is pretending daily that I don't," she explained, adding that she works hard to hide the harsh reality from the social media world because she's worried it would make people feel uncomfortable.
"I'm afraid you'll think I'm weak, crazy, a terrible mother, or the other million things my mind convinces me of, and I know I'm not alone in those thoughts," she wrote. "We need to stop assuming that the postpartum period is always euphoric, because for 1 in 7 it's not. We need to start asking new parents how they're doing in a deeper way than the normal, "so how are you doing?" that triggers the knee jerk, "everything's great!" response. We need to learn the signs, symptoms, risk factors, and support plans for postpartum conditions."
DiVincenzo called upon parents to smash the stigma and #EndTheSilence around PPD by sharing their stories and letting others know they are not alone in their struggles.
Addressing her fellow moms, she concluded, "In case no one has told you, you're doing an amazing job. You are loved and you are worthy. You're not alone. Information to local and national support will be in the comment section. I know how unbelievably hard it is to reach out, but I promise you it is worth it. YOU'RE worth it."
The mom's post received over 43,000 likes and 67,000 shares.
DiVincenzo has a 3-year-old daughter named Gia and an almost-4-month-old son, Dominic. Though she struggled with postpartum anxiety after giving birth to her daughter, she didn't address the issue until she developed crippling postpartum depression and OCD with her second child. She told HuffPost she's in the thick of it and only just started seeking help.
"It was important for me to post this during my struggle because I wanted other new parents to know that while reaching out was the hardest step for me, it was the most important as well," DiVincenzo explained. "I just realized that I was going through such a dark time, but my Facebook was full of smiling pictures of my kids. I was talking to Danielle one day about what a disservice that is to other postpartum mothers and how I wish someone could just post what postpartum really looks like for so many women."
DiVincenzo and Fantis hoped that just one mom might be moved by their photos, so they've been blown away by the overwhelming amount of positive comments and responses to the post. They hope that women facing these challenges feel inspired to seek help and that others choose to educate themselves on the risk factors, signs and symptoms of postpartum disorders.
"It's important to know that this can affect you if this is your first child, or your 20th," DiVincenzo told HuffPost. "This isn't something that only happens within the first few months either. These disorders can also affect men."
She added, "While I certainly am not trying to represent postpartum mental illness as a whole, I hope to raise awareness that these are real conditions that could be affecting you, your sister, your friend, etc. It's crucial to be checking in with parents, especially throughout that first year, to really know how they're doing."
Related
Before You Go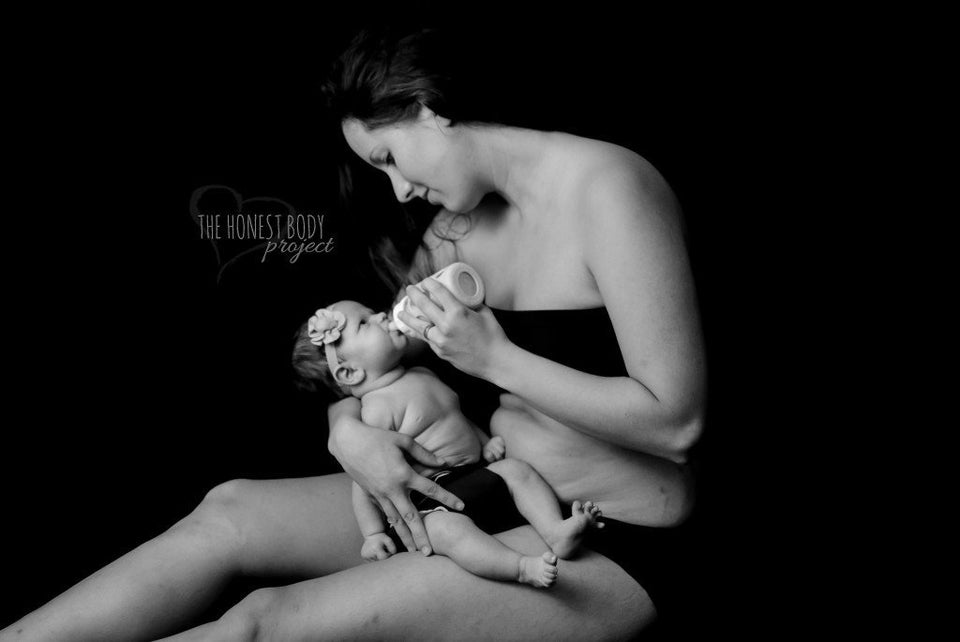 Postpartum Body Project