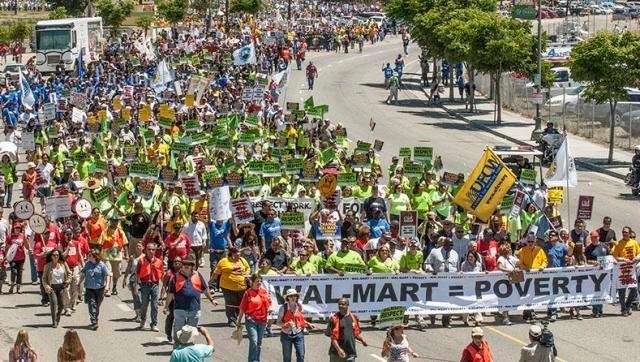 Led by a motorcycle brigade and Chinese lion dancers, thousands of Angelenos marched through the heart of Chinatown Saturday to protest Walmart moving into the historic downtown Los Angeles neighborhood. Walmart workers, large groups from various unions and others shouted slogans such as "Walmart hurts the 99 percent" and "Walmart, Walmart, you're no good. Treat your workers like you should" as they passed many of the neighborhood's small Chinese businesses.
While less vocal than the chanting activists, many of the mom-and-pop owners and employees held anti-Walmart signs or had them in their storefront windows.
"When they corporatize business, all small businesses do die," Carter Lee, son of the owner of Ocean Pacific restaurant, told The Huffington Post. "They just keep sucking profit out of the local community. It's like a black hole."
Several protestors told HuffPost that they did not want a Chinatown Walmart because they wanted to preserve the culture and businesses of Chinatown. Others expressed concern about Walmart's non-union jobs and reputation for low wages and lack of benefits.
The call for union jobs was clear at the march's destination stage underneath the dragon gate entrance into Chinatown. Rage Against the Machine guitarist Tom Morello performed a few union songs, including an "uncensored" version of Woody Guthrie's "This Land Is Your Land" that some protestors sang along to.
Several Walmart employees and members of other unions spoke, including Marta Madine, who works at a warehouse in San Bernadino that supplies to Walmart. "We demand to be respected as humans, not objects. We want to end retaliation against Walmart employees when they speak up," she said.
Singer-songwriter and LA native Ben Harper also performed and said to the crowd, "There are 5,000 places where people might welcome Walmart, but we don't welcome them here."
The first part of the protest kicked off Friday night, when about 450 Angelenos, appearing to be mostly in their teens and twenties, gathered for a "No Walmart" benefit show at a Chinatown gallery. The event started with petition-signing tables and short speeches and ended with crowd-surfing and a mosh pit when punk band No Age headlined.
Scroll down for photos of the protest and concert.
In response to the demonstrations, Walmart spokesman Steven Restivo wrote to HuffPost:
While the special interests fell well short of their goal [organizers had touted the event as a 10,000-person march], more than 170,000 people are expected to shop at a Walmart store in Los Angeles County today alone. Clearly, the vast majority of customers see Walmart as part of the solution when it comes to things like good jobs, healthier foods and sustainability. We remain committed to serving customers here and look forward to soon opening new Walmart Neighborhood Market stores in Panorama City, Altadena and downtown Los Angeles.
Days before the march, all three leading LA mayoral 2013 candidates, Democrats Councilman Eric Garcetti, Councilwoman Jan Perry and City Controller Wendy Greuel, endorsed the protest event and announced that they would not accept any campaign contributions from Walmart. Rep. Judy Chu (D-Calif.), who represents Chinatown, made the same declaration.
The LA protest was by far the largest of rallies and town halls in several U.S. cities Thursday, Friday and Saturday, according to Janna Pea of the United Food and Commercial Workers Union. Actions took place nationwide in advance of Walmart's 50th anniversary on July 2.
In Chicago, Walmart employees and other activists held an anniversary "celebration" for the retail giant, complete with cupcakes and a birthday card, which the receiving Walmart manager refused, Pea told HuffPost. In Little Rock, Ark., activists held an anti-Walmart interfaith prayer vigil. And in New York City, guestworkers at Walmart supplier C.J.'s Seafood began a 24-hour fast Saturday in front of Walmart board member Michelle Burns' apartment. In other cities, small delegations of activists visited Walmart stores to collect signatures for an anniversary e-card outlining demands for Walmart to change its business practices, according to Pea.
Labor groups Making Change at Walmart and Our Walmart also recently launched Walmartat50.org, a website where anyone with a computer can air their grievances about the company. Connected with the company's 50th anniversary, the user-generated site features personal stories, photos and videos from disgruntled employees, customers and others.
Although the LA City Council unanimously approved in March an emergency ban on chain retail stores in the historic Chinatown area, Walmart surprised the Council by obtaining the building permits it needed the night before. The city's eleventh-hour issuance of the permits is currently being appealed by the Pacific American Labor Alliance, the Los Angeles Alliance for a New Economy and some Chinatown business owners and residents.
LA City Planning Commission will hold a public hearing regarding the emergency ban on July 12 at City Hall. Anti-Walmart activists encouraged Chinatown residents and others at Saturday's march to attend the hearing and make their views heard with the city.
The Chinatown Walmart, although one-fifth the size of the company's big-box stores, will be the first Walmart to be centrally located in the City of Los Angeles.
Click through photos of the protest and concert in LA :
Photo credit: Kathleen Miles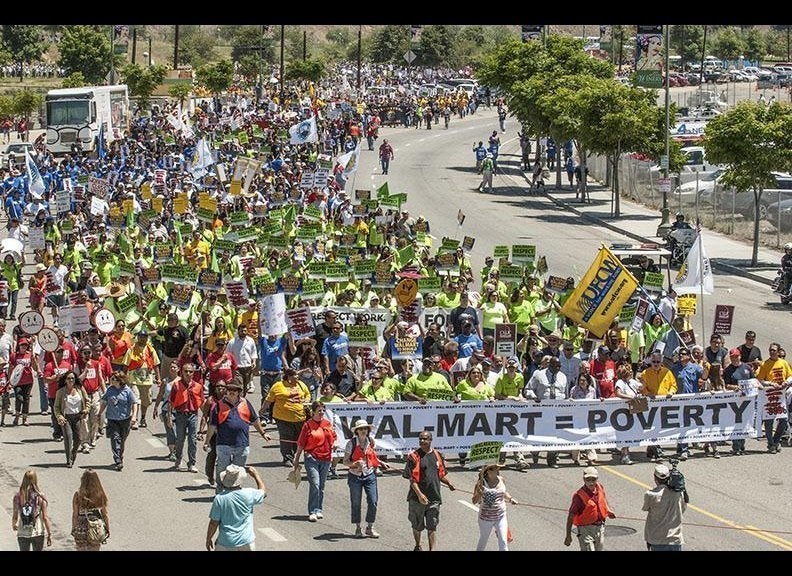 LA Walmart protest
Related
Popular in the Community