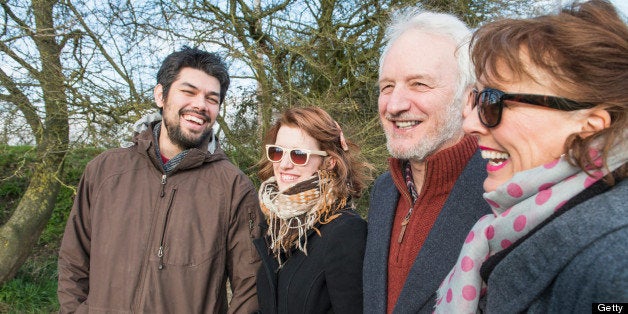 Dealing with in-laws can be complicated, to say the least. It's not always easy to figure out your role in a group of people who have known each other for years. But when you do find out where and how you fit in -- whether it's right away or months or even years down the road -- it's an amazing feeling.
Recently, we asked our readers to share with us a moment when their in-laws really made them feel like part of the family. Below, nine wonderful stories that show that not all in-law relationships are a pain in the you-know-what.
My husband and I met on Match.com and the first weekend we met face-to-face was his mom's birthday. He basically told me that if it was going to work, I needed to meet the family. I was supposed to leave North Carolina to fly back to Ohio two days later. He took me to their home to say good-bye before I flew home on a Sunday evening. I missed my flight and called my husband because I didn't know what to do. I was a broke college student working minimum wage and returned my rental car and didn't have cash for another car or a hotel. He said I should spend the night with his parents and they'd take me to the airport. So I did. We stayed up talking and giggling like family members. There was so much love and acceptance -- you could feel it. I knew he was the one for me and that they were the family I was supposed to be part of. - Ella, 24, of Ohio
Every Thanksgiving, my father-in-law always called me over to help him carve the turkey. No matter how busy everybody was, in a house full of people, and a super busy mother-in-law in the kitchen, he would stop and call me over to help him. That always made me feel special. - Jane, 58, of North Carolina
My in-laws are wonderful, and have been since the very first day. The day I truly felt welcomed by my soon-to-be husband's family was at my bridal shower. I have never had a party thrown to celebrate me since elementary school. My mother-in-law, soon-to-be aunts, cousins and grandmother made the day so special and beautiful I was engulfed in family love. It was absolutely one of the most loving, welcoming, and fun days of my life. I can't wait to dance with these women (and the guys too!) at our wedding in a couple of weeks. They are truly my family and I cherish them all. - Kerri, 25, of Washington

My mother-in-law, being the Italian mom that she is, made me feel a part of the family almost immediately, over 20 years ago. She is very loving, compassionate and giving. In some ways, I'm closer to her than my own mom. She's the one I go to with questions, for advice or just to talk. I thank God for her every day because not only did she raise a wonderful man that is now my husband and father of my children, but she is there for me the way a mother is there for a daughter. - Stacey, 45, of Arizona
Before I had ever even met my in-laws, I found out I was pregnant. Not planned, but we were crazy in love and ready. I was terrified that this news would affect how they would see me and that they would judge me in a negative way. It was just the opposite. They were thrilled and so supportive. And they still are 14 years later. I adore them like my own parents. - Kristine, 44, of Pennsylvania
My mother-in-law has never had a great relationship with her mother-in-law so she has always gone out of her way to be kind and welcoming to me. The moment that put it over the edge for me was when she allowed me to wear her great-grandmother's pearls in our wedding in June. They were so special to her and I felt honored to wear them as I married her son. - Kayla, 26, of Tennessee
My future mother-in-law made me feel like part of the family when she started buying little snacks and juices that I enjoy. She prefaces an invitation to her house by saying that she has gone to the store and "got some goodies." Food is not only the way to my fiancé's heart, but it's also the way into mine! - Brittani, 27, of California
My future mother-in-law came along earlier this year when I went dress shopping. We had a great time, and sure enough, I found THE dress! I even had a little "Say Yes" moment of my own, it was that perfect. The bridal consultant decked me out in a matching veil and jewelry and I truly felt like a bride in that moment. The veil matched the dress perfectly, and really completed the look. I was thrilled...until we headed to the cash register. My parents were paying for my dress, and it turned out that the veil was almost as expensive as the dress! Of course, they offered to buy it, but I just couldn't bring myself to ask them to spend that much additional money on top of everything they were already doing for the wedding, especially since I knew money was a little tight for them. So I played it off, and pretended that I didn't care about the veil, saying I wanted to shop around a little before buying one. We bought the dress and left, and I thought that was the end of it. Then, a few months later, my birthday rolled around and a package arrived from my future in-laws. I opened it, and there was the veil! With it was a note that said, "I know that you loved this veil as much as I did, and I couldn't imagine watching you walk down the aisle without it. We love you and are so happy to have you joining our family!" It was the sweetest gesture, and of course I cried happy bride-to-be tears before putting on the veil and dancing around the house for a while. I'm a very lucky lady to be marrying into such a wonderful family! - Jen, 29, of Georgia
We were celebrating a year together with Mike's parents. He bought me a bottle of Dom Perignon to celebrate. I popped the cork in their newly renovated kitchen, only to put a hole in the ceiling. My mother-in-law said, "Well, at least you missed the light." - Dana
Click through the slideshow below for 17 pieces of advice to improve your relationship with your in-laws.

Tips For Dealing With In-Laws