(The below email from National Rifle Association (NRA) CEO Wayne LaPierre was forwarded to your humble correspondent, who feels it his civic duty to share with the public, in light of the fact that American kids are accidentally, but quite regularly, shooting themselves, their siblings, and sometimes their own parents).
TO: NRA, All Staff
FROM: Wayne LaPierre, CEO
SUBJ: Retiring Eddie Eagle :(
Many of you no doubt recall with great fondness the moment Eddie Eagle, our beloved gun safety icon, first made a landing in your life, either at school or online, especially after his spiffy digital upgrade. For almost thirty years now Eddie has been charming American youngsters, and his catchy firearm safety limerick ("Stop, don't touch! Run away, tell a grown up!") is one of the most popular songs in the nation.
But while his flight has been a long and distinguished one, this year the sun will gently set on our singing bird of prey. It is with a heavy heart that I share with you all the suspension of our association's Eddie Eagle Gun Safety program, effective immediately. Despite our best efforts and decades of diligence, the program has, unfortunately, proven to be an abject failure.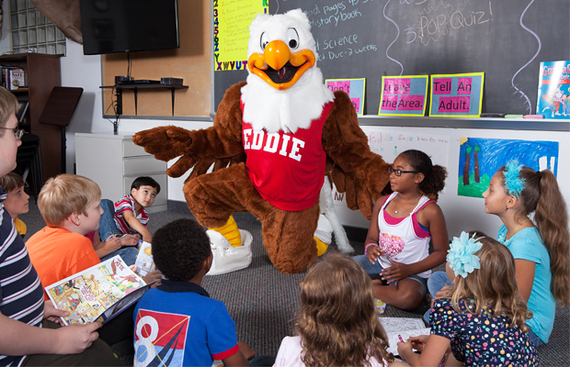 Almost every day it seems, untrained American youngsters are still getting their precious little fingers on firearms, with tragic consequences (who can forget those unfortunate young parents in New Mexico, or most recently in the Buckeye State, where a 3-year old boy just used his mother's gun to take his own life).
Now for the good news. With Eddie flying off into the sunset, the National Junior Shooter Department has been working overtime on a new program to pick up where he left off, and to correct certain mistakes made in the past. With Eddie Eagle we tried to teach vigilance, but I regret to say he also taught fear. In his naivete, Eddie may have unwittingly made young Americans afraid to bear arms, and that's a mistake I'll never forgive myself for -- a mistake we're going to correct. The National Rifle Association will no longer be in the business of scaring American youngsters. Instead, we're going to arm them. With knowledge.
Our new training program, Second Amendment Avengers™, will teach a new generation of young Americans to be proud of their Constitution again. The new program will no longer abide by the fallacy that young Americans curious about their second amendment rights should be told to "run away" from firearms. After all with over 300 million guns in homes all across this country, and gun sales through the roof, if American youngsters had to run every time they found a loaded weapon, they'd never get a moment's rest!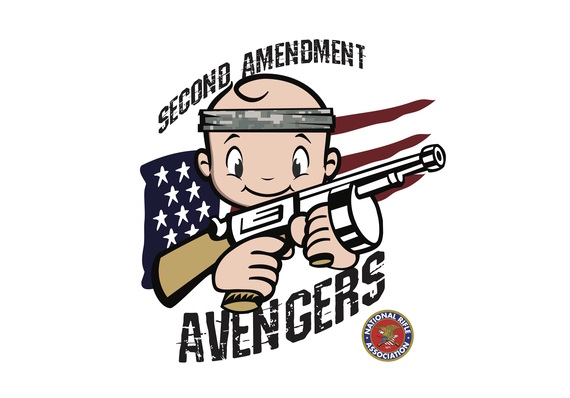 (Designed exclusively for the NRA by The Public Society)
Instead we'll offer a rigorous curricula with a focus on marksmanship, urban combat, second amendment history, terrorism avoidance, and of course, gun safety. With regular online and interactive pop quizzes, we will teach the nation's youth to know the difference between an AR and an M4, a TEC-9 and a Taurus 9MM. We'll be rolling it out this fall in major school districts nationwide, as well as in eligible day care centers and preschools. The minimum age of enrollment is two years old.
One of the most exciting features of the program is a partnership with Machine Gun America, Orlando's delightful new armed and loaded amusement park (watch out Disney, you've got some competition!). The park will host our young Avengers on chaperoned field trips, where they'll be given the opportunity to test their sharp shooting skills against real targets!
It is, truly, morning in Machine Gun America.
After all, we can't afford to tiptoe around anymore; Lord only knows what kind of gun grabbing bureaucracy Hillary Clinton is cooking up at her campaign headquarters in Brooklyn. In all fairness Eddie's "Stop, don't touch!" tune served it's purpose, but this new, terrifying era demands a more muscular curriculum for our youth. The new tune our Second Amendment Avengers™ will be singing along to is, "Stop. Stand your ground. Ready. Aim for the head!" Millions of young American firearm enthusiasts will finally receive the training they deserve, to protect their parents, themselves, and their freedom.
This is an emotional moment for many of us, and Human Resources has made arrangements with a grief counselor who will be available all this week to discuss any feelings of discomfort or loss related to Eddie Eagle's sudden departure. But mostly I hope you share my excitement about this new direction for our association, and the youngsters of America. Just think of the many young lives we'll save!
We can't stand by while one more precious angel goes to heaven after mishandling a firearm, just to protect our second amendment rights. That's simply not who we are.
Wayne LaPierre
Executive Vice President and CEO
National Rifle Association (NRA)
P.S. Later this evening some of us will be saluting Eddie Eagle's last flight and sharing some of our personal favorite "Eddie stories" at O'Ryans over on Lee Highway. I hope you'll join us!
P.P.S. This is clearly a work of satire, inspired by a new play exploring American gun culture, Bullets Over Preschool, premiering in New York City on June 19th.
Related
Popular in the Community