Artist Yazan Halwani peels political banners and posters off Beirut's walls to make room for his murals. Born in the Lebanese capital, Halwani, 22, grew up against the backdrop of political logos stenciled on city walls and faded posters of politicians plastered on street corners, some left over from the civil war that lasted from 1975 to 1990.
In Lebanon, "people usually identify with sectarian or political symbols," Halwani said. Frustrated with the political fragmentation and sectarian strife on and off the walls of Beirut, he decided to draw the public's attention to cultural figures that "reunite Lebanese, and Arab citizens, without any divisions." On walls and buildings in East and West Beirut (which were separated during the civil war), he paints large-scale portraits of Arab poets, musicians and actors, encircled by intricate Arabic calligraphy.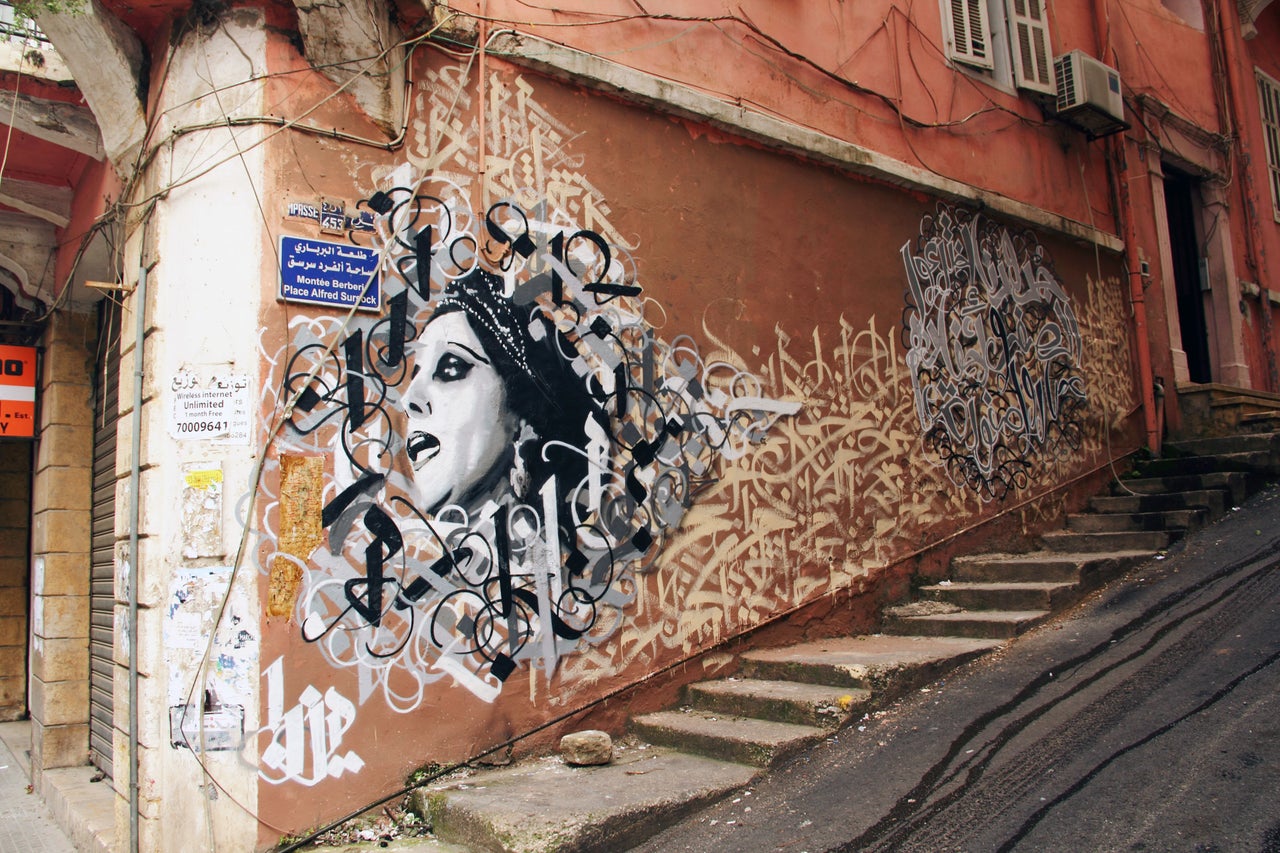 Born a couple of years after the war, Halwani is part of a generation of Lebanese youth pushing, in various ways, for greater unity in Lebanon. With his artwork, he strives to offset decades of political polarization that has resulted in cultural divisions and "a weakening of national identity."
Referred to as "Beirut's Banksy" by Arab media outlet Al-Arabiya, Halwani has also produced artwork for international street art events, and his work has appeared in Germany, Singapore and Paris. By taking his calligraphy outside the Arab region, Halwani says, he wants to instigate "cross-cultural conversations" and to inspire a "positive view of the Arab world."
But it's his work in Beirut that's garnering the world's attention.
Political paralysis is nothing new in Lebanon's government, which is tenuously balanced according to the country's religious factions. But it has reached new heights: The country's parliament has failed to pick a president for more than one year, and its inaction and corruption leaves much of the country without regular access to services like electricity and water. This summer, more than 20,000 tons of garbage has accumulated on Beirut's streets after a major landfill closed and the government failed to agree on an alternative dump or a new contract for its garbage collection company.
Residents began to protest, resulting in the YouStink campaign decrying their officials. Public frustration peaked last month, with the recent wave of protests in the capital being described as "the biggest show of civil disobedience" in a decade.
Halwani marched in a mass YouStink rally in downtown Beirut on Aug. 22.
"I think the current problem and the main motivation behind my artwork stem from the same reason," says Halwani. "Sectarian political forces that are working in their own self-interest."
Halwani won't write political slogans on Beirut's walls, though. By painting much less polarizing figures, he subversively proposes an alternative cultural and political narrative: one of unity and harmony.
"I think that what needs to be done on a political level cannot be summed up with a wall tag," he says.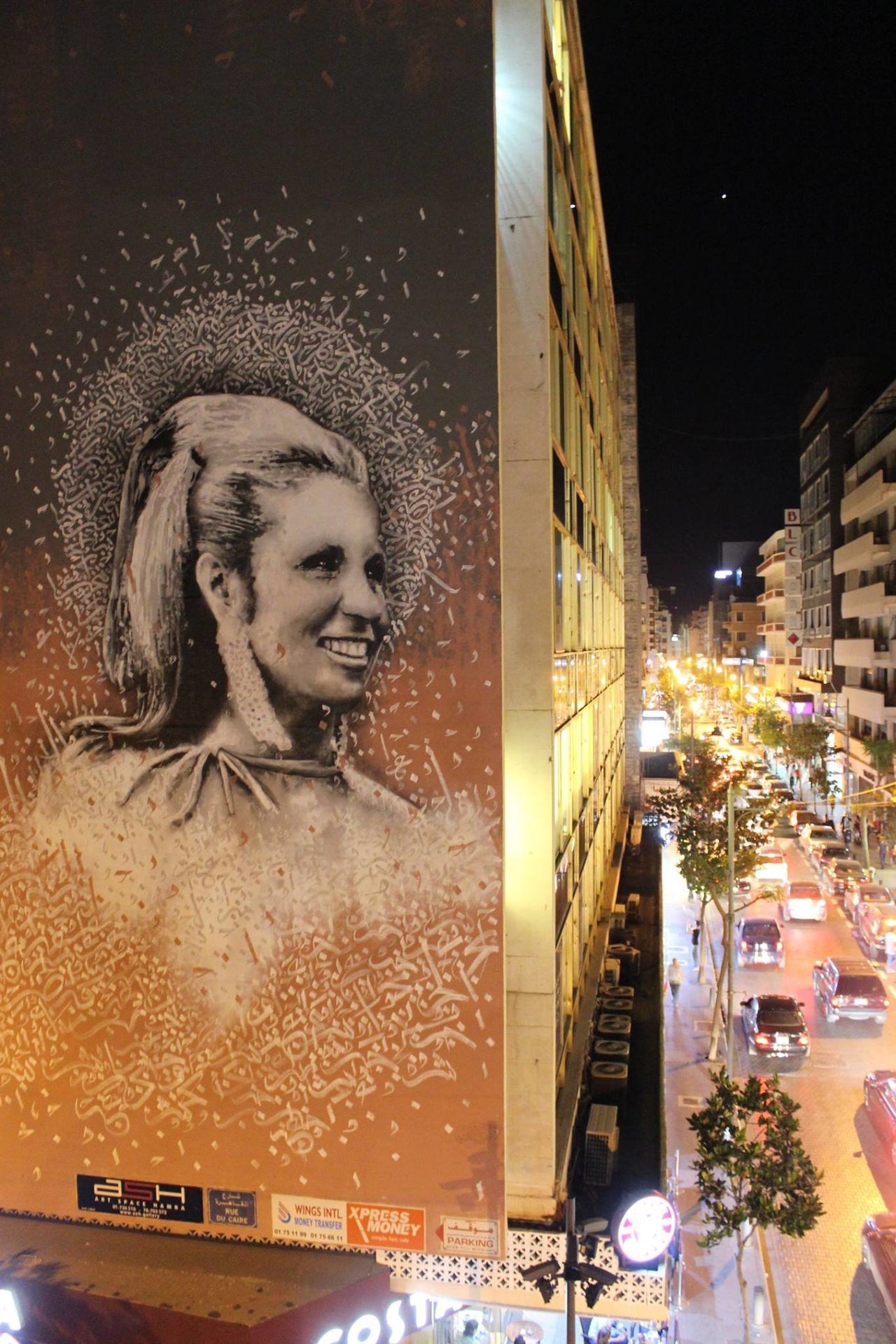 Along the side of a building in the vibrant district of Hamra, Lebanese singer-actress Sabah peers out onto the street, smiling disarmingly, surrounded by a halo of interwoven Arabic letters that look like snowflakes from afar. Across an orange wall in the lively residential district of Gemmayzeh, Halwani painted beloved musical icon Fairouz, in black, white and grey.
"I want to replace corrupt politics with more positive cultural elements that show the real face of the country," he says.
Halwani's street art hasn't always been propelled by such lofty ambitions. At the age of 14, he was drawn to French hip-hop songs and gangster films. "Everyone wanted to grow up to be a soldier or an actor, but I wanted to be a gangster like these taggers in New York," he says. He started tagging his name on Beirut's walls, in bright colors and big letters. Later, however, he experienced what he calls a "critical response" toward his own work. "I realized that what I was doing did not have a shred of identity. It had no relationship to Beirut. That's why people ignored or destroyed it."
Around the same time, Halwani borrowed a calligraphy book from his uncle. He quickly discovered that there was a discrepancy between the essence of calligraphy and that of tagging; the former was less about the artist and more about the words (often Quranic verses or folkloric proverbs.). "I was no longer interested in writing my name," he says.
In fact, he was no longer interested in writing anything at all. The Arabic letters he places around his portraits often don't make up legible words; they're more like ornate crossword puzzles. "What I try to do is I try to evoke meaning without having to use the actual word ... I use calligraphy to create an Arabic visual language which can be understood by Arabic and non-Arabic speakers alike," he noted.
Often, he seeks to paint murals that start conversations. On one of the walls in Concord Street is a portrait of a gray-haired man, his eyelids on the verge of caving in, his gaze despondent. His creased forehead is crowned with tufts of white and grey hair. The portrait is of Ali Abdullah, a homeless man who for years had set up residence in the nearby Bliss Street. In January 2013, Beirut's harsh weather reportedly led to his death. The incident mobilized hundreds of Lebanese youth to launch initiatives to help the homeless.
"After two weeks, everybody forgot about him," says Halwani. "I decided to repaint him, just to tell people that you do not need to help the homeless only when you hear a tragic story on the news."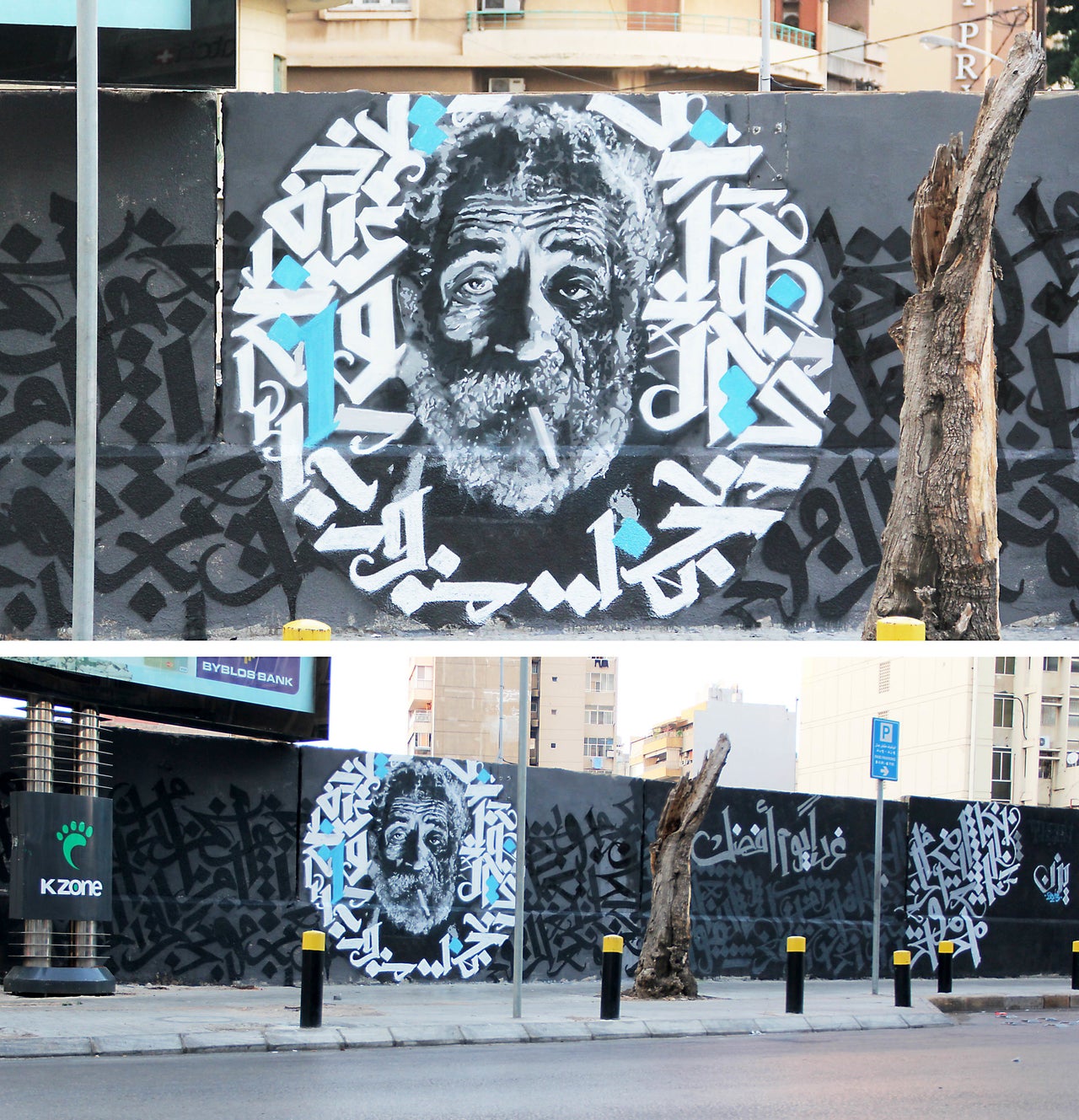 As Halwani was standing in a shopping cart, with blotches of black paint on his shorts and T-shirt, a worn out taxi pulled up by the curb. A teary-eyed driver called Halwani over, and said, "When I saw what you're doing, I was really touched. I used to see this homeless man on the street."
Three years later, Halwani is still touched by what happened next: Desperate to give something, anything, back to the artist, the driver offered him a ride. "All I have is this car. If you need to go anywhere, I'm ready to take you," the driver told him.
Popular in the Community