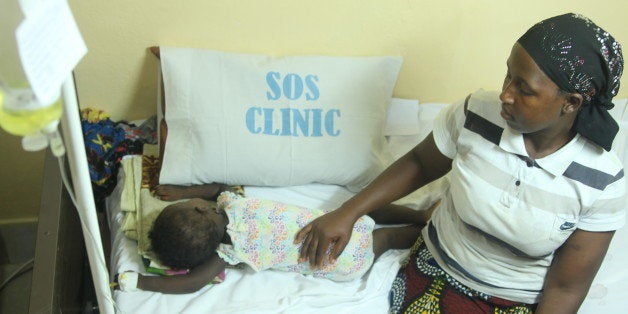 This post is part of the Relay for Kids in partnership with SOS Children's Villages. Each time you share this post, Johnson & Johnson will donate $1 (per action) to support children worldwide affected by crisis. Scroll to the bottom to find out more.
At the height of the Ebola outbreak, a woman came to our SOS medical clinic in Monrovia with her 16-year-old son. She was desperate for us to admit him to the clinic, and all signs indicated that he was already infected with the disease.
As the woman held her son, we quickly called for an ambulance to take him to a nearby treatment center. Knowing that the disease is extremely contagious, we tried to explain to her the danger of holding him with her bare hands and begged her to wear medical gloves, but she refused. This was her son, and she was doing what she could to protect him. By the time the ambulance arrived, her son had already succumbed to the disease. Heart-wrenching stories like this have become all too common in Liberia.
In West Africa, over 10,000 people have lost their lives to Ebola. No country has reported more deaths than Liberia. Schools, hospitals and businesses in Liberia closed in an effort to curb the spread of the disease. Public transportation stopped operating. Even communication with people became limited. No one shook hands or gave each other hugs any longer for fear of infection; and in daily interactions, people were constantly worried that the person next to them might be infected with the disease. People became suspicious of their family members, friends and neighbors. It almost began to feel as though the virus were trying to turn us all against each other.
At SOS Children's Villages, we quarantined our villages in Liberia in an effort to keep our families and staff safe. We set up chlorine buckets at every entrance and trained everyone on precautionary measures. After the local schools closed for safety reasons, we trained village mothers to home-school the children in their care so that they wouldn't fall behind with their studies. And amidst the chaos and precautions that were limiting human interaction, we did the best we could to maintain some sense of normalcy in these children's lives. The outbreak has been a tragedy for all of us, but especially for Liberia's most vulnerable children.
Children and youth were and continue to be in desperate need of protection. While visiting poverty-stricken communities in Monrovia, I have met with children who have lost their parents and are in need of care. To help address the needs of these children, we worked with the Ministry of Health and other nongovernmental organizations to establish Interim Care Centers to provide them with temporary care and psychosocial support. These interventions are a much-needed first step on the road to ensuring that all the affected children receive the services and support they need to overcome this trauma.
These children are no different than any other children you see around the world. They too want to learn, play with their friends and enjoy their childhood. As we work together to eradicate Ebola, it is critical that we continue to provide these children with the protection they need to survive and thrive in their communities.
By sharing, you make a difference for kids in crisis: From March 23 until April 24, each time you 'like' or share this post via the social media icons above or comment in the section below, Johnson & Johnson will trigger a $1 donation (per social action) to SOS Children's Villages, the world's largest organization dedicated to orphaned or abandoned children, up to $30,000*. $1 provides food, shelter and medical care to a child in crisis. In addition, you can also Donate A Photo** and Johnson & Johnson will donate $1 when you upload a photo for SOS Children's Villages -- you can help raise up to $20,000 in seconds with the click of your mouse or snap of your smart phone.
Johnson & Johnson, SOS Children's Villages and The Huffington Post created the Relay for Kids to support children around the world who have been affected by poverty, conflict, disease and natural disasters. Visit www.sos-usa.org/relayforkids to learn more.
*Blogs must be shared between March 23 to April 24, via Facebook, Twitter, StumbleUpon, reddit, Tumblr and Google+ from the Huffington Post. Each share will trigger a $1 donation up to $30,000. There are no limits on how many times you can share a post.
** via the Donate A Photo app for iOS and Android. Johnson & Johnson has curated a list of trusted causes, and you can donate a photo to one cause, once a day. Each cause will appear in the app until it reaches its goal, or the donation period ends. If the goal isn't reached, the cause will still get a minimum donation.
Editor's Note: SOS Children's Villages is a partner of Johnson & Johnson, which is a sponsor of The Huffington Post's Global Motherhood section.