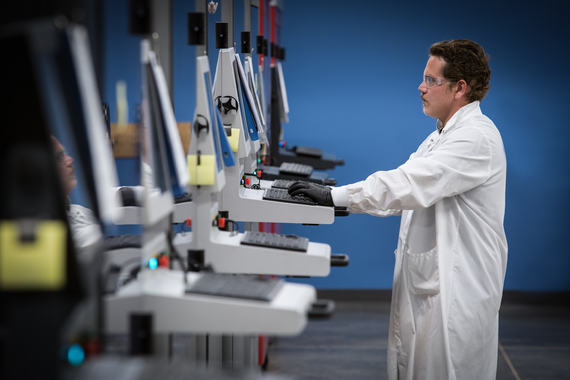 Manufacturers across the U.S. are all too familiar with the challenge of finding the skilled workers they need.
Today, six in 10 openings for skilled production positions remain unfilled because of a talent shortage. Looking ahead, the U.S. will need to fill nearly 3.5 million manufacturing jobs between 2015 and 2025 - yet about 2 million of those jobs are expected to go unfilled because companies won't be able to find workers with the skills needed in today's technology-enabled industry.
So how can we prevent the skills gap from growing into a skills canyon that threatens to swallow companies whole?
Certainly equipping the current and future workforce with the necessary skills is crucial. But we also need to clear the outdated and mistaken perceptions that exist about our industry, which are preventing many from seeking careers in manufacturing in the first place.
An Image Problem
Those of us in manufacturing know just how digitized our industry has become. Smart factories are replacing primitive production plants. Workers are spending more time at computers and less time at manufacturing equipment. And advancements around newer processes, like 3D printing are continually pushing the limits of conventional manufacturing. We see all this on a daily basis.
Unfortunately, public perceptions have not caught up with this new reality. As a result, many people hold the same views of manufacturing careers that their grandparents had: decent-paying jobs that often involve long assembly lines, manual labor, and loud machinery.
This perspective was reinforced in a study conducted by Opinion Research Corporation, commissioned by Proto Labs earlier this year. The survey of more than 1,000 adults in the U.S. specifically examined public perceptions of manufacturing. It found:
More than two-thirds (71 percent) of respondents do not view manufacturing as a high-tech career choice.
The routines that people most commonly associate with manufacturing jobs are working among machines (55 percent) and on assembly lines (50 percent) - not robotic technicians managing automated machines (20 percent) or software developers in front of computer screens (10 percent).
Only about one-third (31 percent) of respondents think a career in manufacturing is high paying.
Engage and Educate
Changing perceptions about manufacturing and sparking interest, especially with the millennial generation, begins with those of us in the industry. And there are a couple key things we can do.
First, we can engage young people. A number of companies are already demonstrating just how to do this.
Second, we can educate young people to understand what we already know: It's a really good time to be in manufacturing.
For starters, technology careers in our industry are flourishing. The digital transformation of manufacturing has opened doors to STEM-rooted careers in the fields of software development, mechanical engineering and computational data sciences. This expertise is absolutely critical in further advancing both conventional manufacturing processes, like injection molding and CNC machining as well as industrial 3D printing. The proliferation of industrial robotic equipment, automation controls, digital scanning devices, and M2M learnings has and will continue to create an increased demand for a highly-skilled workforce capable of operating and maintaining this type of equipment.
What's more, a career in manufacturing can be lucrative. Software developers can earn more than $100,000 per year, while an entry-level mold technician, another critical position, can earn $75,000 per year right out of a two-year vocational school.
Career Guidance
A rewarding career awaits the next generation of manufacturing talent - many of them just don't know it yet. By dispelling age-old misperceptions and enlightening young people about what modern manufacturing really is, we can begin to close the skills gap and inspire a new generation of workers to pursue high-tech and high-paying careers in our industry.
Related