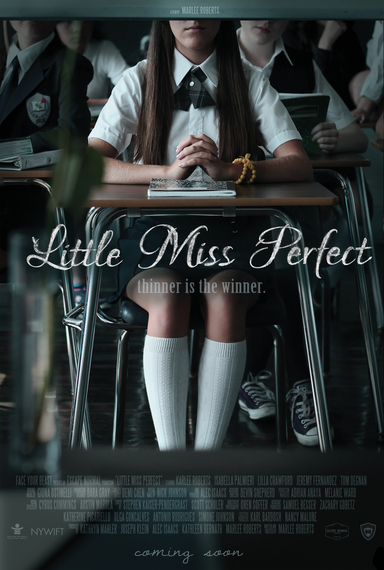 A poignant, truly unique depiction of what it really feels like to be a teen, Little Miss Perfect, the new film from Marlee Roberts, elegantly delivers a memorable portrait of that formative age. It's Ms. Roberts' first feature, with her younger sister, Karlee Roberts, portraying a troubled teen led into an intense eating disorder, and, let us say, more.
Ms. Roberts has produced over 20 previous projects, and she's a member of the Alliance of Women Directors, New York Women in Film and Television, Women in Film, and the Women in Moving Pictures Society. After a year of festival nominations and wins, NYU Tisch alumna Roberts (and the younger Roberts, notably the youngest student ever to attend Columbia University) bring their nuanced cinematic portraiture to the public. Little Miss Perfect is rolling out for a limited theatrical run, and it's newly available on iTunes.
It was my pleasure to conduct a post-screening Q&A with the director and two of her leads -- Karlee, plus rising talent Isabella "Izzy" Palmieri. Here are the highlights, starting with asking Marlee about the genesis of her film.
Marlee
I was given a writing assignment, my freshman year at NYU, to adapt a fairy tale. We were just supposed to write a little treatment, and then a scene for it -- and I kind of kept going with it. What I decided was to adapt 'Beauty and the Beast,' and make Belle and the Beast the same person; and have Belle struggle with this idea of learning to love herself. In the original fairy tale, a curse is put on the Beast, and he has to learn to love someone, to be loved in return. I thought that was a great principle to apply to the film.
Prior to that, I was in high school, and I accidentally stumbled upon a pro-eating-disorder blog, and even years later that has affected me. What I saw -- these views about control and self-image, and the pressure of wanting to be perfect -- was really striking to me. I wanted to pursue that.
Gregory
It's a really sensitive topic: the neuroses of youth. Unlike some films in the past -- The Breakfast Club and stuff, with actors in their 20s playing teenagers -- you have teenagers playing teenagers.
Marlee
It was really, really important for me to cast true to age, because when you see how young they actually look -- when you see their little fingers, and what they're doing to themselves -- I think it's much more impactful. Do you guys want to say anything about casting? The entire cast of kids were 12 to 15 during shooting.
Karlee
It's been important -- not many people recognize, or realize, that eating disorders can happen at a very young age. The psychological depth of eating disorders is very complex, especially if it's someone that young -- and dealing with pressures from school, and familial pressures, can really add to that impact.
Izzy
I think that we being the age that we were, it wouldn't necessarily make it more difficult for us, but I think that it kind of made us relate to the characters more, because you could really feel how difficult it would be for the characters to be feeling what they were feeling.
Gregory
It's definitely very sensitive and real, yet somber, and occasionally on the dark side. Some movies previously -- Heathers, and Mean Girls, and stuff -- have been satirical, about this same sort of age group. So where did you decide to find the tone, as a director and writer?
Marlee
Tone was difficult -- because you want a balance. You don't want to make it just a dark, depressing film that people don't want to watch, so you try to add the comic relief. And then we have the element of the Beast, which is a bit scary and almost horror-like in tone, but that goes back to 'Beauty and the Beast,' and trying to grapple with being in control over one's life. Tone-wise, I guess that the rule of thumb for me was to make sure it was as truthful as possible.
Belle (Karlee Roberts) confronts boys, including Gus (Jeremy Fernandez)
Gregory
As an actor as well, Marlee, what did you draw upon in your directing?
Marlee
My start in this industry was as a child actor. So I guess removing myself from that, I don't feel compelled to tell people how to act. I have to have my trust in you guys [gestures to Karlee and Izzy] -- to make sure that they get the best performance, and that they feel the most comfortable.
I know how Karlee works really well, because she's my sister. With Izzy, it's really interesting, because I tell her something once, and she just goes, 'Okay!' And I've had no reaction that she's actually understood it -- but then she gets it every time. So I'm like: 'Okay, I'll just trust that you got that!' I worked with some adult actors who wanted more validation, so I've found that it's all about feeling out what your actors want, and I think being the director means being able to provide that.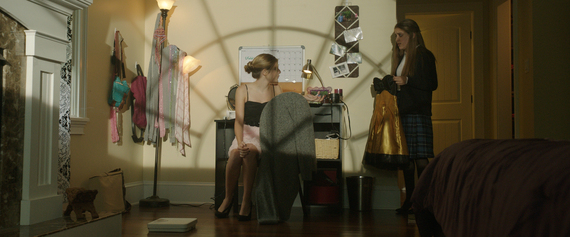 Homage to Mel Brooks' classic High Anxiety? Lyla (Izzy Palmieri) and Belle (Karlee Roberts) caught in a web!
Gregory
What about you two, Karlee and Izzy? It is a delicate piece, and it's vulnerable. It's not an easy thing to put on the screen. What kind of homework do you do?
Izzy
It took some strong choices, and also there was research that went into it, to make sure it was portrayed the right way.
Karlee
I did a lot of research -- but when I was in the scene, in that moment, it was: "What would I do if I was going through this, if I had these pressures?" I wanted to make it as real as possible -- not just as someone who's facing these issues, but to others who haven't had a similar experience but who may be going through similar emotions.
Gregory
What was the biggest challenge in putting the production together, bringing this to life as a feature film?
Marlee
All of it! (laughs) I gathered a lot of my colleagues from NYU -- and then we were in post for, gosh, a year and a half, two years. When you're working with low-budget films, you're at the mercy of others and their free time, so it's been a while. I think the hardest thing is watching it over and over and over again. It's a huge amount of time.
Gregory
So are you satisfied? Are you like, 'This is the film I wanted to make'?
Marlee
I'm too close to tell -- but I hope, I think, I mean: I am. Because when I was finished and I got to see it for the first time on the big screen, I was very emotional. And still I get very emotional, because there are so many things that personally connect to me in this film. It's always something I can look back on and have that relation with. I do hope that 10 years, 20 years down the road, when I'm making other movies, that I can look back on this and be proud of it as my first film.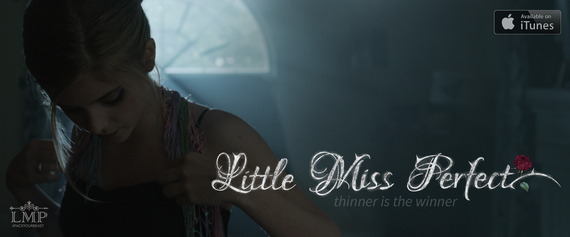 Images courtesy of Face Your Beast LLC