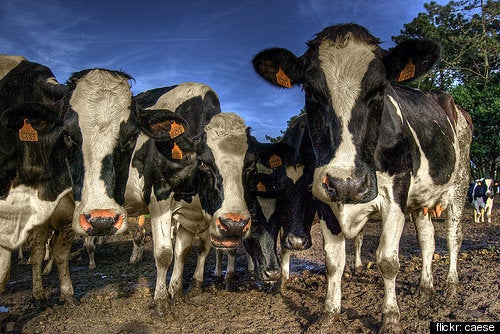 It's old news that factory farming is one of the biggest contributors to air, water and land pollution in the United States. In fact, the globe's growing herds of livestock were recently called the single-biggest contributor to global warming by the United Nations: "Livestock are responsible for 18 percent of the greenhouse gases that cause global warming, more than cars, planes and all other forms of transport put together."
Finding a way to make use of some of that waste would be revolutionary, to say the least.
Owned by A Green Energy, an energy cooperative owned by five dairy farmers in Massachusetts, the manure digester sits on 1.5 acres of [Randy] Jordan's farm, with two tanks, a pump and engine, and a separator.


Through the digesting process, the smell of the manure is removed and is used to produce gas, which powers an engine that will generate electricity for the farm. Excess electricity will be sold back to National Grid.


Once the smell is removed, the solid manure will be used for fertilizer, just as it always has been.


Mr. Jordan said the digester will run continuously, and that his 300 mature cows (700 total) produce about 10,000 gallons of manure each day. He also said it takes about six weeks from start-up to produce electricity.
What's more, Mr. Jordan will also be able to process food manufacturing waste in his digester. The project cost roughly $2 million (a combo of loans and grants from USDA and the Massachusetts Technology Collaborative) to build and, when fully operational, is expected to provide enough electricity to power 300 homes.
If you're in Rutland, Mass., on May 31, stop by the Jordan farm for a tour and ribbon-cutting ceremony. Gov. Deval Patrick and other dignitaries are expected to attend.

REAL LIFE. REAL NEWS. REAL VOICES.
Help us tell more of the stories that matter from voices that too often remain unheard.