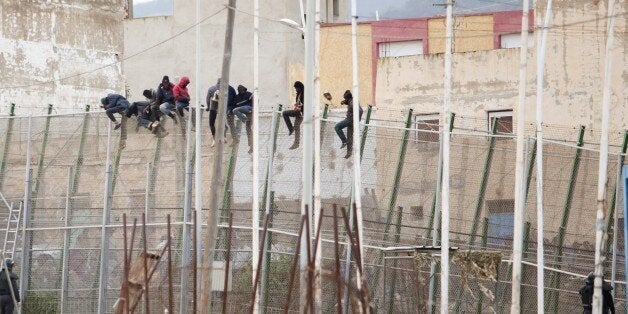 This Monday, a Podemos delegation tried to visit Melilla's Center for Temporary Stay of Immigrants (CETI). I say "tried" because only Maribel Mora and I could gain access to the facility. They let us in because of our positions; senator and member of the European Parliament, respectively. Or at least, that's what they said, as they barred the rest of the delegation from entry, which included Andalucian legislator Teresa Rodríguez and Ione Belarra, who heads migration issues for Podemos. The delegation was sharply rejected at CETI's doors. The process was unusual, and not very compatible with an advanced state.
Those of us who did get in found a facility that had been designed for 480 people but that, as the director admitted to us, currently accommodates more than 1,750 people, 500 of them children. The center is overflowing; families are crowded together during the day, and are separated at night. The presence of people from Sub-Saharan Africa, until recently a majority, has sharply decreased. Harassment from Moroccan police and their inability to pay the fees demanded by mafias that facilitate crossing into Spanish soil have motivated them to look for other means of entry. Today, the majority of people in Melilla are Syrians who have come in planes to Algeria and by highway to Nador, where they pay mafias to cross to the city. There are also Iraqis, Palestinians and Yemenis. The absence of Eritreans stands out; they are very present at the Greek and Italian borders.
CETI's classrooms have been converted to bedrooms, the offices into classrooms, and the yard into a makeshift camp filled with tents. Aside from the security personnel and the center's administration, only three other people assist the residents: a doctor, a psychologist, and an attorney from the Spanish Refugee Aid Commission (CEAR). The work they do is almost superhuman. Three people assist 1,750 refugees and migrants. With such limited resources, it's difficult to comply with protocols for managing people affected by armed conflicts, which have been included in international treaties signed by Spain. The center is even less likely to follow the specific protocols for minors. And what about information on basic rights, legal proceedings or family reunification? Processes that should take just hours stretch out for weeks. Faced with this lack of resources, it's not surprising that refugees confess that they trust information provided by the mafias more than the information they get from CETI.
The overcrowding, precarious service and lack of resources at CETI are the consequences of a palpable lack of political will. Or rather, the result of a choice to systematically violate international human rights commitments, placing geo-strategic, commercial and police interests ahead of people's lives. A good example is the contrast between this makeshift refugee camp and the luxury golf course that stretches out beyond its walls, sadly known for a photo taken almost a year ago, of a group of migrants trying to jump a fence as golfers focus on their game.
The massive influx of refugees adds to the traditional migratory flows in Melilla, a 12 square-kilometer municipality with 80,000 people. A taxi driver told us that this situation has become a lucrative business for the city; refugees with greater purchasing power create demand for hostels and holiday homes, taxi drivers have more clients as refugees continue to move across the city, and trafficking mafias have plenty of business. In addition, the hotels are filled with the Civil Guard, especially the Reserve and Security Group troops, the team in charge of guarding the border fence, as well as workers responsible for its maintenance.
The lucrative business of building new security facilities deserves a separate chapter. In the past 10 years, the state has invested 75 million euros on building walls and razor wire fences with video surveillance cameras in the two cities on the border of Morocco. Public money is handled by private contractors, which is a common occurrence in so many other sectors. More specifically, by a handful of contractors. Following successive public bids, 80 percent of this money has ended up in the hands of three large Spanish companies. The multinational Indra Sistemas alone has received practically half of these funds, to build fences in Melilla. It has received 75 million euros, which contrasts with the three million euros in European funds set aside for renovating and improving CETI's facilities; the slow pace of its renovation starkly contrasts the speed with which walls are built around it.
Investment in security bears fruit, but doesn't make the problem disappear; the previously routine jumps over the fence by young, single Sub-Saharans have decreased, but they've been replaced by refugees coming from the Middle East. The new ways of entry include refugees renting Moroccan passports. When they can't do it together, the families split up. Many children end up on their own, at the gates of CETI or police stations' doors, on one side or the other of the border, sometimes in the hands of mafias. This drama could be avoided by simply setting up consulates, like the one in Nador, so that asylum seekers could safely and legally enter the country without being exposed to mafias and razor wire fences.
In Melilla, like in so many other places, Fortress Europe and Capitalist Europe shake hands, and border control becomes a niche, appealing market in times of crisis. In migratory matters, razor wires represent the true Spanish mark in Europe: the ones that Spanish companies make for Melilla's fence, or the one on the Serbo-Hungarian border. There's no wonder that after her visit to the CETIs and security systems in Ceuta and Melilla, the Hungarian ambassador called them examples of best practices in migratory policy. They are two "city-prisons," as described by Teresa Rodriguez, or, according to Syrian refugees we met during our visit: two Spanish Guantanamos. This is a situation that the refugees, migrants, and definitely, the people of Ceuta and Melilla, don't deserve.
This post first appeared on HuffPost Spain and was translated into English.
REAL LIFE. REAL NEWS. REAL VOICES.
Help us tell more of the stories that matter from voices that too often remain unheard.