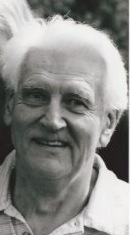 He lived for almost 59 years with his first heart, for nine years with the second one and for a full 15 years with his third heart.
But each heart was a Big Heart and with each heart Richard ("Dick") A. Harbourt lived life to the fullest and, through his personal and public charitable and community work, made sure that many others were able to do the same.
You see, Dick Harbourt suffered a heart attack "out of the blue" in April 1989, at age 57. Subsequently, things went downhill so fast that on April 30, 1991, he was rushed by helicopter to Temple University Hospital, Philadelphia, for a heart transplant.
As fate would have it, after being prepped for surgery, Harbourt was told that the heart intended for transplant was not good. Miraculously, the next morning another heart became available and everything was "go." When Harbourt woke up a few hours later, a nurse whispered in his ear that he had a new heart and that everything was fine.
And all was fine for several years, but eventually Harbourt developed heart failure again, was treated for it for a year or so and then qualified for another heart transplant. Finally, about nine years after his first heart transplant and after his kidneys also failed, Harbourt received both a heart and a kidney from the same donor at Hahnemann University Hospital in Philadelphia in February 1999.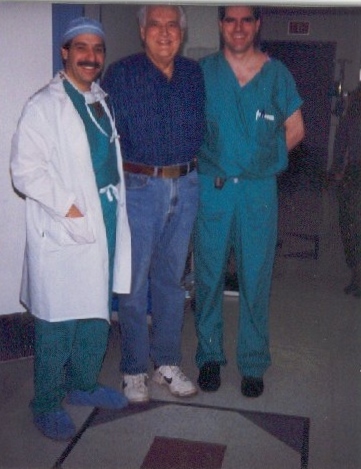 Dick Harbourt and two Hahnemann University Hospital surgeons 12 days after Harbourt's second heart transplant in 1999.
Sadly, last week, on February 26, after living for 15 years and five days with his third heart, Dick Harbourt passed away peacefully at his home in West Windsor, New Jersey, with his wife, Marion Harbourt, at his side.
In a phone conversation, Marion recounted the love, generosity and gratitude of her late husband.
Love and generosity that prompted Dick and Marion Harbourt to adopt six children, including a child -- their first one, named Patti -- with serious medical problems that demanded significant financial sacrifices from the Harbourts. They would have continued adopting children had it not been for the State of New Jersey telling them "enough is enough."
Marion also talked about the gratitude her husband had for the second and third chances at life given him, a gratitude which he abundantly displayed through public and community service and through his commitment and dedication to help those in need of an organ transplant by providing financial and educational support and by sharing his experiences, empathy and goodwill.
Harbourt did much of this service as Chairman of the "Second Chance Heart Transplant Support Group" ("Second Chance" for short), a non-profit organization with the mission to provide public information and education on matters relating to organ transplantation and a forum for members to share such medical experiences.
I did not get to meet Harbourt, but from my conversations with him when preparing to write about him a few months ago I could tell that he always had a Big Heart -- whether his first, second or third -- and a heart that will be missed sorely by his family, friends and the organ transplant community.
"I am alive today due to the generosity of an organ donor family," Harbourt had said gratefully, urging everyone to be an organ donor.
As of this writing, there are 121,519 registered organ transplant candidates on the waiting list, every one of them hoping for a second chance. You, too, can give someone a second chance at life by becoming an organ donor.
Should one wish to make a contribution in memory of Richard A. Harbourt, his family has requested that such contributions be made to Dick's organization, "Second Chance."
Our heartfelt condolences to Mrs. Marion Harbourt and her family.
Dick's amazing heart transplant story was previously published here.
Photographs with permission.

REAL LIFE. REAL NEWS. REAL VOICES.
Help us tell more of the stories that matter from voices that too often remain unheard.